French Justice Minister Rachida Dati, who recently returned to work five days after giving birth, has been fired amid controversy about who fathered her baby, her lavish lifestyle, and her relationship with President Sarkozy.
Dati, 43, is expected to resign in June after running for European parliament, but according to The Guardian she resisted leaving the government and was forced to resign by Sarkozy.
Dati's decision to return to work so soon after she gave birth 21 days ago caused a media controversy, with feminist groups claiming that she was bullied by Sarkozy, who announced an important justice reform soon after she gave birth, giving her no option but to return. Dati is a single mother and has refused to comment on who is the father of her baby, but there has been rampant speculation in the French media. Salma Hayek's on-and-off beau, LVMH billionaire Francois-Henri Pinault, and former Spanish Prime Minister Jose-Maria Aznar (among others) have publicly denied paternity and some say she used a sperm bank in Denmark.
Dati was hand picked by Sarkozy in 2007 even though she had little political experience, and he celebrated her being the first Muslim woman with north African parents to hold a French ministerial post, calling her the new face of France. Though she was born in poverty to a Moroccan laborer and illiterate Algerian mother, many criticize her new found love for high fashion and frequent photo shoots for fashion magazines, calling her "Rachida Barbie." Judges and lawyers have questioned her capabilities and the appropriateness of her lavish lifestyle, and some say her unpopularity is hindering Sarkozy's plan to reform the judicial system.
G/O Media may get a commission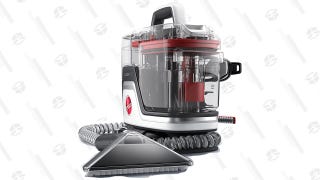 Save $10
Hoover CleanSlate Plus Carpet & Upholstery Cleaner
Critics also question her competence because of her close relationship with Sarkozy, who according to The Daily Mail had nicknamed her "ma beurette" or "my little Arab girl." She had accompanied the Sarkozy family on vacation, and last year she was linked to the president after he divorced his wife. It was reported that Sarkozy's new wife Carla Bruni had pointed to a bed in Elysee Palace and said to Dati, "You'd have love to occupy it, wouldn't you?"
There is evidence that Dati was simply not performing her job well, with a string of aides resigning over her management style, her justice ministry experiencing crisis after crisis, and the fact that France's prisons are run down and overcrowded with record suicide rates. But it remains unclear if she was actually not performing her job as well as she could, or if the decisions she made in her personal life as a prominent female politician made her an easy target for criticism.
French Minister Who Returned To Work Five Days After Giving Birth Is Sacked By Sarkozy [Daily Mail]
French Justice Chief Dati 'Plans' To Quit [Guardian]