In the wee hours of the night on Labor Day, Drake hosted a pop-up party in Houston, at a site soon to be the destination for his new nightclub opening in early 2017. It sounds a lot like a strip club. But is it...?
While teasing the future grand opening of the venue dubbed The Ballet on Monday night, Drake remained vague about what exactly his establishment will function as, other than noting, via a post on Instagram, that it'll be "a different take on how it should be done in Houston." "It" means something! A strip club, presumably.
Drake further mystified fans, writing in the caption: "Treat yourself don't cheat yourself. Where the women are on a pedestal and the surroundings are unforgettable." The mention of "pedestal" suggests there will be a platform involved. Then again, some might call that figurative.
Drake's speech at the actual event didn't reveal much more. "This is about the fact that there's a culture out there of dancing and it's not about no strip club shit," he told the attendees. "It's really just about these amazing women that we've got in one spot, this music that we've got, this Houston culture that we got. And I just wanna let you know that I'm going to bring it to you in the most honest and genuine way possible."
G/O Media may get a commission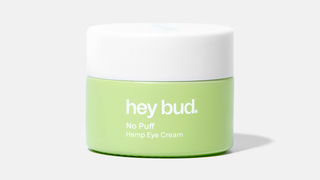 15% off
Hey Bud - No Puff Hemp Eye Cream
Is it a strip club or is it a non-strip club strip club? Several informed music culture sites have reported it as a strip club, including Miss Info, High Snobiety and Pigeons and Planes. It's also been described as a "classy" strip club. But according to Billboard, Drake himself may not be calling it a strip club:
While some have described Ballet as a strip club, so far Drake has not tagged it that way and a spokesperson for the rapper who calls Houston his second home told Billboard that it is not a gentleman's club, but that no other details on the concept were available at press time.
I'm confused. Drake may not like labels, but we need them to function in life and would certainly perish without them. Here are some guesses as to what this Drake adventure might be:
A strip club

A "strip club"
A club where some stripping happens but not a lot

A club where mostly dancing happens, never stripping
A dance club featuring strippers
A strip club featuring dancers
A strip ballet club
A club where people talk about The Strip in Vegas
A barre studio with a lake, where waxing strips are provided if you want
A Rihanna shrine that plays "Pour It Up" on loop
The official Treat Yourself 2017