Former congressman and now-official 2020 presidential candidate Beto O'Rourke is Vanity Fair's shiny new cover boy, with a shiny cover story, and some Annie Leibovitz photography to boot. The lengthy dive into O'Rourke's childhood, punk phase, politics, and family life is an interesting enough read, but it's impossible not to get stuck in the fascinating anecdotes of "Beto: the Punk."
On the eve of the 2018 Texas senate race, which O'Rourke lost to Wolverine Sen. Ted Cruz, my colleague Esther Wang tested O'Rourke's punk prowess out on a gaggle of Texas punks. The general consensus was that O'Rourke's old punk tunes were acceptably punk, and so were a few aspects of his candidacy, like not taking PAC money and skateboarding in a Whataburger parking lot. But this Vanity Fair piece has left me wondering about Beto's punkness.
I shouldn't question his punk credo like every mean boy questioned mine in middle school and high school, but... I'm going to question his punk credo like every mean boy questioned mine in middle school and high school.
All excerpts via Vanity Fair.
---
Whereas Obama is from the tail end of the baby boom, Beto O'Rourke is quintessentially Generation X, weaned on Star Wars and punk rock and priding himself on authenticity over showmanship and a healthy skepticism of the mainstream.
G/O Media may get a commission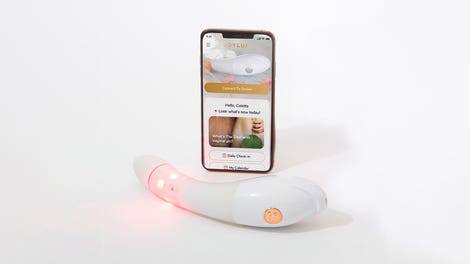 $50 Off
Joylux vFit Gold Device
A modestly punky start! Authenticity is the crux of punk rock and punk is nothing without it. Also, skepticism of the mainstream often doubles as skepticism toward authority, another key element of punk's dogma.
Pat O'Rourke was popular with everyone but his son, with whom he clashed from an early age. "My dad was very critical and had very high expectations, without a lot of the details filled in," says O'Rourke. "It was 'I expect you to achieve greatness in grades, in athletics, in whatever you do.'"
Dad drama: Incredibly fucking punk.
They drew comic books, read underground fanzines, wrote poetry, skateboarded, and, inspired by the Clash, took up guitar and went to local punk-rock shows. They became devotees of the Washington, D.C., record label Dischord, co-founded by Ian MacKaye, a punk firebrand who influenced a generation of disaffected suburban youth. "I have so much reverence for him and he means so much to me in my life," O'Rourke says of MacKaye.
Making zines and stanning Ian MacKaye? Punk, with a respectable dash of D.C. hardcore. He probably still knows all the words to Fugazi's "Waiting Room," but he's not off the hook just yet.
As soon as he arrived [at a Virginia prep school called Woodberry Forest], O'Rourke felt profoundly alienated from the preppy Southern boys and instead made friends with music-heads and international students from Turkey and Korea. "We were the weirdo table," he said. "We were the rejects who just did not fit in culturally, money, social status."
Yeah, okay, punk. If you didn't consider yourself one of the weirdos in high school, were you even a punk? The answer is no. Also, fuck preps.
He ran track and field...
Honestly? Punk. Track and field is fiercely independent sport and punk prides independence. Plus, track and field is one of the the least traditionally jock-y sports that you can participate in in high school.
In the East, he called himself Robert instead of Beto.
Not punk.
One day a gym teacher saw O'Rourke on the rowing machine and persuaded him to row crew. The sport fed an unmet desire in O'Rourke for discipline and purity. He became a "monk," he says, moving into a solitary dorm room, getting up at six A.M. to train every day, and drinking protein shakes to gain weight.
NOT PUNK!!!
He remembered feeling ecstatic when he beat Harvard.
This can go either way.
His single-minded devotion to crew—and to the purifying energy of punk rock—foreshadowed his future political self.
I'm too busy screaming to decide.
In the summer of 1991, however, when O'Rourke's father signed him up for an internship with West Texas congressman Ron Coleman, O'Rourke had no interest and did it only to please his father.
Skate punk.
Frustrated by a series of shows that didn't materialize, he called up a popular rock venue in San Francisco and altered his voice, pretending to be a founder of Sub Pop, a famous indie rock label. He urged them to book Foss as the opening act, claiming the band was about to be signed to a record deal. They got on the bill but were kicked off the stage after two songs.
Punk and sneaky.
Former girlfriends describe O'Rourke as curious, wry, bookish but adventurous.
Strictly post-punk.
He usually carried a novel in his pocket, whether Captain Corelli's Mandolin or The Sun Also Rises.
Not punk.
After he graduated in 1995, O'Rourke and his friends moved to Albuquerque and rented a house formerly occupied by a Swedish ski team. They all shaved their heads and declared this their "Revolution Summer," an homage to the D.C. punk scene of 1984. The idea was to live on part-time jobs and make art.
Punk and corny.
O'Rourke went back to New York and started nannying for a wealthy family on the Upper West Side.

Not punk!!!!!!!!
In 1996, he and a group of friends from both Columbia and El Paso moved into a decrepit loft in Williamsburg, Brooklyn, across from a housing project.
White.
In Brooklyn, he and his friends threw parties, bashed out punk songs, and drank endless cases of Budweiser; on the roof was a trampoline and a perfect view of the Manhattan skyline.
Pop punk.
O'Rourke objects to a New York Times story published in February that he believes painted him as aimless and depressed in New York. He describes the time as one of joyous indirection in which he surrounded himself with "some amazing artists and thinkers." He read Joseph Campbell's The Hero's Journey, discovered Bob Dylan, deepened his devotion to The Odyssey, and went through bursts of enthusiasm for bands like Big Star and Guided by Voices.
NOT!!!!!!!!! PUNK!!!!!!!!
[In 2001], O'Rourke decided to launch an alternative weekly newspaper, citing his father as the inspiration.
Pretty punk.
In 2005, O'Rourke won his race for city council, advocating for tax abatements to spur development.
NOT PUNK.
Overnight, O'Rourke became the bright, optimistic new face of the El Paso renaissance, and he supported a real-estate-redevelopment plan that [his father-in-law, wealthy real estate mogul Bill Sanders] and his allies had dreamed up, envisioning a gentrified downtown that could attract more people like Beto O'Rourke. The development plans were met with passionate opposition because Sanders wanted to use eminent domain to clear out an impoverished barrio and build a Walmart or a Target.

O'Rourke, fluent in Spanish like his father, went door-to-door trying to convince residents the city would build affordable housing elsewhere. A local historian and activist, David Romo, accused O'Rourke and his allies of destroying buildings of historic significance to Chicanos and driving immigrants from what he deemed the "Ellis Island" of the border (a phrase that O'Rourke would later use to defend El Paso against Trump's wall idea).
Incredibly not fucking punk, my dude.
The week O'Rourke lost [the 2018 Senate race], Barack Obama called him and congratulated him: "He just said, 'Hey, you ran a great race. If you are interested, I'd love to sit down and talk with you.' "
Not punk.
The week before he was to appear onstage with Oprah Winfrey in New York
Not punk, just fun.
As if to rebut the inevitable accusations that he's a socialist, he proclaims himself a proud capitalist—
Not punk!
O'Rourke wants to end the War on Drugs
Punk.
... raise the cap on work visas
Punk.
... find a pathway to citizenship for illegal immigrants
Punk.
... and create a system with the Mexican government that would track who was in the country.
Not punk.
---
Overall, there are more examples of O'Rourke espousing punkness than not. However, the not-so-punk moments are so egregiously unpunk that I sadly must demote O'Rourke to poseur status. One may argue that running for president of the United States alone is actually the least punk thing you can do, but shitty real estate schemes and Guided by Voices on top of that? He could do better.
O'Rourke may not be punk by my highly subjective metrics, but if this politics stuff doesn't work out, he can find a second life in horny food ASMR.