[UPDATED] The irony, after WWD's piece yesterday exploring whether fashion is exhausting its creatives: today, the outlet reports that Alber Elbaz, the beloved and iconic fashion director of Lanvin for the past 14 years, will soon announce his retirement from the brand.
WWD reports that Lanvin employees were notified this afternoon in Paris, and that though it will likely be presented as a "mutual agreement":
Sources said the rupture came following disagreements between the charismatic Israeli designer and company principals: owner Shaw-Lan Wang and chief executive officer Michèle Huiban.
A more intriguing, uplifting development: there is already speculation that Elbaz may move on to Dior, where Raf Simons announced his exit less than a week ago. It's Elbaz's unparalleled vision, fine craftsmanship and to-die-for capacity to drape that's defined Lanvin in the current, post-Instagram era, and WWD reports that his desire to develop the company may in fact have spurred the move:
Prized for his couture-like craft and affable personality, Elbaz is believed to have held discussions with Dior when it was seeking a successor to John Galliano following his 2011 expulsion due to racist and anti-Semitic outbursts a Paris café, for which he was convicted of public insult. Talks did not progress partly because Elbaz had an ownership stake in Lanvin via a holding controlled by Wang, a stumbling block to a deal.
It could not immediately be learned if Elbaz is selling his stake as part of the exit package.

According to sources, tensions between Elbaz and Wang have been building up in recent months, with the designer urging the Taiwanese publishing magnate to sell her majority stake and make way for a new owner that could better capitalize on Lanvin's development potential.
G/O Media may get a commission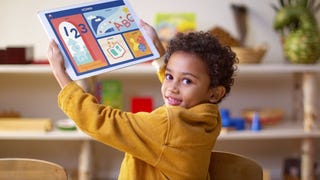 30-Day Free Trial
Homer Learn & Grow Program
As we enter cuffin season, it's fascinating that three of fashion's most celebrated designers—Elbaz, Simons and, to a certain extent Alexander Wang—have become decidedly uncuffed. Maybe Simons and Elbaz can just do a clean swap? There's much more to the story—read it in full here.
Update, 10/29/15: WWD reports that Elbaz was, in fact, "pushed out" of the storied fashion house, citing a statement from the designer that alluded to Elbaz and Wang's disagreements about Lanvin's future:
In a statement, Elbaz characterized his departure as a result of "the decision of the company's majority shareholder" without naming Shaw-Lan Wang, the Taiwanese publishing magnate who recruited him to revive what she then described as a "sleeping beauty."

He also hinted at the reasons for his breach with Wang, holding out hope that the company "finds the business vision it needs to engage in the right way forward."
Because ousting a design genius with the temperament and refined fashion sensibility of Elbaz seems rather bananas, it will be interesting to see which direction Lanvin heads—and whether that direction is in fact more commercial (though very likely not more affordable). WWD still speculates that Elbaz will land at Dior, which would be a fitting house for him. We shall watch with our breath bated, but not our pocketbooks. :)
---
Contact the author at julianne@jezebel.com.
Image via Getty