In 1997, Irene McGee—a college student at Georgetown—applied on a whim and was cast on The Real World: Seattle, the seventh season of the pioneer MTV reality show that featured "seven strangers picked to live in a house and have their lives taped." Little did she know that the two months she spent living on Pier 70 would define her in the public eye to this very day.
Perhaps one of the most infamous and elusive Real World cast members, Irene—originally cast because of her sharp sense of humor and dry wit—quit the show after two months. The way that Bunim/Murray (the production company that created the Real World) portrayed it was that Irene had been driven to near madness by Lyme disease. Irene, who only began publicly speaking about the ordeal in the past couple years, says otherwise.
Joining us on this week's DirtCast, Irene tells her side of the story, explaining that it wasn't Lyme that led to her exit (she had been dealing with and treating the disease long before entering the house), but her frustration with production and the ways that she and her cast mates were being manipulated. Of course, it's now common knowledge that those who make reality shows manipulate cast mates and situations, but in 1998 (when Real World: Seattle aired), the genre was still relatively new and uncharted territory.
"We'd be set up to fight," she explains. "...They had a fictionalized scavenger hunt that was impossible to finish and we were broken up into teams. But more importantly, to keep the cameras on you, you know if you're being an interesting. So say we're having this conversation and you and I are chit-chatting. If there was a camera here and all of the sudden the crew walked out, you'd feel really terrible about yourself."
Eventually, Irene stopped cooperating with production and, when cameras were on her, would break the fourth wall (a big no-no in reality TV) and talk about it. Because of this, a couple of her more camera-hungry cast mates grew resentful of her and—with the producers' encouragement—began to antagonize her more.
G/O Media may get a commission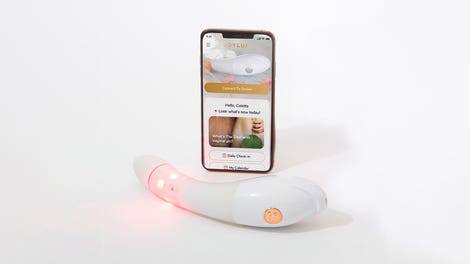 $50 Off
Joylux vFit Gold Device
It's Irene's exit from the show that looms in most people's memories. After telling her cast mates why she was leaving, saying, "Art shouldn't hurt," Irene asked her roommate Stephen—a closeted gay man who was outwardly homophobic on camera—to follow her outside where she then outed him. Stephen, who had puzzlingly been stealing her things and sending her vicious messages (via pager) prior to her exit, responded by open-palm slapping her the face in what MTV marketed as "the slap heard 'round the world."
"What I said to Stephen was horrific. Horrific. I was super angry, totally wrong," Irene reflects. "But I stand behind the fact that I didn't take him out of the closet. MTV could have aired whatever they wanted to. They made a conscious choice to keep that in and I think that's something people really need to understand—they put the cast in situations that will create really high tensions...It was a very homophobic household that I was living in...because there were military guys and they're very machismo...and I think, to fit in, Stephen was saying stuff that made me go, 'It's not cool to talk about people that way.'"
After leaving the show, Irene went home to Pleasant Valley, New York and underwent therapy, a process she explains in her one woman show, Me, Myself, & Irene:
Thank you so much to Irene McGee for being so insightful and honest and thank you to Jezebel Staff Writer Megan Reynolds for joining us to discuss the dirtiest dirt of the week! Keep up with Irene on Twitter!

DirtCast can be found on Apple Podcasts, Stitcher, Spotify, Google Play, and iHeart Media.
Our show is produced by Levi Sharpe with editorial oversight by Kate Dries. Mandana Mofidi is our Executive Director of Audio. Our theme music is by Stuart Wood. This episode was mixed by Brad Fisher. Listen to our politics podcast, Big Time Dicks, here.