Ireland Baldwin is 6'2", 17 years old, and in possession of both a Twitter account and a modeling contract, which makes her the target of a lot of negative talk about her body. Baldwin just wrote a fairly touching cri de cœur about modeling, body-snarking in the media, particularly social media, and being referred to only in the context of her parents (Alec Baldwin and Kim Basinger, duh).
Baldwin finds she is physically compared (often unfavorably) to her mother and endlessly blamed for (or reminded of) her father's past remarks — especially the "thoughtless little pig" thing. Which thoughtless people apparently remind her of with thoughtless frequency. She wrote on her Tumblr:
Of course I get those comments about how I am too fat to model, how I am not model material, how I am an unattractive girl, how I am too tall, etc. I understand. I don't look as glamourous as Rosie Huntington Whitely when leaving the gym. I'm actually really sweaty. Like really sweaty. I understand that I am not a size .008. What I don't fully understand, is what is the good in commenting on a photo of a 17 year old girl and calling her fat, ugly, etc? Is that helping you in some way? I'm confused. I know girls tend to have nasty things to say about other girls and judging the looks of other girls is only human of us all, but putting that out there is hateful and unhealthy.


I also get compared to my Mom quite a bit and this is where I bridge into the point of this whole post. I AM NOT MY PARENTS. My mom is one of the most beautiful woman in the world. She is 5'9, I am 6'2. She is petite and fragile, and I am fit and…. more to love tehe. I have a booty, she has a thigh gap. As she emerged from her teen years, she developed an angular face and striking cheekbones. I am still a teen making my way out of my awkward phase. I am still trying to figure this whole thing out.

Just like almost all of you, my Dad has made some mistakes in the past. He has spoken out of place, he has let his temper get the best of him, and he has reacted towards things in ways he shouldn't have. I get hateful replies and threats regarding mistakes of my Dad's past. This isn't fair.
I am proud to be my parent's [sic] daughter, but I don't want to forever be known as "that rude thoughtless little pig" or "Alec Baldwin and Kim Basinger's kid." I have passions and interests of my own that I want to soon give life to...Before sending hateful replies and emails, consider all of this. Talk to me! I am friendly. I do not think I am better than anyone.
Baldwin is signed to the agency IMG.
---
G/O Media may get a commission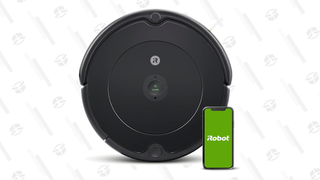 35% Off Black Friday Deal
iRobot Roomba 694 Robot Vacuum
Beyoncé nabbed her third Vogue cover for the year so far. The singer graces the May issue of Vogue India. The photo is an outtake from her American Vogue cover shoot. [FBD]
---
British Vogue put Cara Delevingne on the cover of a new supplement called Miss Vogue. Condé Nast hasn't yet decided if it will make Miss Vogue a standalone title with regular publication, or if it will be a one-off. [Telegraph]
---
Carey Mulligan wears Prada on the new cover of British Harper's Bazaar. [BuzzFeed]
---
Until May 12, the Prada flagship store in New York City is displaying a number of the costumes that the brand made for the Great Gatsby film. [Racked]
Meanwhile, Brooks Brothers, which worked on men's costumes for the film with costume designer Catherine Martin, says that its Great Gatsby tie-in collection is selling better than it anticipated. [WWD]
---
Nicolas Ghesquière is on his second magazine cover of the week: 032c made him and Charlotte Gainsbourg its cover stars. Inside, in a 14,000-word profile, the designer who was so recently at Balenciaga talks vaguely about his next steps, which are rumored to include the launch of a namesake brand and/or working with the luxury giant Louis Vuitton Moët Hennessy. Ghesquière says:
"Now is my time to question interseasonality — it's always the opposite season somewhere in the world — and fashion's need to be global while respecting the environment and local cultures and of course the usual six-month cycle for collections. I may decide to fulfill that mission again, and I'll enjoy it as I always have. Another part of me absolutely wants to break these rules. I may be putting myself in danger, but that's what I want these days. I enjoyed years of extreme comfort at Balenciaga."
[WWD]
---
• The Bangladesh garment and textile industry, by far the largest sector of the country's economy, is in turmoil following the collapse one week ago today of an eight-story Rana Plaza factory building near the capital, Dhaka. The disaster has claimed at least 386 lives, with the death toll set to rise as hundreds of garment workers, mostly women under 20, remain missing and hope for finding anyone alive dims. Tens of thousands of garment workers have taken to the streets to protest the lack of adequate safety standards in their industry and strikes are ongoing. The garment manufacturers' association convened a meeting with representatives of brands that source to the country, including Target, Gap, J.C. Penney, H&M, C&A, G-Star, Zara parent company Inditex, Levi's, Marks and Spencer, Tesco, Nike, and Primark, to address the latest deadly industrial incident and discuss measure to improve factory safety. The manufacturers' association has opened its own investigation of how the illegally constructed building came to collapse, and why workers were forced to return to their workstations even after large cracks started to open up in the structure. Two government ministries are conducting their own investigations. The owner of the building, Sohel Rana, along with owners of the four factories the building housed, have been arrested and are expected to be charged. Protesters are calling for the death penalty. [WWD]
• Here is a heart-breaking account of the rescue effort at the building from a volunteer rescue worker. [AP]
• Credit-rating agency Moody's has downgraded struggling retailer J.C. Penney's debt from B3 to Caa1. [WWD]
• Meanwhile, in J.C. Penney's ongoing lawsuit with Macy's and Martha Stewart over which retailer has the right to sell Martha Stewart-designed homewares, Penney scored a victory: an appeals court has upheld its right to sell homewares that were designed by Stewart's company — potentially in violation of an exclusive contract with Macy's — so long as Penney rebrands them under its own house logo and doesn't so much as offer a sly nose-tap word-to-the-wise-style hint to customers about the goods' true origins. [WWD]
• Jimmy Webb of the classic New York City punk shop Trash & Vaudeville says he doesn't have a problem with the Met's Vogue-sponsored Punk: Chaos to Couture show — although he did compare it to "Hot Topic selling bondage pants in Ohio." Webb says:
"I don't really have a problem with it. It's like not having a problem with Hot Topic selling bondage pants in Ohio; you can't take the authenticity of what we do away, and you have to take a great bow to Vivienne Westwood, who's a big part of it. So it is what is."
• 1960s top model Danielle Luquet de Saint Germain is auctioning off a fucking dope-sounding collection of vintage couture by designers including Yves Saint Laurent, to whom she served as a muse, and Thierry Mugler, Azzedine Alaïa, and Christian Lacroix. Saint Laurent designed his famous women's tuxedo for her. [Telegraph]
• Amanda Seyfried says she replied "Fuck yeah" when Givenchy asked her to be the face of one of its perfumes. Seyfried replaces Liv Tyler. [WWD]
• Coco Rocha says that she still faces photographers and clients who try to test her boundaries by trying to get her to do things she's not comfortable with, like pose nude or with cigarettes. Rocha says it's better now that she's older than it was when she was 15 and just starting, but it still happens. "I wish most models would start a little later than the usual 14 or 15-years-old when they are so vulnerable and easily influenced," she says. [Fashionista]
• Tory Burch likes music: Kilo Kish, the Grateful Dead, and Tupac. "I don't like all of his songs, of course," she clarifies of the latter. [Elle]
• Toms is launching a collection of sunglasses. There are three pairs, each is designed by Jonathan Adler, and each is unisex. The collection retails for $169-$179, and the company promises to "give sight to someone in need" with every purchase. [WWD]
• An Orthodox Jewish woman is suing Lancôme and its parent company, beauty giant L'Oréal, for marketing a "24 hour" foundation that doesn't last a full day. When you want to look nice at your son's bar mitzvah, but observe the religious prohibition on applying makeup during the sabbath, what's a gal to do? Plaintiff Rorie Weisberg applied Lancôme's Teint Idole Ultra 24H on Friday before sundown in order to test its day-long performance. But she found it had "significantly faded" overnight. The lawsuit charges that the product name and advertising is deceptive because, "The 24-hour claim was central to plaintiff's purchase decision, as a long-lasting makeup assists with her dual objectives of compliance with religious law and enhancement to her natural appearance." [NYPost]
• Courrèges is collaborating on a line of fall clothes priced at €39-€299 for the French catalogue company La Redoute. [WWD]
• Purveyor of ultracheap fast fashion basics Uniqlo's U.S. expansion plans are pretty straightforward: from its East Coast foothold in the New York metro area, it will expand into Boston and Philadelphia. On the West Coast, expect the San Francisco store to be joined by others in the East Bay and San Jose. Then, eventually, comes the Midwest. [WWD]
Image via AP.