A Christmas event in the English town of St. Ives, Cambridgeshire went ass-backwards Sunday when a fire alarm sounded, causing the Santa on the scene to lose his shit in a sea of scrambling children and parents.
CNN reports that Santa allegedly "burst out of his grotto" and made his way into the crowd, ripping off his beard before screaming "Get the fuck out!" at the children.
The event organizers said that the fire alarm was actually coming from a "family-friendly" rave next door, which, well, Brits. They also defended their Santa, explaining that he was just trying to help!
Santa was upstairs in his grotto, an event organised by Festival Events St Ives (a voluntary organisation) and immediately assisted in the evacuation of the building.

FESt wish to apologise for any offence or distress caused to parents and children by the attempts to ensure all visitors and staff had exited the building and were safe.
But an apology cannot undo the psychological torture these children endured due to Santa's apparent verbal abuse.
From CNN:
...the incident, which some on social media likened to the 2003 movie "Bad Santa," left parents furious.

A mother told local news outlet Cambridgeshire Live: "My friend's little boy was upset as his dad was carrying him when Santa told them 'to get the f*** out,'" adding that she had to tell her children that the man wasn't the real Santa but an imposter who would be going on the 'naughty list.'"
G/O Media may get a commission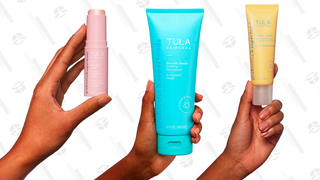 The holidays can be a trying time, especially for a Santa-for-hire just before Christmas. Maybe he was stressed out and had an off day; it's safe to say that he won't be invited back to FEST next year. But it really does sound like Santa was probably just trying to make sure everyone was evacuating. Yes, little Johnny, you do need to get the fuck out and not dawdle about during a fire alarm. Let Santa live.