A newscaster for PressTV, Iran's state-run, English-language TV station, has fled the country after revealing she was sexually harassed at work for years. Two of Sheena Shirani's supervisors have been suspended after she shared an audio recording and dozens of messages on Facebook from one of them demanding sex from her. The man, news editor Hamid Reza Emadi, is also accused of participating in at least one interrogation at Tehran's notorious Evin prison.
Shirani wrote on Facebook on February 2 that she was leaving PressTV, where she worked since 2007 as an editor and then a newscaster.
"I can no longer be part of a cause, a system or an organization I don't believe in," she wrote. "As of today, I no longer work for Press TV." She followed that on February 4 with another message: "What comes first?!!! Your dignity and values or your job?"
The same day, Shirani began sharing direct messages from Emadi to back up her claims, as well as an audio recording of him forcefully asking her to come to his apartment and have sex "just for five minutes," as IranWire reported. He suggested she owed him, given, as he put it, that "I've always been there for you." From IranWire:
Throughout the exchange, which lasts a little more than 10 minutes, Mr Emadi repeatedly begs his former employee to go to his house and have sex with him. He first asks her to visit him for five minutes, then later asks for two minutes, adding a slang term in Persian that translates as "my penis is exploding."

Emadi's presents his line of reasoning as very simple: "I've always helped you. I've always been there for you. Whenever you wanted something, I've helped you. I'm not asking you to kill someone. You can help me as a friend. You can have sex with me as a friend."

Then as the conversation goes on and Shirani continues to refuse him, Emadi becomes increasingly impatient and persistent with his requests, once again using the fact that he "defended" Shirani at work to justify why she should sexually appease him.
G/O Media may get a commission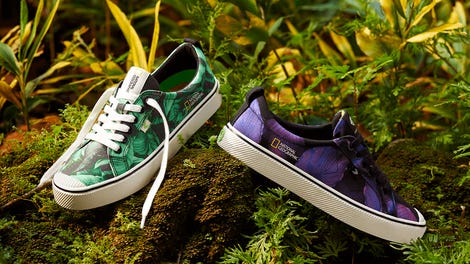 New New New
Cariuma + National Geographic
Shirani ended the conversation after Emadi switched to demanding oral sex. While she's deleted some of the screenshots she shared, many are still up, including one where Emaid refers to himself as a "hot boss" and a "pervert motherfucker" alongside some selfies:
She also shared a conversation where Emadi tells her that by disclosing the harassment, she's making "people who hate my guts very happy." She replies, "You couldn't have expected me to deal with being sexually harassed on a daily basis forever."
The New York Times reports that Emadi and a second, unidentified executive were suspended Monday by PressTV; the newspaper points out how rare it is for an allegation of sexual harassment to be openly discussed, and for the perpetrators to face discipline. However, they note, PressTV's official statement blames the whole thing on enemies of the state: "Sexual harassment is not mentioned, and the statement stresses that the release of the recording 'with cooperation of the regime's opposition' was done in order to damage Iran's political system."

Shirani has reportedly fled the country and isn't disclosing her current location; she is divorced and has a young son, which she suggested contributed to her sexual harassment at work, as did her lack of political connections to the ruling regime:
On Monday, she also stressed that Emadi wasn't the only person responsible: "I repeat myself. I have not said these two men have sexually harassed me for years. I've said I've been harassed at my work place for years."
Emadi's ethics have been meaningfully called into question before. The journalist Maziar Bahari was imprisoned at Evin prison in 2013 (his interrogation is the subject of Jon Stewart's film Rosewater). He has said that he was interrogated for hours on end, slapped, beaten and threatened with execution by the man who arrested him, nicknamed "Rosewater." Bahari says that Emadi came to his cell while Rosewater was interrogating him and, as he put it, "'interviewed' me under duress." Bahari said he was forced to read from a prepared script and falsely confess to collaborating with various Western forces. The interview was then aired on PressTV, sparking international outrage.
The UK's Office of Communications revoked PressTV's license to broadcast over the incident, then reversed the decision and fined the channel £100,000. Emadi was put on the human rights sanctions list by the European Court of Justice in 2013. The sanction was upheld in December 2015, meaning he's unable to travel to Europe and any assets he has there have been frozen.
---
Contact the author at anna.merlan@jezebel.com.

Public PGP key
PGP fingerprint: 67B5 5767 9D6F 652E 8EFD 76F5 3CF0 DAF2 79E5 1FB6
Shirani on-air in 2009. Screenshot via YouTube/PressTV