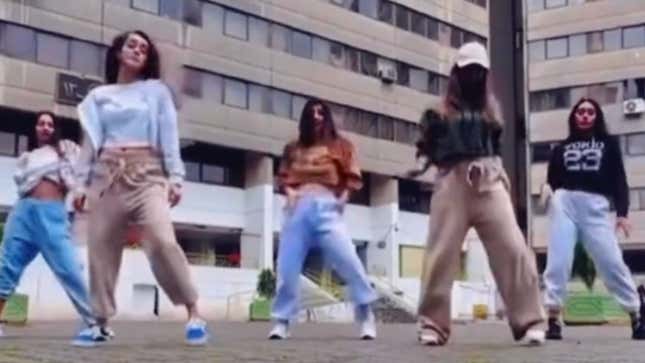 Iranian authorities show no signs of stopping their punishment of the young people at the heart of ongoing demonstrations in the country. As Vice World News reported, five Iranian girls were arrested last week for making a TikTok of themselves dancing to Rema and Gomez's song, "Clam Down," which went viral earlier this month.
Jennifer Aydin Had Women DMing Her After Relatable Cheating Scandal
The teens, who remain unidentified, posted the video earlier this month in celebration of International Women's Day. The video shows the young women, who are believed to be from Ekbatan in western Tehran, with their hair down, dancing without hijabs in front of an apartment complex. According to a Farsi-language media outlet, the police detained the group for two days and forced them to apologize for their actions—not only were they made to call it a "mistake," but they also had to promise not to do anything like it ever again. A video of the apology—in which they are seen wearing full-length pants, long sleeve shirts, and head coverings—was then posted on their dance instructor's Instagram page.
The girls' actions are in direct defiance of the country's hijab law that requires women's heads to be covered at all times while in public. In Iran, women are also forbidden from performing any kind of public dance. Public protests—many of which have been led by Iran's youth—have swept the nation since September, when morality police arrested a 22-year-old Kurdish woman named Mahsa Amini for wearing her hijab "incorrectly." She later died in their custody. Since the demonstrations first began, the country's Revolutionary Court has issued death sentences for many involved.
The dancing teens' arrest has been the subject of much public outcry. On Twitter, one user criticized the police's priorities and hypocrisy when it comes to who they do and don't punish: "They find the people who dance in two hours, but they cannot find the people who spray acid and poison children. Curse your religion...dirty criminals," they wrote.
Another praised the girls' bravery: "They knew that they might be reprimanded and like hundreds of other actions from millions of other Iranians, they came, they did their job and left [...] Salutations to these heroes of Iranian modernity."
In the wake of the arrest, young women across Iran are posting videos of themselves dancing (with their heads and faces obscured) to show their solidarity.
Young people who are actively defying the government and supporting the uprising have been subject to an alarming level of violence over the past few months. In December, roughly 12,000 students at multiple universities experienced mysterious food poisoning the night before they were set to participate in protests. Earlier this month, reports determined that hundreds of school girls across the country had been deliberately poisoned with gas since November, which many believe to be retaliation for their involvement in demonstrations.
But even in the face of such danger, brave young Iranians continue to dress, dance, and protest in the hopes of a more liberated future.