Kim Weaver, an Iowa Democrat competing with Republican incumbent Steve King for the state's 4th Congressional District seat, is withdrawing due to threats against her safety.
Weaver announced her decision to step down yesterday on her public Facebook page:
"Over the last several weeks, I have been evaluating personal circumstances along with the political climate regarding this campaign. After much deliberation, I have determined that the best decision for me is to withdraw my candidacy for the U.S. House race in Iowa's 4th Congressional District.


One consideration has been raised again by recent events at my home. Beginning during my 2016 campaign, I have received very alarming acts of intimidation, including death threats. While some may say enduring threats are just a part of running for office, my personal safety has increasingly become a concern.
And as The Cut notes, Weaver also cited recent health insurance legislation as a factor: to commit to campaigning, she would be forced to quit her job, which could—depending on Congress's ruling—deprive her of insurance. Moreover, her mother is in poor health and requires her assistance. Via Facebook:
"Above this, my personal health is an issue. In order to sufficiently devote myself to the campaign, I would have to quit my job and shift to campaigning full-time. With recent legislation on health insurance, I must admit that the possibility of seeking a new job after the election exposes too much of a risk for me in not being able to secure health insurance.


Most importantly, my mother lives in Des Moines and has been experiencing ongoing health issues. I feel that it's necessary to be more available to support her. Considering this, along with the time and energy it takes to succeed as a candidate, I realize that I can't fully commit to both."
G/O Media may get a commission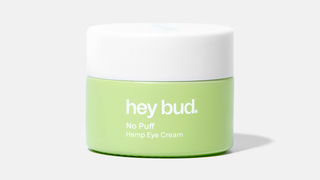 15% off
Hey Bud - No Puff Hemp Eye Cream
Weaver's conundrum will sound achingly familiar to any woman who has struggled to balance her personal and professional obligations. It's an overwhelmingly gender-specific problem—as are violent threats meant to intimidate and oppress.
Meanwhile, Steve King, who dreams of an America "that's just so homogeneous that we look a lot the same" has publicly discredited Weaver's remarks regarding death threats.
King, as it happens, is an avid Twitter user, and regularly distinguishes himself with golden nuggets of humanity. Here's a taste:
Note that in the photo below, Michelle Obama's sign should read "Bring Back Our Girls" in support of the Nigerian schoolgirls who were kidnapped by Boko Haram. But a little photoshopping provided the racist, xenophobic touch Steve King admires.