After speaking with dozens of former congregants of the Word of Faith Fellowship in Spindale, North Carolina, the Associated Press has uncovered years of brutal physical abuse—often perpetrated against children—ordered by church leaders, namely the husband and wife pastor duo, Sam and Jane Whaley.

The Word of Faith Fellowship, founded in 1979, has long been the subject of intense scrutiny, with allegations of abuse dating back to the early '90s. However, due to intense security of the 35-acre church complex and member's reluctance to cooperate with authorities, little has come of previous inquiries.
The recent investigation by the AP reveals a brutal portrait of the Word of Faith Fellowship, a place where church members "were regularly punched, smacked, choked, slammed to the floor or thrown through walls in a violent form of deliverance meant to 'purify' sinners by beating out devils."
"I saw so many people beaten over the years," says 27-year-old former member Katherine Fetachu. "Little kids punched in the face, called Satanists."
According to 43 former congregants, members were subject to constant verbal berating—called "blasting"—by church leaders. Teachers at the affiliated K-12 Christian school encouraged young students to beat each other and Jane, a former math teacher, often performed the beatings herself. Investigations into the church were obstructed and—according to the former members—those with injuries were pressured into not going to the hospital or reporting them:
The AP...spent more than a year tracking down dozens of former disciples who scattered after leaving the church. Many initially were reluctant to break their silence because they had hidden their pasts from new friends and colleagues — and because they remain afraid of [Jane] Whaley.

Those interviewed — most of them raised in the church — say Word of Faith leaders waged a decades-long cover-up to thwart investigations by law enforcement and social services officials, including strong-arming young victims and their parents to lie. They said members were forbidden to seek outside medical attention for their injuries, which included cuts, sprains and cracked ribs.

The former members said they were speaking out now due to guilt for not doing more to stop the abuse and because they fear for the safety of the children still in the church, believed to number about 100.
G/O Media may get a commission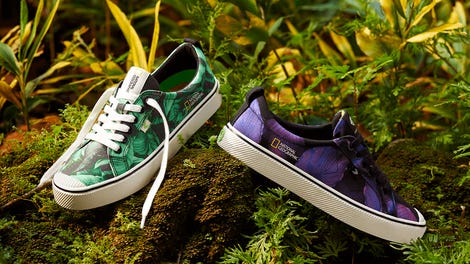 New New New
Cariuma + National Geographic
"You had a strong leader who controlled everything in your life — where to live, work, who to talk to," said one former congregant."You couldn't do anything without her permission. And she had people around her enforcing her law. Soon, you couldn't think for yourself. You had to do everything she said."
Which included marrying or not marrying, having children or not having children, and avoiding sex with your church sanctioned spouse for a full year.
The AP reports:
Congregants need permission from leader Jane Whaley and other ministers to get married, and it then can take months — or even a year — before the newlyweds are allowed to have sex.

No one is allowed to date without permission, and most relationships and marriages are arranged by Whaley and ministers.

On their wedding night, couples are permitted only a "godly peck on the cheek." When they get in bed together, they must roll over and go to sleep.

For all married couples, love-making is limited to 30 minutes, no foreplay is allowed, the lights must be turned off and only the missionary position is sanctioned.

Couples need permission from church leadership to have children, and leaders dole out condoms to make sure unapproved women don't get pregnant.

The former followers said couples violating the rules can be publicly rebuked, subjected to violence or forced to separate.
While both husband and wife were complicit in the abuse, members claim that Jane—with her intense need for control—was the main perpetrator.
As Liam Guy, a 29-year-old who spent 25 years in the church before fleeing in 2015, puts it, congregants "lived in total fear."