Late last week, Elle profiled Myla Dalbesio, a model who—along with Jourdan Dunn, Amanda Wellsh, Ji Hye Park and Lara Stone—appears in Calvin Klein's new "Perfectly Fit" campaign. Dalbesio, at size 10, is considered plus-sized in the modeling world, a fact that Elle mentioned both on Twitter and in the article. This got the internet rather angry.
In "Myla Dalbesio on Her New Calvin Klein Campaign and the Rise of the 'In-Between' Model," Elle's Leah Chernikoff wrote two rather innocuous paragraphs:
Booking an underwear campaign for such an iconic brand would be a coup for any model. But it's especially notable for Dalbesio, who's what the fashion industry would—still, surprisingly—call "plus size." (At a size 10, she's bigger than Lara Stone, Jourdan Dunn, and Ji Hye Park, the other models featured in the campaign.)

"It's kind of confusing because I'm a bigger girl," Dalbesio says. "I'm not the biggest girl on the market but I'm definitely bigger than all the girls [Calvin Klein] has ever worked with, so that is really intimidating."
To promote the article, Elle tweeted the following:
G/O Media may get a commission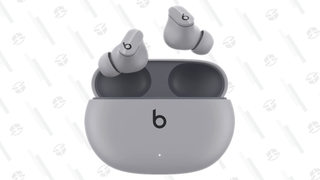 Twitter users rushed to correct Elle (and the ills of the fashion world) by pointing out that a size 10 is not in fact plus-sized. "Is this some kind of joke?" wrote one person. "A size 10 model is not 'plus-sized,"' wrote another. And finally: "Proof society is effed up in a single tweet."
None of these tweeters are wrong-wrong. Ad campaigns and fashion spreads should display a more diverse range of sizes and not top out at size 10. That said, the modeling world operates on a different scale than the normal world does. In fact, most models would be considered plus-sized when they reach a size 8. For straight-sized models, the ideal proportions are 34-24-34—a far cry from the average measurements of a straight-sized non-model.
So, yes. A size 10 is not normally plus-sized, but the world of modeling isn't normal. Five-foot-seven is considered short, proportions or features that might seem alien in the check-out line at Whole Foods (sorry, I see a lot of models at Whole Foods) are widely sought for print and runway, and plus-sized (an actual category for many modeling agencies) include measurements that don't apply to us normals. To reiterate, plus-sized there doesn't equal plus-sized here.
It might be dumb and it's DEFINITELY limiting, but Elle was not being offensive when they referred to Dalbesio as plus-sized. They were being literal.
Images via Elle