The saga of the did-they-didn't-they Russian cyber hacks continues. On Friday, the Office of the Director of National Intelligence released a report that determined Russian President Vladimir Putin personally, "ordered an influence campaign in 2016 aimed at the U.S. presidential election."

According to the New York Times article summarizing the 25-page report's findings, Russia hoped to achieve this goal by promoting President-elect Trump while smearing Hillary Clinton. The document is part of a declassified intelligence analysis ordered by President Obama.
While this sounds revelatory, the report is really a rehashing of allegations Democrats made during the course of the election. Per the Times:
The report described a broad campaign that included covert operations, including cyberactivities and "trolling" on the internet of people who were viewed as opponents of Russia's effort. While it accused Russian intelligence agencies of obtaining and maintaining "access to elements of multiple U.S. state or local electoral boards," it concluded — as officials have publicly — that there was no evidence of tampering with the tallying of the vote on Nov. 8.

But the declassified report contained no information about how the agencies had collected their data or had come to their conclusions. So it is bound to be attacked by skeptics and by partisans of Mr. Trump, who see the review as a political effort to impugn the legitimacy of his election. Intelligence officials have rejected that view.
G/O Media may get a commission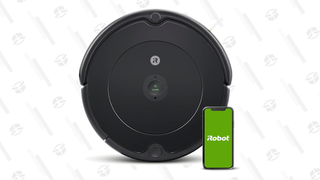 35% Off Black Friday Deal
iRobot Roomba 694 Robot Vacuum
What the Times' analysis brushes over is that it's easy to be a skeptic of this document without being a Trump partisan or much of an incredulous type to begin with. The report offers "high confidence" (an intelligence term), for instance, that a Russian military intelligence unit is responsible for Guccifer 2.0 and the DCLeaks website, which released emails of the Democratic National Committee and Clinton campaign chairman John Podesta.

Still, heads of the CIA, the FBI, director of national intelligence James Clapper, and President Obama all stand behind and jointly presented the report's findings, according to the Times. It's an awkward reunion seeing as the Democrats and the U.S. intelligence community have recently been at each others' throats over the FBI's Clinton email probes.
Russia is already making fun of the report. Russian Parliament member Alexey Pushkov, for instance, posted on Twitter on Saturday, "Mountains gave birth to a mouse: all accusations against Russia are based on 'confidence' and assumptions. US was sure about Hussein possessing WMD in the same way."
Speaking of Twitter, guess who I'm going to mention next. If you can believe it, our raging maniac President-elect's Wall-du-jour is going to keep out people who are "stupid" about Russia relations.
Earth to Democrats, you can't beat this guy at his own game for a single second, why not try anything else.
Correction: An earlier version of this piece claimed that U.S. intelligence agencies provided no evidence of Russian hacking, and misinterpreted the term "high confidence" as defined by the intelligence community. In fact, several released intelligence reports from the United States and Britain, including and predating the redacted, classified one cited here and in the New York Times, have offered specific evidence. Official testimony before the Senate has provoked concern from lawmakers across party lines.
Additionally, the CIA's intelligence on Saddam Hussein and WMDs was correct; it was the Bush Administration's agenda that resulted in the information being willfully skewed to mislead the public and to justify war with Iraq. Jezebel regrets the errors.