It's the little things that really reaffirm your faith in humanity. Like Former Michigan State Representatives Todd Courser and Cindy Gamrat, both of whom lost their jobs in the midst of a vast and embarrassing sex scandal, and both of whom are now running in the special election designed to replace them.
Gamrat and Courser, both Tea Party Republicans who shared an office and some other things, are both campaigning for reelection in a special election set for March. Courser resigned and Gamrat was expelled after their colleagues decided they'd done all manner of things wrong, including misusing taxpayer funds to hide their affair. Courser, a fan of creative governance if there ever was one, invented weird gay sex scandal rumors in the hopes of covering up their affair, then tried to blame "the Lansing Mafia" for blackmailing him when that didn't work.

Now, both Gamrat and Courser are arguing that they should definitely get their jobs back, because they are the only "true conservatives" around. Gamrat launched a NationBuilder, arguing she's the only one who can return Lansing to the shining beacon of hope it once was:
Please consider partnering with Cindy and financially investing in the STRONG conservative candidate District 80 deserves. In order for us to maintain and return our Republic "to the shining city on the hill" that it was meant to be, we need to be STRONG - MichiganSTRONG!
Meanwhile, Courser, as is his wont, is campaigning mainly through the use of lengthy, self-pitying Facebook posts. In his latest one, he once again suggested that he was targeted for being just too principled in his stance against the "leftists who now control the Republican party:"
If you want a rubber stamp Party player, who will support the Progressive Republican leaders, who are set on expanding taxes, spending, corporate welfare and of course, stealing your Liberty, then vote for someone else! I stood against all of this and if elected I intend to continue to fight with every fiber in my being to stop their efforts to destroy freedom! If you want to stand AGAINST the Progressive garbage being advanced by the leftists who now control the Republican Party then I need your vote and your support!

100% Pro-Life! / 100% Pro-Gun! / 100% AGAINST Crony Capitalism! / 100% for Liberty! / 100% for closing down illegal aliens from everywhere! / 100% for traditional marriage! 100% in support of Israel!

And 200% AGAINST Governor Snyder's plan to import Muslims from Syria to Michigan!
G/O Media may get a commission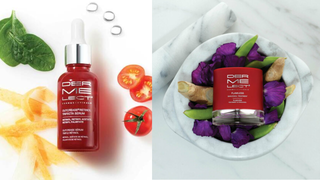 Save $19
Retinol Renewal Kit
(Governor Rick Snyder is in talks to possibly accept more Syrian refugees in Michigan.)
At the same time, two former staffers of Gamrat and Courser—they shared those too—are suing them, alleging they were illegally fired for telling House leadership about the affair. Truly, an inspiration.
---
Contact the author at anna.merlan@jezebel.com.
Public PGP key
PGP fingerprint: 67B5 5767 9D6F 652E 8EFD 76F5 3CF0 DAF2 79E5 1FB6
Gamrat and Courser, with brown hair. The white-haired gentleman is not alleged to be a dick of any size. Photos via AP Images. Big Time Small Time Dicks logo by staff male Bobby Finger.