The Plastic Collection is here! After the jump, enter a world as pink and frivolous as your tiny shrunken heart — from the minds who brought us the $25,000 Barbie foosball table. Bring your credit card!
<hr>
"Plastic is fantastic" is what I say when I don't have any cash in the bank.
<hr>
But with this serious side-eye, Barbie seems to be suggesting I try some cosmetic surgery. Not everyone can age as well as you, honey! This modern art piece — printed on white plexiglass — is actually kind of awesome… although who has $750 to spend on this kind of thing? (Answer: Paris Hilton.)
<hr>
A true child of the '80s, I love neon! Is it "ultra-hip," as the copy claims? Maybe! And perhaps that's why it's $2,500.
<hr>
The original Louis Ghost chair is gorgeous; this right here is what we call and abomination. Honestly, pink would be okay, but the head and the text, GAH.
G/O Media may get a commission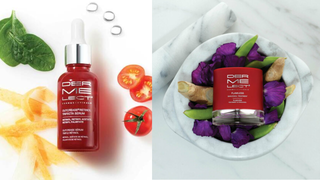 Save $19
Retinol Renewal Kit
<hr>
A one-of-a-kind four-night trip to the House Of Barbie in Shanghai will set you back $30,000 — but you get a massage, a facial, a manicure, lunch everyday, a "custom doll experience," a $1,000 shopping spree, a tour of Shanghai and a tai chi lesson. It's quite a value.
<hr>
Got $2,000? Purchase a set of 40 hand-made replicas of the dolls who live on the staircase at the House Of Barbie in Shanghai. So much pink! So much blonde.
<hr>
Imagine having a mirror in your foyer which is adorned with replicas of the original 1959 Barbie — she of the epic side eye. Would your guests think it was cute? Or kitchsy? Or cuckoo? What if you told them you'd paid $8,800?
<hr>
Something about this foosball table is very Saw III.
<hr>
The lipstick-kissed trenchcoat is adorable. Good thing it's waterproof, because you'll shed many a tear after seeing the $600 price tag.
<hr>
Barbie shoes on a ring! Cute. Unless you are a shoe-chewer. Then not-so-cute.
<hr>
Raise your hand if you had the Dream House! My sister, brother and I had the Barbie Townhouse, with an elevator that constantly broke and had to be fixed with shoelaces. What sucked about the Townhouse was that the hot tub, the bed, the kitchen and so on were illustrations on the back wall. If you wanted furniture, your parents had to hook you up with some… Or you had to get creative. We used shoe boxes for beds. They didn't fit in the damn Townhouse, but Christie, Barbie and her friends could sleep at the Milk Crate Condo next door. We used pizza box supports as end tables and stools, and sometimes spools of thread, too. An upside-down paper cupcake liner also made a pretty little end table, or nightstand. Anyway: Making the crap we wanted was half the fun, so I'm not bitter at all that I didn't have the Dream House, and I'm not planning on getting one now, not even for the low low price of $2,000, thank you very much.
<hr>
Barbie Plastic Collection [Official Site]
Earlier: Barbie Foosball Table Costs Only $25K
Just for Kicks
Barbie Collector: Dolls No Girl Should Ever Play With
Related: Barbie's Townhouse, Then and Now [Retroist]