On Friday, Robert Earl Council, a.k.a. Kinetic Justice, a leader in the national prison labor movement, who is currently incarcerated in Alabama, was transferred from Holman Correctional Facility—just one day before he was scheduled to meet with an advocate from the Southern Poverty Law Center. He has since been transferred again, and is currently on a hunger strike.
Ana Gasteyer Satirizes the Girl Boss in 'American Auto'
According to Pastor Kenneth Glasgow, founder of The Ordinary People Society and a spokesman for the Free Alabama Movement, Council was transferred out of Holman Correctional a day before he was set to meet with SPLC policy strategist Monique Gillum, Glasgow said, who was investigating the suicide of Robert Deangelo Carter. The SPLC declined to comment on the scheduled meeting, but did confirm that they were investigating Carter's death. "We're looking into it," Maria Morris, SPLC managing attorney, told Jezebel. "We're also looking into the conditions in segregation units at Holman—and elsewhere—that allow for suicides like this to happen."
While Morris declined to comment on whether SPLC had planned to meet with Council on Saturday, she did note that it wouldn't be the first time Alabama DOC moved an inmate at the last minute: "We have had instances where we have appointments that were scheduled and we find out the day before or the day of that the inmate has been moved or even released."
G/O Media may get a commission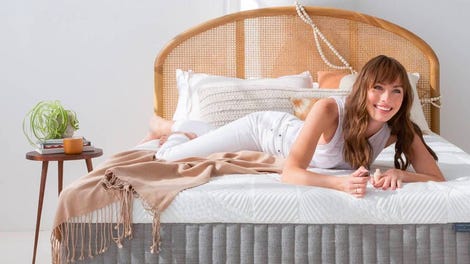 Sleep Sale
Sleep Sale - Brentwood Home
The 42-year-old inmate began his hunger strike on Friday, after being moved from Holman to Kilby Correctional overnight. "Since then he has been transferred to Limestone Corrections, one of the most notorious prisons for isolation in the state of Alabama," Glasgow wrote in a text message to Jezebel. "Other inmates have joined in the Hunger Strike and have vowed not to eat also until they move Kinetic Justice back to Holman or St. Claire."
Limestone has a capacity of 1,628 but housed 2,228—or, nearly 137 percent of capacity—as of March 2016, according to court filings in a federal lawsuit the SPLC is bringing against the Alabama Department of Corrections, charging that the department neglected prisoners' medical and mental health needs in a number of facilities around the state. As of April 2014, 257 inmates at Limestone were on the mental health caseload, and 190 of those were on psychiatric medications. At the time, however, Limestone did not have a psychiatrist.
Council was convicted of murder committed in the course of a robbery in 1995. He is serving a life sentence without possibility of parole. In recent years, he has risen to prominence as a leader in the inmate labor movement, organizing a 10-day strike last spring as well as helping to coordinate the national strike that began in September. "These strikes are our method for challenging mass incarceration," he told Democracy Now! in May, speaking by a contraband cellphone from solitary confinement. "The prison system is a continuation of the slave system."
Asked to explain why Council had been moved twice in a week, a spokesman for the Alabama Department of Corrections, Bob Horton, wrote in an email that the department "does not publicly disclose the reason for moving inmates for security reasons." Asked whether Council is on a hunger strike, he replied: "He's made that statement to prison officials."
Horton elaborated in a later email:
Prison officials confirm the inmate has declared a hunger strike. The Alabama Department of Corrections does not publicly disclose the reason for moving inmates for security concerns as mentioned in initial response.

Media are inquiring about the inmate's water supply. Limestone Correctional Facility reports the inmate's cell has water.

Medical staff at Limestone has conducted an initial assessment of the inmate's condition. The inmate will be weighed daily, his food intake monitored, and proper medical care will be provided as needed.
"The inmate states his reason for the hunger strike is over concern for his safety," Horton added later.
The Department of Justice announced a statewide investigation of Alabama's prisons earlier this month.