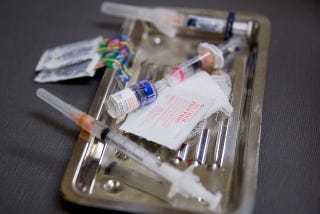 This sounds absolutely horrifying: two babies have died, and two dozen others have become gravely ill, following routine vaccinations for tuberculosis, rotovirus and Hepatitis B, reports AP Online.
What's even worse—no one knows yet for sure what caused the infants' reactions, which were addressed at a hospital in Simojovel, Chiapas, a poverty-stricken region in southern Mexico that borders Guatemala.
Here's wishing the families affected a speedy recovery, as well as a swift investigation and resolution for everyone involved.
Image via Getty