As any woman unfortunately knows, with more technology comes more ways to be harassed. In India, the rapid cell phone boom has led to an unintended consequence: Men are routinely dialing random numbers as a way to meet women.

The New York Times describes the "phone Romeo" phenomenon in which dudes use smooth lines like this on female strangers who answer their calls:
The "phone Romeo," as he is known here, calls numbers at random until he hears a woman's voice, in the hope of striking up a romantic attachment. Among them are overeager suitors ("Can I recharge your mobile?"), tremulous supplicants ("I am talking to you, madam, but my body is shaking") and the occasional heavy breather ("I want to do the illegal things with you").
This essentially means that any woman with a phone number is now a target for a lonely, horny man. In an extremely disturbing headline calling it a "Stalkers' delight," the Hindustan Times writes that "Mobile numbers of unsuspecting girls are being sold from recharge outlets across Uttar Pradesh for prices based on their looks and are being used by men to harass them over the phone, police say." In the last four years, 90 percent of the 600,000 registered women's helpline complaints in Uttar Pradesh were over phone harassment. Uttar Pradesh is the most populous state in the world and local police say that jails will overflow if they target the harassers. Instead, they are going to the guys who sell the fake SIM cards, sending a message to women that their privacy only sort of matters.
The Times tells a horror story of one guy, 24-year-old Premsagar Tiwari, who rotated through "eight SIM cards, some registered under false names, to contact more than 500 women." Geetika Chakravarty, 24, said that she blocked Tiwari's number several times, but he'd always call back with another one. Eventually, she began to worry he was stalking her.
G/O Media may get a commission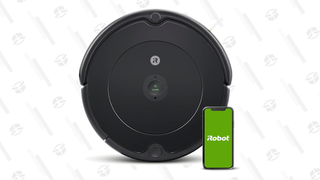 35% Off Black Friday Deal
iRobot Roomba 694 Robot Vacuum
But in a conservative society with rigid gender norms, once in a while, dialing the wrong number also opens up the possibility for what economic anthropologist Julia Huang called "wrong phone number relationships" in a 2016 thesis paper at the London School of Economics. They can serve "as harmless flings for passing time, as a new kind of resource for matchmaking, and as a domain for exploring one's own and judging other people's morality," she wrote, especially to women who may not be allowed to date or otherwise mingle with men. Huang, who studied the phenomenon in Bangladesh, does not say how common this occurrence is, but she told the Times:
"It's one of those boundary-expanding experiences that allow you to think about opportunities that were not previously available," she said. Young women, she said, described these relationships with "kind of a fearful excitement."

For the young men, she said, "dialing random numbers is like playing the lottery and seeing what comes up." Often, she said, they approach it almost as a competitive sport, vying to see "who is more skilled at keeping a woman on the phone for a long time."
The Times cites only one example of a semi-successful wrong-number relationship, and in that example, it was not a man who called a woman on purpose to talk to her—it was a girl who dialed a wrong number, genuinely, and the guy called her back and said he liked the sound of her voice. The ethics behind the 11-month courtship are also very murky, as the girl is a 16-year-old garment worker and the man is an adult railway worker eight years her senior. The Times describes this as a romance, but it's hard not to see the man's actions as predatory.
Of course, while some women may be open to conversation, ultimately there's still a deeper societal problem when men feel entitled to a woman's time and consent isn't a two-way street. A cell phone is not a dating site, and harassment is not a form of courtship.