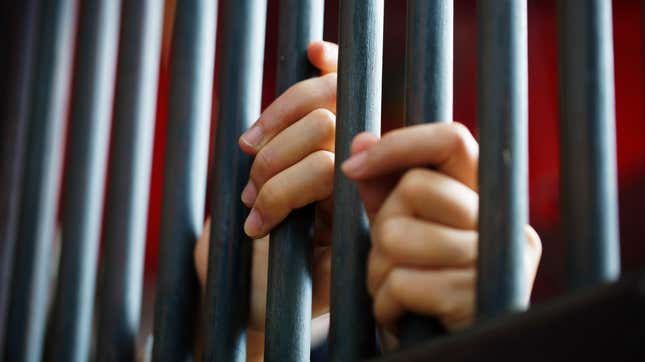 An incarcerated woman was forced to give birth alone in a Tennessee jail on Sunday. The woman and her baby were hospitalized after the birth, the Montgomery County Sheriff's Office told the Associated Press.
Berkeley Law Professor Calls Out John Hawley's Transphobia
The woman, whose name and age were not disclosed, reached out to a deputy for medical help at 11:31 a.m., according to a statement from the Montgomery County Sheriff's Office statement released on Tuesday. Here's what happened next, according to police:
The Deputy contacted the medical staff, as per protocol, and a Nurse arrived within a few minutes [of 11:31]. The Nurse, a Licensed Practical Nurse, conducted an assessment and left the cell to consult with additional medical staff. A Registered Nurse arrived thereafter at 11:54 AM to conduct a follow-up assessment.
The nurses "continued to assess the situation and order additional medical tests," while deputies continued to check on her. By 12:41 p.m., the woman had somehow given birth in the cell alone. The woman and baby were taken to the hospital by emergency medical staff.
The woman and newborn are now stable and still at the hospital, per the cops' statement, which is great. But what happened between that 11:54 a.m. assessment and the 12:41 p.m. assessment? That's quite a long time to labor alone with no assistance. It's unclear what happened during that roughly 50-minute gap, but I can only hope she was able to freely move while laboring. Tennessee only banned the practice of shackling someone while they're giving birth in 2022, though there are exceptions to the law, like if the incarcerated person "poses an immediate and serious threat." 
The number of states that still allow shackling people who are both pregnant and incarcerated is still in the double digits, despite federal law even attempting to curb the practice for those imprisoned on the federal level. "Shackling is a dehumanizing, traumatic experience for the pregnant person and their baby, and this legislation is just part of what it will take to ensure incarcerated, pregnant people have some sense of dignity and respect throughout their pregnancy," Briana Perry, co-director of Healthy and Free Tennessee, told Jezebel's last year.
While it's unclear if the incarcerated woman gave birth while shackled, it's unacceptable that she had to go through that experience alone and without medical assistance. The carceral state continues to be inhumane.