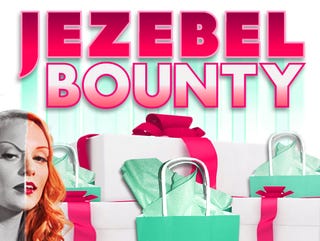 Hey you. Yes you, with the dry sense of humor and great style, try your luck at our latest caption contest, for a chance to grab a swag bag from designer, theLAincident.
Last week's lucky ducks were TheyCallMeSwamper and o-line. Let's show them all of our Jezebel love!
This week's contest:
We're looking for the smartest, funniest, most original caption — a la New Yorker cartoons — for this action shot from the March 2011 issue of Vogue UK.




What you get:
Two winners will receive a gift basket of limited edition pieces, from the creative duo out of Los Angeles, theLAincident .
Each gift set includes:
1 Handcrafted 'Covenant Cameo Cocktail' Ring in Hot Pink
1 Triple Row 'Divine' Pearl Bracelet in Pink Flamingo
1 Laser Cut 'My Deer Heart' Brooch in Wood
1 Laser Cut 'Sooo Ovar You' Brooch in Wood
3 'My Zombie Love' Cards (One of each current design – 1, 2, 3)
3 Handcrafted Envelopes
Submit your captions in the comments only. The deadline for contest entries is Monday, February 7 at 12pm ET. On that evening (2/7), a Jezebel editor will pick two winners(!) from the comments on this post at her sole discretion based on wittiness and originality. We will notify the two winners by email on Tuesday, February 8th by 12pm ET.
All standard Gawker contest rules apply.
Some additional requirements: You must have a valid email associated with your commenter account. You may submit an entry or request a winner's list via mail to Gawker Media, Attn: Weekly Jezebel Bounty Contest, 210 Elizabeth, 4th Floor, NY, NY, 10012. Approximate retail value for prizes is less than $200.