Laura Owens is not exactly a real-estate shark. New Yorker art critic Peter Schjeldahl characterizes the artist as a soft-spoken, earnest feminist who makes playfully wistful paintings and works with children and campaigns for Democratic politicians. So when a group of activists burst into the VIP reception for her "mid-career survey" at the Whitney Museum last week shouting "fuck Laura Owens!"—accusing her "racist entrepreneurial" art space of removing them from their homes—it looked like class rage had gone off the rails.
Owens is the latest target in the scorched-earth campaign by longtime residents of Boyle Heights, Los Angeles to rid themselves of incoming art galleries and coffee shops. Owens and her dealer Gavin Brown have run the event and exhibition space 356 Mission there since 2013; hot dealers like Brown, who lives in a townhouse in Harlem and opened a gallery there, tend to be the harbinger of new "arts districts"—and where he goes, so do shabby-chic, high-end galleries like Venus Over Manhattan which, sure enough, have followed. Last year, a Hollywood talent agency opened a space in Boyle Heights for famous artists to "do business" (something to do with hobnobbing with collectors–it sounds shady), calling the neighborhood "the heart and soul of creativity."
On Wednesday, Owens responded to the protesters with a statement on the 356 Mission site, saying that she has been receiving death threats:
After refusing to engage in a dialogue, the protestors increased their aggressive techniques, by distributing further false information about us on anonymous social media accounts and bullying and threatening our staff and presenters, including people who are themselves part of vulnerable communities. We do things in public; we have an address; we have a phone number; we are open to criticism; and we welcome discussion. This has made us vulnerable to anonymous insults and death threats left on our voicemail.
She wrote that she "cares deeply" about the community and over the past 25 years has taught at local universities and served on the boards of nonprofit organizations. 356 Mission's homepage explicitly states that it is not "entrepreneurial"; the gallery profits go entirely back to the events programming such as free youth workshops, performances by local artists, and political organizing meetings (some recent events: make Doll Clothes; Build Your Own Monster; Design your own T-Shirt; all materials provided and refreshments served). They have always operated, she said, at a loss.
G/O Media may get a commission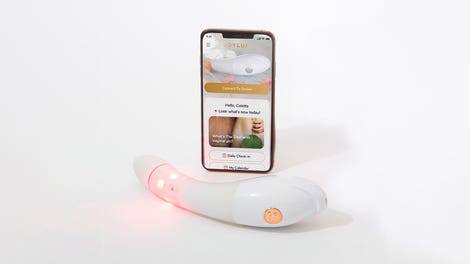 $50 Off
Joylux vFit Gold Device
Owens wrote that she met with protesters in May 2017 to reach a compromise but that none of 356's proposals, like working together to buy land, were enough—activists said they wanted her to "hand over the keys" to the community, she wrote. In an Instagram photo of the protest, Defend Boyle Heights wrote, "LAURA, GAVIN, 356 GET THE FUCK OUT OF #BoyleHeights" (see below). A collaborating group, Pico and Aliso, suggested that if Owens wanted to keep painting she should "move to Beverly Hills." (Neither Owens nor Gavin Brown responded to request for additional comment.)

Since Owens is not presently moving to Beverly Hills, what would Boyle Heights have her do?
"Laura Owens could set up shop anywhere in the world," Nancy Meza of Defend Boyle Heights, part of a cross-country coalition of activists, said over the phone. "She's a highly trained artist. She has access to elite art spaces that elevate her work. She's getting profiles in the New Yorker."
As proof, Meza said that she saw the connection firsthand. "We disrupted [Laura Owens's] VIP reception," she said. "It was full of arts investors. That's what I've seen from her crowd and her crew."

If Owens is just part of an investor crew, it follows that "the keys" to a gallery, in Owens's hands, are essentially now in the hands of the elite. And the elite "invests" in real estate just like they invest in art–they trade it amongst themselves, and each time the key changes hands, the building gets more expensive. That means a home is removed from the community; and that means neighbors are removed; and removing neighbors hurts everybody.
"You know that saying 'borrow a cup of sugar'?" Meza added. "Living in a low-income community is that times a hundred. If I can't pay rent, someone can lend me $100. If one of our friends is taken by ICE, our community is able to build a campaign to get one of them released. Gentrification disrupts those lifelines we built." She rattled off a list of years-long campaigns which have made Boyle Heights suitable for habitation: campaigns to get more schools, bus stop benches, getting rid of a power plant which leached lead into the soil and liquor stores when the white people just bring in bars. "We've worked hard to uplift our community, and we want to reap the benefits," she said. That's common in gentrified communities, a history of hard-fought battles by low-income communities of color who'd gotten rid of locally unwanted land uses (LULUs) before whites moved in: in Williamsburg, activists blocked an incinerator; in Sunset Park, residents fought off a sludge plant; in Harlem, they got a park built over a sewage-treatment plant. In all those neighborhoods, wealthy residents now enjoy the benefits.
But "wealthy" does not describe most artists, even those with fancy art school pedigrees; the activist group BFAMFAPhD has found that according to the latest census data from 2012, working artists with bachelor's degrees earned a median income of $36,105.
Owens isn't starving (her work has sold at auction for over $230,000), but Defend Boyle Heights and the Boyle Heights Alliance Against Artwashing and Displacement (BHAAAD) have also succeeded in pushing out a nonprofit, PSSST, whose mission statement includes highlighting work by women, LGBT artists, and people of color. In its closure announcement in February, PSSST said that they were "routinely trolled online and harassed in person," which meant, they said, finding the word "BITCH" tagged on one of their cars, hearing chants of "You are not safe!" and a celebration outside their space months after closing. They have no plans to reopen elsewhere.
It doesn't matter to Boyle Heights that spaces like PSSST are also threatened by developers; it matters that they don't seem to put up a fight. (In New York, at least, subsidizing art event spaces is now a built-in component of luxury developers' ultimate scheme; often curators or art spaces will take those opportunities.)
"Artists say they're priced out, and we're like, yeah, that's what happens," Meza said. "They're willfully complacent. Ignorance breeds more ignorance, that's why our campaign sets a strong tone. Everyone here is an artist. Every day you're surviving poverty you're being creative, you're using resources to survive."

Artist Alicia Grullón, an activist from the Bronx, can understand the waning sympathy for the priced-out excuse. "If a gallery is able to pay $30,000+ a month on rent and supposedly 'live paycheck-to-paycheck' that is a different reality to the working class people in places like Boyle Heights, the Bronx, Chinatown and Harlem–who are a paycheck away from homelessness in many instances."

---
"This term 'artist' has this elitism to it," Caribbean-born and Flatbush-based performer Imani Henry, of the BAN Gentrification network, which took part in the protest, told me. "There's an idea that if it's imported to a gallery or museum, that if it's a white artist from Kansas, they're an artist. Our art is criminalized."

The most obvious difference is between the definitions of "street art" (neighborhood embellishment) versus graffiti (defacement of property). In New York City, white "singer/songwriters" are allowed to play acoustic covers on the subway platforms, but black and brown "Showtime" performers are arrested for doing acrobatic pole tricks on the train.
"This is a perfect example," Henry said. "In 2015, a white woman from outside came into Bushwick and... made an installation on somebody's house, which she didn't live in. This is such a colonialist thing—I see a house over there, I discovered it."

He's referring to a crochet "mural" of three characters from Wes Anderson's Moonrise Kingdom, which appeared on the side of a building abutting the Bushwick Flea Market; the artist reportedly got permission from the flea market founder but didn't think to talk to the building's owner, who lived there. It's that kind of disregard for residents which has fomented the message: get out.
---
Gentrification affects galleries, too. In Manhattan's Chelsea neighborhood, the epicenter of the gallery universe, rents reportedly averaging $120 per square foot have uprooted nearly half the galleries. (Crain's once put the number at 360 around 2007, now the New York Times cites 250).
On a smaller scale, nonprofits and artist-organized activist groups like ASAP (the Artist Studio Affordability Project) and BFAMFAPhD have been trying to find some common ground between struggling artists with master's degrees and the communities where they can find affordable spaces. As PSSST wrote in their statement, "While our closure might be applauded by some, it is not a victory for civil discourse and coalition building at a time when both are in short supply."
"I'd like to think there is a better way of achieving their goals than this zero tolerance asshole approach, but maybe there isn't?" said art critic Paddy Johnson, who organized the "Stay in New York" anti-gentrification summit at the Queens Museum in 2015. [Disclaimer: I used to work as an editor at Johnson's blog Art F City.]
She believes in working via the political process: going to community board meetings or talking with local City Council members who can speak on their constituents' behalf when it comes to things like the mayor's arts budget or rent caps.
"I do worry about the endgame here," she added. "Galleries may be a ripe target because of how they symbolize gentrifying forces, but most developers know that artists and galleries are only one business of many that contribute to gentrifying neighborhoods. If galleries are forced out, they may simply be replaced by large retail store chains or other big business–all less likely to give two fucks about the protestors. I could see there being a lot of dubious arrests taking place in that scenario."
In its rationale for why it's targeting Owens and Gavin Brown, BHAAD has put out a "solidarity action fact sheet" stating that the Boyle Heights space has directly raised Owens's income:
Owens's career has also benefitted greatly due to her relationship with this space. In 2014 her drawings and paintings sold for between $15,000 and $175,000. On November 8, she will be having a retrospective at the Whitney Museum, which will further raise the value of her work.
Johnson is skeptical that a community-oriented exhibition space bears any relation to the art market. "I don't think it's fair to create an action sheet that presents assumptions as facts. Has 356 Mission really increased the value of Owens's paintings? How are they tracking that? Can Owens and Brown really go anywhere? (No, but I bet they could find a smaller space somewhere else.)"
But, she added: "maybe you stop caring about how you draw your conclusions and what you call facts when you're fighting for your home, your livelihood, and the livelihood of your family."