It seems like whoever can quantify the following will be able to take over the Internet dating market.
As distinct from mere liking, there's "clicking" — an instant spark of recognition. We're usually told about it in terms of romantic spark, but it's at least as common — and important — in platonic contexts. In Click, The Magic Of Instant Connections, authors Rom and Ori Brafman (authors of the bestselling Sway) claim that "We've discovered that there are five factors involved in a click that show up time after time across different contexts. They are vulnerability, proximity, resonance, similarity and environment."
Some of these — proximity, say, or bonding over a shared environment — seem self-evident. How, after all, can one establish rapport (short of "Some Enchanted Evening") without opportunity? But cute catchphrases aside, the others — things like "vulnerability" and "similarity" — are more opaque. We're drawn to others like us, goes the thinking, and creating further similarity (see: bonding over a plane delay) increases our sense of mirroring. Vulnerability, meanwhile, simply means opening up to another person, albeit not in a creepy and oversharing way. Oh, and beer goggles off: "true resonance has to happen when you're sober - that's when you know you've really got a click."
But does isolating these factors actually help one "click" with another person? After all, when does luck — that delay, the opportunity — or simply the basic social skills that tell someone when to open up? And all these factors seem less about the other person than the way we see ourselves reflected back, and the way we feel as a result. The Daily Mail</em> helpfully gives us a sidebar of the "Secrets of Instant Rapport" — but is this intended to be instructional, or merely instructive? What we're talking about, after all, is essentially early impressions. And while one can control these to a degree (Chemistry.com has made a mint doing just that) the rest is still up to you — and, whatever the "clicking" gods may say, to serendipity.
G/O Media may get a commission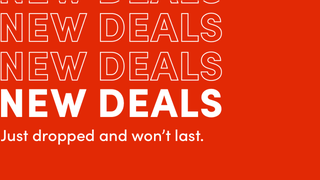 Up to 70% off
Wayfair - Cyber Week Deals
For those without the time or inclination for the book, here's the crib sheet:
THE SECRETS OF INSTANT RAPPORT

There's power in vulnerability. Our willingness to risk being vulnerable can deepen the quality of our relationships and make us more likely to connect with others.

A few feet make a big difference. even the smallest physical distances that separate us from others play a major role in determining who we're most likely to hit it off with.

Resonance begets resonance. Flow — the experience of being in the zone — help us to create resonance, a quality that can draw others to us.

Similarity counts. The more we can accentuate the similarities we have with someone else, the more likely we are to hit it off with that person.

The environment can help foster intimacy. Overcoming challenges or adversity together can help to stimulate or encourage clicking, as can being part of a shared, defined community.
You heard it here — and if you can apply "flow" and "resonance" to the next "opportunity," well, just wait for the "click." In all seriousness, if you read through the list, you probably will identify some of the process of "clicking" with someone. But you'll also remember the sense of spontaneous discovery. And identifiable as the process may be, that intangible's pretty valuable too.
The Secrets Of Romance: What Exactly Does Make Us CLICK? [Daily Mail]
Image via Shutterstock.