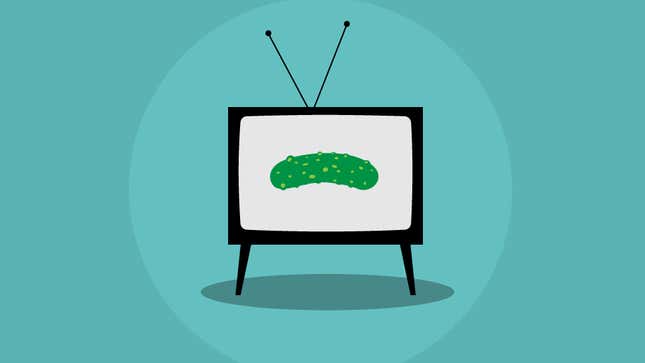 I watch a lot of television. From ABC to HBO, AMC to FX, Netflix and Starz and more but most of my shows are missing something — penis. Oh, there are plenty of breasts, female backsides in dim lighting or girls emulating blow jobs or back shots, but as a heterosexual women I am tired of thinking 'Where's the peen?' or 'Show me the man butt!' Thank the Lord for Starz's original series Black Sails.
On its face, Black Sails is a show about swashbuckling pirates in Nassau, Bahamas during the 1700s, which isn't usually my scene. But my fiancé gave it a try and like Chris Rock said, relationships are TV and sex. Tuning into the show, imagine my surprise when I saw my first swinging pirate penis, all free and sand-caked for the world to see.
Watching Black Sails is akin to viewing television in some warped world where nudity is literally part of, like, human life. Obviously, it's still a television show so there are still glamorized tits and ass shots with seductive lighting or a well manicured 18th century — I'm assuming? — merkin, and a rape-as-empowerment storyline that I don't love. But there are also penises everywhere; a penis tied to a pole, a penis hanging out during a hand job, a penis covered with mud and dust after a dude improbably climbs out of a not-so-shallow grave. It's all coming up penis and it's all so … pedestrian.
Logically, because Black Sails is primarily about male characters rough-housing around Nassau and just four main female characters — which when I write that down sounds like quite a bit — it makes sense that there would be more peen shots than breasts or merkin. Of the women, Eleanor Guthrie heads up the island's leading trading company and happens to be bi-sexual so she's afforded love scenes with men and women, Max is a prostitute and one of Guthrie's lovers, Miranda Barlow is the complicated aristocratic girlfriend of hottie Captain Flint and Anne Bonny is a pirate herself who dresses like a dude and is dating Rackham, one of the quarter masters, ie. second man in charge of a pirate ship.
G/O Media may get a commission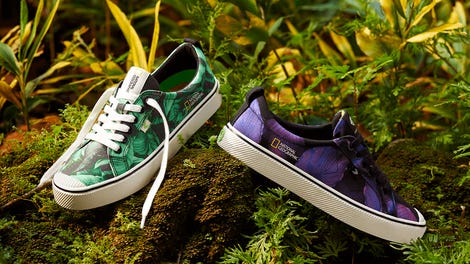 New New New
Cariuma + National Geographic
When I began watching the show, I wasn't surprised to see Max in full nudity with her girl Guthrie because of her character's job, but a later love scene with the red-haired Flint featuring Barlow's full bush let me know I was in for full frontal, back-tail and everything in between. Though, if the Black Sails producers are reading this, I've yet to see Flint's penis*, a disappointment I'd rather not endure. As the Black Sails series continued, the nudity even became a joke between my fiancé and I. When, say, Anne leaves her quarter master boyfriend splayed and tied to a four post bed balls out, my man would yell 'Gender equality!' and throw up a fist. His quip is funny because it's true.
Think about how many times you've seen female breasts, butts or even merkin on cable channels like HBO, Showtime or Skinimax, er, Cinemax; the female-to-male nudity ratio is a given inequality that we women begrudgingly accept. It's been a dynamic for so long that now it's a running joke in itself — just look at J.Lo's latest video where she's living my high school dream of turning the gender tables for proof — though the punchline of objectified women isn't all that gut-busting.
Recently, Game of Thrones actress Sibel Kekilli, who plays a prostitute on the show, told the Independent that she would love to see more of her male co-stars get naked and joked that she was "going to talk to (show co-creators) David Benioff and Dan Weiss" about it. Clearly, she isn't. On the flip side, Judd Apatow admitted during an interview that he and Girls creator Lena Dunham wanted to include an erect penis in one of the show's scenes but were denied by HBO, despite Dunham's continued nudity on the series. How ironic is that?
But what if the Black Sails approach to nudity was adopted by every channel? What if there were penises, breasts, vaginas and butts everywhere? I think the sheer exposure would deglamorize the naked body because if you really think about it, we're all the same underneath — granted some of us might look better on a silver screen than others — so what's the real big deal? I say full frontal penis on television should be the wave of the future and we should march for our new cause with snappy peen-shaped signs that read 'Equality For All (Parts)!' and dick-shaped whistles. I know we can at least find the latter at a tacky bride store ...
*I just realized that Captain Flint is Dame Maggie Smith's son Toby Stephens and now, somehow, I feel guilty for hoping to see his peen. The Dowager Countess probably wouldn't approve.
Image by Jim Cooke.