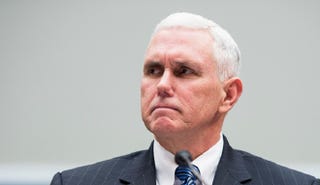 Indiana governor, Mike Pence, went on ABC to defend the state's recently passed "religious liberty" bill. Pence relied on an old talking point, insisting that the bill was not about "discrimination," but "empowering people to confront government overreach." And in another familiar oldie, Pence insisted that "tolerance is a two-way street," seemingly misunderstanding the definition of the term.
The bill, signed into law on Thursday, prohibits the passage of state laws that "substantially burden" the religious beliefs of individuals. According to the AP, the definition of an individual includes churches and religious institutions, as well as businesses and other entities.
After Pence signed the bill into law, many companies announced they would no longer do business with the state. Most prominent among them was Angie's List who announced that they would suspend a multi-million dollar expansion in Indianapolis.
Now Pence is asking the legislature to clarify the intent of the law.
Pence said he will look at a bill to clarify the law's intent if lawmakers send him one. He also told the Indianapolis Star on Saturday that he was in discussions with legislative leaders over the weekend and expects a clarification bill to be introduced in the coming week.

But Pence was adamant Sunday that the measure, slated to take effect in July, will stick. "We're not going to change the law," Pence said.
Way to dig in.
Image via Getty.