The search for who's responsible for Flint's lead poisoned water crisis has begun in earnest, as the FBI, EPA and Congress drill down on who did what when.
For one: U.S. Marshals are on standby to force current Detroit public schools emergency manager Darnell Earley (and former emergency manager of Flint) to testify before a congressional committee in Washington, D.C. He initially refused but, according to the Detroit Free Press, one Congressman said it doesn't work that way. Rep. Jason Chaffetz, Chairman of the House Oversight & Government Reform Committee, instructed the Marshals to "hunt [Earley] down" if necessary to ensure he arrives on time to Wednesday's House committee hearing.
Earley was the emergency manager when Flint switched its water supply from Lake Huron to the Flint River in 2014. On Tuesday, Michigan Governor Rick Snyder told press that Earley would be leaving his post as emergency manager of Detroit Public Schools at this month's end.
Meanwhile, the FBI have joined the EPA's investigation of this horrible man-made health crisis. Paul Egan writes that a spokesperson for the U.S. Attorney's Office in Detroit announced this week that their team was "working with a multi-agency investigation team on the Flint water contamination matter, including the FBI, the U.S. Postal Inspection Service, EPA's Office of Inspector General, and EPA's Criminal Investigation Division."
Michigan's Department of Health and Human Services is also looking into exactly what's causing rashes in so many Flint residents, which they suspect is not just lead poisoning. The EPA and the Centers for Disease Control are pitching in to help identify the elusive cause by sharing information and interview protocols with local researchers, who are interviewing residents like 64-year-old Christeen Lawson.
"It started when the water got bad," said Lawson. "I didn't know what it was coming from. I thought it was from being allergic to plums or whatever I was eating…. At the time, I didn't know about the lead. Then my oldest daughter called and said, 'Momma, I heard you're drinking the water. Don't drink that water.' But I had to drink something. I wasn't going to dehydrate. I didn't have no choice. I didn't have no way to get no water, and I didn't know they was delivering it."
G/O Media may get a commission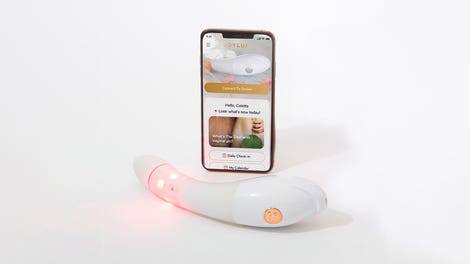 $50 Off
Joylux vFit Gold Device
Dr. Eden Wells, chief medical executive of the Michigan Department of Health and Human Services, says that lead itself doesn't cause rashes, but that the trigger might be from "certain home systems, hot-water heaters or other metals." Like Lawson, most of those suffering in Flint are not in a financial position to see multiple specialists to figure their preventable, manmade health problems out.
It's still unclear how much legal blame will actually fall on Rick Snyder, who has come out, as he should, looking the worst of all. From the New York Times last week:
Emails released by the office of Gov. Rick Snyder last week referred to a resident who said she was told by a state nurse in January 2015, regarding her son's elevated blood lead level, "It is just a few IQ points. ... It is not the end of the world."
---
Contact the author at Hillary@jezebel.com.
Witnesses from the Office of Water, EPA; Department of Environmental Quality and Virginia Tech are sworn in on Capitol Hill; image via AP.