Giovanna Battaglia, a contributing editor at W and a senior fashion editor at Vogue Japan, is exactly the sort of mildly terrifying creature you might picture when you hear the term "fashion person." The living embodiment of a Dolce & Gabbana fever dream, Battaglia is a former model who looks like a cross between Audrey Hepburn and Sophia Loren; she can generally be counted upon to attend events (and she attends every event) in something just crazy enough, like a crown of safety pins or a red plastic patchwork shirt.
Ana Gasteyer Satirizes the Girl Boss in 'American Auto'
Anyway, she got married in Capri this weekend to a very rich Swedish man named Oscar Engelbert (her name is now Giovanna Engelbert, which seems like a mistake), and it was fucking nuts.
Giovanna wore a white custom Alaïa dress to her wedding rehearsal, one of approximately 45 costume changes:
G/O Media may get a commission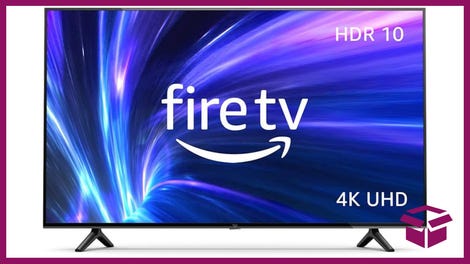 42% Off
Amazon Fire TV 50" 4K Smart TV
A modest setup for this small gathering of friends:
The bride and groom-to-be:
Princess Elisabeth von Thurn und Taxis arrives to the wedding, looking okay!

Jewelry designer Sabine Getty in Mugler:
Bridesmaid Anna Dello Russo, editor-at-large for Vogue Japan, in a Valentino cape dress that is probably the calmest thing she's ever worn:
A close-up of Giovanna's Alexander McQueen dress, and all the guests taking pictures of it:
Here's another look at this I N S A N E dress. Take comfort in the knowledge that it was probably difficult to walk and breathe and eat in, three activities that are honestly probably not that important to Giovanna Battaglia:
Wow, I love love! #love
But of course, here are two men in tuxes taking speedboats to the wedding reception. How else were they supposed to get there, by land?
I'm not sure what these giant white balls are for, but I like them! Very romantic!
Time to slip into something a little more comfortable: Manolo Blahnik thigh-high boots, a Giambattista Valli cape-dress, and what appears to be a slightly different flower crown:
Below, a Vogue editor not knowing all the words to "Vogue"—and please continue watching, because after this lip sync, Giovanna moves to a small cliff, where she dances around in circles by herself. Then, she walks back and forth on the dance floor by herself to "Eye of the Tiger," flitting her cape around as the crowd cheers in the most bonkers display I have seen in a very long time.
I have a strong feeling that everyone at this wedding received a hand-embroidered satchel containing shards of pure MDMA.
Another costume change:
Of course Derek Blasberg was there! Of course he was. Derek Blasberg is everywhere, and nowhere, and wearing the worst outfit I've ever seen.
Margherita Missoni also showed up, wearing, for some reason, a large crown:
At one point, apparently, the bride put a disco ball on her head:
And NO WEDDING IS COMPLETE without Vogue's Hamish Bowles and Rupert's Wendi Murdoch, new flame of one Vladimir Putin!
What a fun wedding, you guys! I had an amazing time! Capri memories forever!