In a case of movie title imitating life, Russell Brand's facial hair refused to begin filming Eric Idle's new musical What About Dick? until he convinced a wardrobe assistant to flash him. He actually delayed production for two hours, haranguing her the entire time. A source said:
She was having none of it - at first. But when it started to look like they weren't going to get any work done she gave in and flashed him.
Did you guys know that if you bring your yogi to public appearances and talk about the importance of being spiritual on Jimmy Fallon and shit, you get a karmic pass—nay, the natural right!—to see the sweater puppies of any below-the-line person on your movie set? If you're Aldous Snow, you do! (And, let's admit it: the line between Aldous Snow and Russell Brand is blending every passing day.)
Apparently the dude gets away with murder on most movies, but this time co-star and comic Billy Connolly took him aside for a stern talking-to. So, yup, Hollywood is full of professionals and no breasts are safe. Good Lord, imagine what Brand might have requested from a PA? [The Sun]
---
G/O Media may get a commission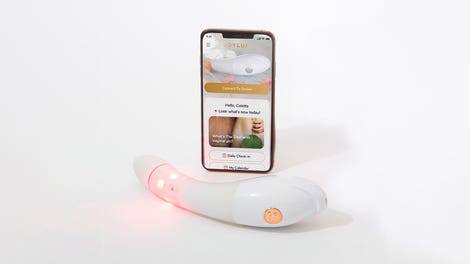 $50 Off
Joylux vFit Gold Device
Katie Holmes has enrolled Suri at The World School, an exclusive $40,000-a-year institution meant for the jet setting elite, with 20 campuses on five continents in order to allow for uninterrupted education whilst traveling. One can only assume that the cubbies are Jonathan Adler-designed and framed with gold leaf and crushed quail eggs, and the teachers are robots that run on national and international currency. XOXO, Gossip Girl. [Daily Mail]
---
The judging table of singing competitions is quickly becoming a curse to celebrity marriages: first Britney Spears and Jason Trawick, and now Mariah Carey and Nick Cannon. Cannon's pissed that Carey, who just signed on to judge American Idol didn't join him on his competing show America's Got Talent (even after he "dangled incentives" like jewelry, a spa vacation, the payment of a $15 million "gift") and their holy union is now in jeopardy, I guess. [National Enquirer]
---
Did you guys hear how great Pitbull was? No? Well, let Pitbull tell you in his new single "Get It Started," wherein he boasts about his recent tour and completely ignores hook girl Shakira draping herself all over a balcony while singing the wistful chorus. Sample rhyme:
Big news, Pitbull, Tom Cruise, Mumbai
I lit up their December nights like the Fourth of July, Vanilla Sky.
In other words, If On A Winter's Night A Traveler.
---
Holy Shit Great Idea Batman, Lynn Cohen, otherwise known as Magda from Sex And The City, has been cast as Mags in The Hunger Games. I buy you rolling pin, Katniss! So you can make pies for man! (But seriously, she was really good in Munich.) [VH1]
---
Coutney Stodden and Doug Hutchison are having marital problems and have signed on to VH1's Couples Therapy but will likely still emerge as Courtney Stodden and Doug Hutchinson, if not moreso. [Page Six]
---