This is a really beautiful Korean spa in Los Angeles called Aroma Spa & Sports. Korean spas are wonderful, and they hold a special place in my heart. I have been going to the jimjilbang since I was a little girl in Korea. You can have a bath and a scrub and a sauna and usually a meal and other spa treatments if you like, and aroma is special because there's a huge swimming pool, a state of the art gym and a golf range on the top floor.
I went this morning, had a gorgeous swim in the pool, then went downstairs to have a soak, scrub and sauna. As soon as I walked into the locker room, I felt uncomfortable. I guess I should mention here, Korean spas are, uh — well, clothing optional is not the right thing to call them. It's more clothing non-optional, in that everyone is naked.
Perhaps I do get stared at a lot because I am a heavily tattooed woman, but I am also a Korean woman, and I feel I have the right to be naked in the Korean spa with other Korean women. I don't feel shame that my skin is decorated. My tattoos are my glory. I am happy in my skin and I am not sure what to say when others are not happy with my skin.
I walked around from pool to pool, and I kept getting dirty looks from the ladies there. They would talk about me very negatively in Korean, and I just spoke loudly in Korean –- not back at them, but nicely –- saying "ahhh Jotah!" which means "this feels good" –- really at no one -– but just to show that I could understand what they were saying and they weren't getting away with anything.
I walked into the huge sauna, naked, and sat there watching golf on tv –- they have a fucking tv in the sauna. How sweet is that? A few seconds later, a fully clothed young woman, I am guessing the manager of Aroma Spa, came into the sauna, looked around and walked back out. Then, I guess she mustered up the courage and came in again and asked me if I would come outside with her, as the sauna was too hot for her as she was fully dressed.
G/O Media may get a commission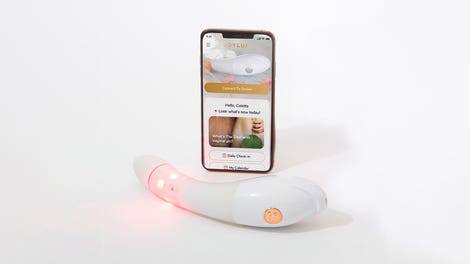 $50 Off
Joylux vFit Gold Device
I walked out to next to the pools with her, and she sat me down on the wet bench and tried to tell me, very apologetically that I was making the women there upset with my heavily tattooed body. She was really sorry and embarrassed about it, and I felt bad, but I was actually enraged.
This is something I have never done -– I actually said, in Korean "Do you know who I am? I am MARGARET CHO!" She realized who I was, and she was horrified! She said she did know me, and had seen me and was familiar with my work, and she apologized even more profusely and tried to explain that in Korean culture, tattoos are very taboo and my body was upsetting everyone there. I told her I was aware of that, but that I really wanted to enjoy the spa and my treatments and I was going to pay for them, just like everyone else there (it's pricey, by the way). She asked if I could please wear something, anything -– a towel or something –- and cover myself so that I wouldn't frighten anyone with my body.
She brought me a robe and arranged for some nice extras in my treatments, by way of apology, or uh, whatever.
Even after donning a robe, I was still being given heavy duty Korean woman stinkeye as I moved from sauna to hot tub to pool. I would get into the pools, trying to stay as clothed as possible until the last minute, just trying to get my body into the water and all the Korean stinkeye women would all get out.
This was too much to bear, and I knew I had to get out of there before I got all "OLDBOY" on them, as I watch too many Korean gangster movies and can threaten a bitch in Korean harsher than Choi Min Sik on a bad day.
I restrained myself from saying "joo-goo lae?" which loosely translated means, "you want to die?" I didn't say it. I thought it. but I didn't say it.
I left the spa, way tenser than when I came in, which is the opposite of what should happen in a spa. I paid at the counter, and the manager and some clerks were there who were extremely sweet and apologetic and I gave like a 40% gratuity or something because I didn't want them to be upset.
I told them that I really wanted to join, but I felt so weird about how I was treated. I told them that Korean culture is one thing, but this place is in Los Angeles. We are not in Korea right now. This is America. And it's not like I enjoyed looking at their bodies that much. These were all women of various sizes and shapes and some, like me, bore the marks of a difficult life. My tattoos represent much of the pain and suffering I have endured. They are part of me, just like my scars, my fat, my eternal struggle with gravity. None of our bodies are 'perfect'. We live in them. They aren't supposed to be 'perfect'. We are just us, perceived flaws and all. I am just only myself. I like a good scrub and a sauna, especially when you can watch Tiger Woods while it's all going down.
Their intolerance viewing my nakedness –- as if it was some kind of an assault on their senses, like my ass was a weapon - made me furious in a way I can't really even express with words -– and that for me is quite impressive. This bitch always has some shit to say.
I guess it comes down to this -– I deserve better.
I brought the first Korean American family to television. I have influenced a generation of Asian American comedians, artists, musicians, actors, authors -– many, many people to do what they dreamed of doing, not letting their race and the lack of Asian Americans in the media stop them. If anything, I understand Korean culture better than most, because I have had to fight against much of its homophobia, sexism, racism –- all the while trying to maintain my fierce ethnic pride. I struggle with the language so that I can be better understood. I try to communicate my frustrations in Korean so that I can enhance my relationship with my identity, my family, my parents homeland.
I deserve to be naked if I want to.


P.S. I saw a heavily tattooed Korean man in the gym area, and I doubt he was asked to cover up at all.
---
Margaret Cho is a comedian, actress, and all-around badass.
Photo by MissMissy Photography.