Last night's episode of The Mindy Project addressed race, and specifically mentioned a topic we discussed right here on this site in May.
The episode, titled "Mindy Lahiri Is A Racist," was written by Ike Barinholz (who plays Morgan) and David Stassen, but it was, as all episodes of this show are, produced by Mindy Kaling. A lot happened, but here's what you need to know: Schulman and Associates, the OB/Gyn office where Dr. Mindy Lahiri works, is constantly feuding with the midwives who work upstairs. In this episode, one of Mindy's coworkers, Dr. Danny Castellano (played by Chris Messina), has a patient who says she's been singing his praises on her mommy blog. Danny looks it up and discovers it's a racist site, whitemommy.com. He's being praised by a racist. The situation is compounded when the midwives upstairs ask Mindy's office to display posters of a black politician who is running for congress, and they refuse — not because he's black, because "if you guys like him, we don't." The midwives start a protest rally, accusing the entire practice of racism.
A PR consultant — played by Jenna Elfman — is brought in, and as Mindy, Danny and Dr. Reed meet with her — as seen in the clip above — all of their racist and pseudo-racist thoughts come out. Mindy says: "I am Indian. I can't be racist." Dr. Castellano replies: "Oh, please. You only hook up with white guys." Sounds familiar!
Mindy is given the task of crafting a statement with the office nurse, Tamra, who is African-American, but their dinner goes awry when Tamra's boyfriend, slapsticky "down" slang-talking whiteboy Ray-Ron, shows up and acts a fool.
With the dinner bungled, Tamra joins the midwives in protesting her own office; it's easy for her to spin Mindy's actions as racist. The comedy here was pretty solid; I was snickering at lines like "Sister Tamra, you work at Shulman and Associates. Tell us how much it's like 1950s Birmingham," or when Mindy exclaimed, "It's okay to call a white person a deadbeat. Or uppity. Or lazy."
As the episode wraps up, the nurse calls Dr. Mindy Lahiri out.
Tamra: "You can be condescending to people under you at work. Sometimes you get a little Downton Abbey."
G/O Media may get a commission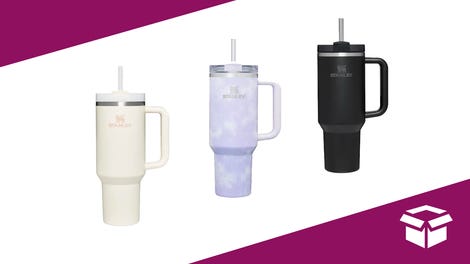 Up to 45% off
Stanley Cup Sale
Mindy: "You've seen Downton Abbey?"
Tamra: "See?"
It's true: The Mindy Lahiri character is snobbish and self-righteous, but it's definitely played for laughs, usually at her own expense. It is notable that the voice of reason in this scene is the character of Tamra, who spent many of her first appearances on the show singing and dancing and being a cringe-worthy caricature slash stereotypical sassy black chick. Maybe it's an olive branch to viewers and to the actress who plays Tamra.
Before the show ends, Mindy flirts a little with the black politician from the posters (played by Larenz Tate), and goes so far as to ask him out. He tells her he's dating Tyra Banks. So no black guy hook up this time. Might have been too convenient.
The takeaway? It was gutsy for the show to tackle criticism head-on, and find a way to make it funny and not a sappy "very special episode." The overall message of the plot was that none of the characters are perfect — in fact, they're all weird and quirky, and that's where the comedy lies. Nothing was tied up into a neat bow, no one came out smelling like a rose (except maybe Tamra). Instead of flat-out saying "we're not racist," it was actually saying, "shit, maybe we are sorta racist," in addition to "but we didn't mean to be!" and also "we get it, even when you don't mean to be, it sucks." My guess is that Mindy will probably go on to hook up with more white dudes, but at least we know that she knows what she's doing — and that we noticed.