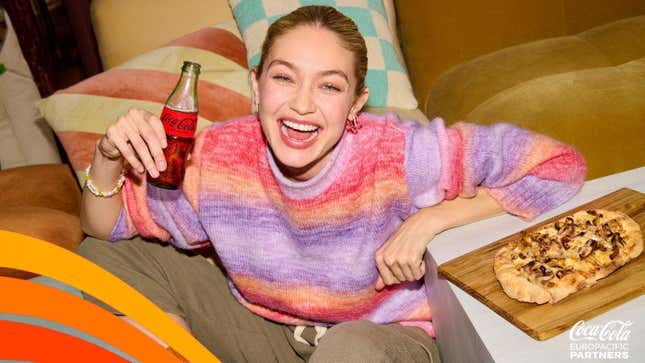 I'm not a great sleeper. I have annoying, vivid dreams every night and toss and turn so much that I typically wake up to find that I've kicked off my covers into the other room. But lately, lately, I've been haunted by a very specific nightmare that starts with a text: "Hey girl! Making dinner tonight, come over?"
A Game of "Odds and Ends" with Stephanie Hsu
It's from Gigi Hadid who, in this dream, is a good friend, but also a friend that I sometimes feel obligated to hang out with. I head to her apartment, which is a teeny tiny two-bedroom in a 53-floor walkup that has dancing cockroaches and is located in the middle of the Hudson River. But when I walk in, Gigi is not making dinner—she's popping the caps off a million cases of Coca-cola, and then forces me to chug every single bottle. I wake up sweating and crying.
I'm nearly positive that this stems from Hadid's latest partnership with Coca-Cola, which includes a 30-second commercial wherein Gigi invites three friends (who look like they were just pulled off the street with a bribe) to make homemade pasta. Fun, right? Wholesome? Harmless? No.
Because alongside the homemade pasta and the "making new traditions" and "sharing old stories" are...bottles of Coca-Cola. SODA with PASTA?! Why are you, a millionaire supermodel in a $330 Xirena sweater, giving me a fucking soda and not a glass of the most expensive red wine I've ever heard of, or, at the very least, a bottle of San Pellegrino?
To be clear, I don't hate Gigi Hadid, and I respect however celebrities wanna use their fame to make more money. I also realize I am giving them free publicity by ranting about this right now, but just maybe the both could try harder next time. Pairing pasta with Coca-Cola is insane; pairing Gigi with these three random humans is making me feel like they've been taken hostage. I don't believe that Gigi has ever once had a sip of soda that wasn't diet, and the tagline "Recipe for Magic" feels like a rip-off of Nicole Kidman's AMC commercial and Disney World, in general.
You're the soda that's better than Pepsi—enjoy it, own it. Give Gigi a gluten-free pizza and a bunch of her famous friends, and let the rest of us (me) go back to having a decent night's sleep.