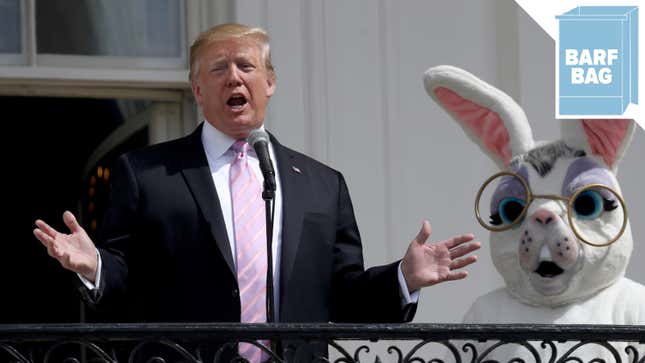 I'm going camping this weekend with my dog, an actual extremely stable genius, and bringing an entire case of Diet Dr. Pepper! Doesn't that sound like heaven?

Here's all the shit we couldn't cover today:
Donald Trump called himself an "extremely stable genius" and Nancy Pelosi a "mess" during an event at the White House today. [Politico]
Pelosi said that "Trump wants to be impeached," and insisted that Democrats are "not on a path to impeachment." Meanwhile, judges in Trump's fight to stop the release of his financial records agreed to hear oral arguments later this summer. [Washington Post/Politico]
Sure, Kellyanne!
The Department of Health and Human Services admitted that a 10-year-old girl from El Salvador died in its custody last September. Her death had not previously been reported, and raises the number of children who have died after being detained crossing the border to six. [CBS News]
The Pentagon plans to spend what will likely be millions to build tent cities along the border. [New York Times]
And it also plans on sending an additional 10,000 troops to the Middle East, which is not worrisome at all! [Associated Press]
The Justice Department has indicted Wikileaks founder and terrible houseguest Julian Assange on 17 new counts of violating the Espionage Act for his role in publishing documents leaked to him by Chelsea Manning. Whatever you think of Assange, this is not good! [New York Times]
It's crime time for Stephen M. Calk, a banker and Trump campaign adviser who was indicted for allegedly providing $16 million in loans to Paul Manafort in order to be appointed to a high-level position in the Trump administration. He supposedly gave Manafort a ranked list of the positions he wanted, which included Secretary of the Treasury, Secretary of Commerce, and Secretary of Defense, and 19 ambassadorships. [Wall Street Journal]
Republicans in Texas have approved a bill that would allow more teachers to carry guns in the classroom. [TIME]
AOC is definitely going to endorse Elizabeth Warren, am I right???
G/O Media may get a commission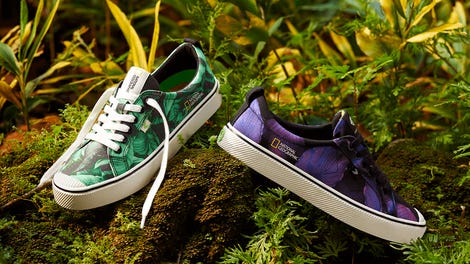 New New New
Cariuma + National Geographic
My girl Marianne Williamson has officially made it to the DNC debate stage! [Politico]
Here are some tweets the president was allowed to publish:
This has been Barf Bag.