A Trump delegate has had her credentials revoked by the Illinois Republican Party for posting racist remarks on Facebook encouraging police officers to shoot black people—though she phrased it slightly less delicately.

The Chicago Sun-Times reports that Lori Gayne of the Fifth Congressional District posted the incendiary message which Talking Points Memo says was under the handle "whitepride." Via the Chicago Sun-Times:
The Republican National Convention welcome party was thrown Sunday at the Rock and Roll Hall of Fame and Museum. Gayne wrote, over a photo of law enforcement officials on the roof on the iconic building on the Lake Erie shore:

"Our brave snipers just waiting for some "N—- to try something. Love them."

She used an abbreviation for the racial slur.
Just your run-of-the-mill racism from a hateful, ignorant clown. The Illinois Republican Party responded appropriately, revoking Gayne's credentials and insisting that "racism and threats of violence have absolutely no place in the Illinois Republican Party or in a civil and inclusive society."
For her part, Gayne apologized—sort of—and decided to play dumb.
Gayne offered her "deepest apologies" in a statement, saying, "I strongly regret the offensive statements I recently made on social media. While I in no way intended to make racist or threatening statements, I now realize that they could be interpreted that way.
G/O Media may get a commission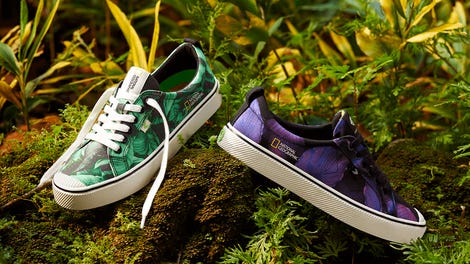 New New New
Cariuma + National Geographic
Girl.
This is almost funny in its ludicrousness because at this point I'm so afraid of what's happening in this country that I have to laugh. More seriously, it also reveals perhaps the most dangerous product of Trump's rise: the notion that you can just flat-out lie about things and get away with it.
Gayne continued:
"The statements do not reflect my character or feelings toward minorities. As a Jewish woman, I know that racism of any kind is unjustifiable and hurtful, even when it's not intended. I also know that violence is never the answer to political disagreements. I respect the decision of the Illinois Republican Party and understand their concerns about my safety and that of the entire Illinois delegation. Please accept my deepest apologies."
There are just layers to this one, aren't there? Clearly, she doesn't know that "racism of any kind is unjustifiable and hurtful" and her being Jewish doesn't have much to do with it either way. No entire group of people is immune from being racist and even if Jewish people were, you would have just completely proved that wrong!
Honestly, I miiiight have bought this "I wasn't trying to be racist!" bullshit if it came from, say, an 80-year-old woman from Alabama. But Lori, girl, you're from Illinois. Give it a rest. As far as this black woman is concerned, apology definitely not accepted.