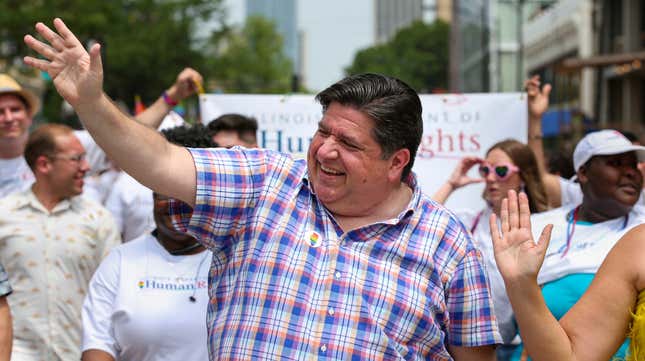 Illinois governor J.B. Pritzker signed an executive order on Sunday that aims to help strengthen protections for transgender students in the state's schools, calling it a "step toward securing Illinois' place as a leader in equality and hope."
According to the Chicago Tribune, the executive order will establish a task force that will study transgender students' rights, and work with the state Board of Education to ensure LGBTQ students have a "welcoming" and inclusive experience in school. CNN reports that the task force will also come up with ways to strengthen rights for LGBTQ students and come up with procedures for previously gender-normative things like student records, dress codes, and names and pronouns. Pritzker will appoint 25 people to the task force, with a report due in January 2020.
Chicago Mayor Lori Lightfoot, the city's first openly gay mayor, attended the executive order signing (on World Pride day, appropriately). She said in a statement that the task force will help end "intolerable levels of discrimination and violence against our transgender community."
Equality Illinois, an LGBTQ advocacy group, told the Associated Press that though the executive order is a step forward, the state still needs stronger protections for its transgender community. For instance, a recent report by the National Center for Transgender Equality found that the Chicago Police Department was one of 25 big city police departments that failed to take "proactive measures to prevent the mistreatment and misidentification of transgender people during arrests, witness interviews, search and seizure and housing of transgender people."
Transgender students have lost certain protections since Donald Trump's inauguration; in 2017, the Education Department under Betsy DeVos rolled back Obama-era rules requiring schools to permit students to use bathrooms that matched their gender identities, and the Department has taken an even more antagonistic approach toward transgender students in the two years since.