Amanté, a lingerie brand out of India, has a new campaign that's reminiscent of one for domestic violence. "Suffocation is the worst kind of abuse," the copy reads on the version above. The lingerie line's motto is "love yourself," the tagline for the ad campaign is "Break up with the wrong bra." Other headlines in the series include "Don't let anyone ruin your self confidence," "How much longer will you adjust," and "Every woman deserves to be held right."
Perhaps some people will be offended by the campaign — obviously an ill-fitting bra is not the same as domestic abuse. But it should be noted that the brand chose a really clever way to advertise bras without actually seeing any bras. As Steve Hall writes for AdRants, the campaign attempts to appeal to ladies who would feel put off, offended by or embarrassed about a public ad featuring a scantily-clad woman. Think of it as the anti-Victoria's Secret: Instead of being all about sex and sexiness, and looks, the ad — which contains the factoid that 8 out of 10 women are wearing the wrong bra — focuses on fit and feelings.
Of the approach, Amante CEO John Chiramel said, "This campaign has been carefully thought through, in not trying to objectify women, but more about dealing with the real issues and educating the consumer, so that they have an enjoyable experience wearing fine lingerie."
Even if you don't like the "worst kind of abuse" slogan, the company deserves kudos for attempting to think outside of the cleavage.
Ladies, You Need to Break Up With Your Bra [AdRants]
Related: BreakUpWithTheWrongBra.com
G/O Media may get a commission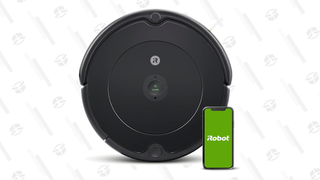 35% Off Black Friday Deal
iRobot Roomba 694 Robot Vacuum