I was once like you. I thought all celebrity relationships were a sham. Two celebrities "date" to get the news to say their names without having to pay for it. The old pro wrestling adage applies here: If it's on TV, it's a work.
But something recently turned me into a believer, and it came from an unlikely source. The once-again blossoming relationship between Kendall Jenner and 76ers guard/forward Ben Simmons has thrown my entire worldview out of focus.
Some backstory: Ben Simmons once dated (or possibly "dated") Tinashe. But—and I know I'm leaving out a lot of additional backstory here—then they split and he ended up dating Kendall Jenner. Simmons and Jenner were then together over the summer before they reportedly broke up in late September.
But wait! A little over a month after news of their breakup, they were spotted at a bowling alley bar in Philadelphia together after the Sixers beat the Clippers. (Simmons had 14 points and 11 assists in the win.)
Philadelphia is a large city, but it does not really have its own celebrities besides local TV anchors and athletes. And when a Philadelphia athlete dates a famous person, holy shit. Everyone is on high alert. People are still getting copy out of ex-Eagles quarterback Randall Cunningham briefly dating Whitney Houston 30 years ago.
G/O Media may get a commission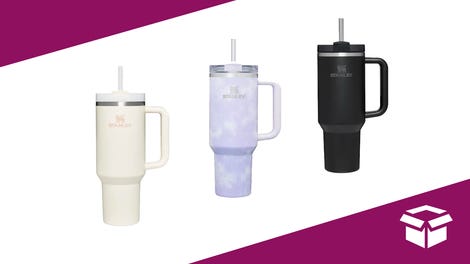 Up to 45% off
Stanley Cup Sale
Philadelphia's lone paparazzo, HughE Dillon, told me things get hectic when there is a real celebrity in town—especially now, when he's shooting all the parties of Philadelphia's Christmas social season. "It pains me that I'm getting tips every day of where she is," Dillon says. "But I can't make it. So there's no professional photographs of her [in Philadelphia] yet. It kills me.… I'm going to find her, though. I'm getting in her head."
But there have been lots of amateur photographs. Spotting Kendall Jenner has been a bit of a game in Philadelphia these past few months. Bendall were at the Christmas Village pop-up shopping area a week ago. They also went to the fancy Whole Foods near the art museum.
The first time Jenner showed up at a Sixers game they lost to the lowly Cavaliers, and so fans started a petition to ban her from the team's arena. But now the Sixers are rolling, and other fans (in reaction to the initial dumb petition) want her to attend all Sixers games. Like I said, people are going wild. I haven't seen this much hype since that time Kim and Kanye went to the old Wendy's at 15th and Chestnut streets.
But this weekend proved it really is true love. Dillon agrees. "If you watch this one video of them at Dilworth Park," he says, "he pokes her in the butt with an umbrella before holding it over her. It's cute… They're like just another Philadelphia couple."
Ostensibly, Kendall was here to see the Travis Scott concert on Saturday night. But, as Dillon reported, she spent the whole weekend with Ben, too. In addition to another stop at Elbow Lane, a bowling alley inside a bar on a street that is basically an alleyway, they went to see the Christmas tree at City Hall, and restaurants Buddakan and Parc. (Dillon tells me Caitlyn Jenner went to this restaurant in 2015, at the same time the Pope was in Philadelphia. That was perhaps the biggest celebrity weekend in Philadelphia since Live Aid.)
But, most notably, before the Travis Scott concert the pair went to a Drexel men's basketball game.
Some backstory here: Five Philadelphia colleges have played an informal round robin nearly every year for 60-plus years. That grouping of La Salle, Penn, St. Joe's, Temple and Villanova is known as the Big 5. Drexel is another Division I basketball school in Philadelphia; they are the afterthought of Philly college hoops. Sorry, but it's true. The Dragons have a good nickname, but haven't been to the NCAA tournament in nearly 25 years. The best things about Drexel basketball in recent years are the fan who dressed as Hank Hill, complete with propane tank, and the student section's Harlem Shake video.
Ostensibly, Simmons and Jenner were there to watch Matty McConnell, the brother of Ben's teammate T.J., play for Robert Morris against the Dragons. (Drexel won, 82-69.) But, I mean, she didn't have to? "Come with me to this Drexel basketball game" is not a date I would ever have suggested in all my years dating in Philadelphia and I go to basketball games quite often. I have invited many women to basketball games during my lifetime, and only occasionally have they said yes. But I've never tried inviting a woman to a Drexel game.
And yet Kendall Jenner—the world's highest paid model—went to a Drexel basketball game with Ben Simmons. The defending national champions were playing two blocks away at the same time. Today they're skating at the Dilworth Park ice rink. It's astounding. It rules. Kendall Jenner is living the Philadelphia dating experience. She's going bowling and to random shitty college basketball games and to the supermarket. There is no way this isn't real. True love, and real celebrity relationships, exist. I just needed Bendall to show me the light.