Things change and yet nothing changes, huh? Donald Trump is still president. Pete Souza still is not throwing shade. My brain hasn't fully oozed out of my ears yet from being inundated with lies and stupidity and the truly asinine on a minute-by-minute basis. And of course, I'm here to bring to the smallest bit of justice into a world that fights me at every single damn turn.
In this week's Shade Court, the sportsmen don't have it, Halsey ekes it out and unnecessary shade is the best shade.
Shade Court Docket #2017JZ000080
The Case: This week we learned yet another inconceivably stupid tidbit about Donald Trump. Turns out, this idiot has fake Time Magazine covers drawn up, printed out and hung on the walls of his golf clubs.
In a now-deleted tweet, Sports Illustrated released a blank cover of their magazine and wrote: "Put yourself on the cover of SI. We won't tell anyone it's fake." They also included a wink emoji.
G/O Media may get a commission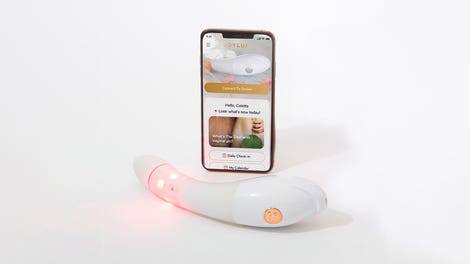 $50 Off
Joylux vFit Gold Device
The Defendant: USA Today
The Evidence:
The Deliberation: Hey guys, pretty cool prank.
Nice joke.
Good troll.
Solid gag.
Great spoof.
The Ruling: Not shade
Shade Court Docket #2017JZ000081
The Case: Halsey has an album to promote and is out here talking to people about things. In an interview with Paper Magazine, she talked about being bisexual and how bisexuality is presented in pop music. As you can probably guess, she doesn't love it and alluded to two pop stars in particular who she felt exploited bisexuality.
. "Oh, yeah. Bisexuality as a taboo. 'Don't tell your mom' or 'We shouldn't do this' or 'This feels so wrong but it's so right,'" she said, seemingly referencing the lyrics of Lovato's "Cool For The Summer" and Perry's "I Kissed A Girl."
Demi Lovato later tweeted:
The Defendant: Huffington Post, Seventeen

The Evidence:
The Deliberation: Now, this is case is muddled by the fact that in their hazy understanding of shade, different publicatations are claiming different things. Some say Halsey was the one throwing shade at Demi and others say the opposite.
Let's first look at Halsey. Her little digs were pretty shady. If I were being critical, I'd say they're perhaps a bit too on the nose. Though, to be fair, if she had been talking to me, I wouldn't have had any clue whose lyrics she was referencing. I'm also not completely sure why we're only focusing on shade thrown at Demi when Halsey dropped some Katy Perry lyrics also unless there's some long feud here that I didn't find during my casual google search.
I mean, it's not great shade, but it's not terrible either. Maybe I'm getting soft in these waning days of mine. Maybe I'm still traumatized from Jay-Z's new album. Whatever it is, I can't fight the feeling.
On the other hand, Demi's tweet is kind of clever, but only kind of. Two years is not a long time, Someone mentioning a song that came out two years ago is not exactly a major accomplishment, ma dear, though I see your point. A much shadier tactic would have been to subtly highlight your history of supporting LGBT rights but not everyone has the brain and shade IQ I possess.
The Ruling: Halsey: Shade; Demi: Not shade
Shade Court Docket #2017JZ000082
The Case: Magic Johnson gets to be in charge of and talk about the Los Angeles Lakers basketball team. The Lakers were picking a new teenager to play basketball with them and they picked a child born to an incredibly obnoxious but entrepreneurial man. That teen's name is Lonzo Ball. In order to acquire this teenager, they had to get rid of another player, named D'Angelo Russell.
Speaking about that situation Magic Johnson said things like:
"D'Angelo is an excellent player," Johnson said Friday, when the team introduced its top draft pick Lonzo Ball at its practice facility. "He has the talent to be an All-Star. We want to thank him for what he did for us. But what I needed was a leader. I needed somebody also that can make the other players better and also [somebody] that players want to play with."
And
"I went to the high school," Johnson said. "I talked to the principal. I talked to, I think, four teachers, they all said at different times, this guy, everybody attracts to this guy. And I said, OK, that's all I needed to hear. He's a leader. He treats people the right way. I said, OK, we've got our man now."
The Defendant: Deadspin
The Evidence:
You just wonder if Magic learned that Russell's high school teachers hate his guts. That's a lot of shade to throw at a 21-year-old!
The Deliberation: Oh, sportsmen. Sportsmen, sportsmen, sportsmen.
The answer here is of course revealed in the headline: If he's openly trashing D'Angelo then he's not throwing shade. Anything that follows D'Angelo is excellent but... ain't shade. You've shown your hand and shade is all about keeping those cards close to chest and throwing them down at the exact right moment.
To compare, let us to turn to Queen Aretha and her forever infamous, history-making, canon-breaking, brutally beautiful commentary on Taylor Swift.
This is completely savage because Aretha is, ostensibly paying Taylor Swift a compliment. She didn't say Taylor Swift is a terrible singer BUT her gowns are great. She just went straight to the only thing she could other to compliment her about knowing good and goddamn well they weren't asking her about Taylor Swift's gowns. Also, it still almost works as a real compliment if you're not reading too much into it—flying over the heads of many but landing exactly at its target.
The Ruling: Not shade
Amicus Briefs
No. 17-007
Miranda vs. The Guardian
The Case: Miranda Kerr has found herself in the middle of some sort of diamond scam and it's a shame none of these models learned from Naomi Campbell's much more interesting blood diamond debacle. All Miranda Kerr did was date some guy who bought her millions of dollars worth of diamonds purchased with stolen money. Like, WHO HASN'T?
Kerr was gifted the diamonds by Jho Low, a corrupt financier who stole money from the Malaysian government or something wealthy and ridiculous like that. Over the course of their relationship Low gave Kerr a lot of diamonds. He reportedly gifted her Lorraine Schwartz necklaces, bracelets and rings engraved with her initials, which sounds tacky. On Valentine's Day, he gave her a 11.72-carat heart-shaped diamond, which also sounds tacky, and $1.9m diamond set.
The Guardian reported on this story and after a rundown of all the diamonds Miranda Kerr collected, they added:
The style icon's own jewellery line, in collaboration with Swarovski, starts at $69. Kerr did not immediately respond to requests for comment.
The Argument: I mean. I MEAN. This is just so hilariously unnecessary.
Sure, we're talking about diamonds here, but Miranda Kerr having a jewelry line doesn't seem particularly pertinent to this story. The Guardian also mentioned the model's past relationships, which is fair since we're talking about an ex-boyfriend, but if they're trying to paint a picture of who she is, I'm not sure why her $69 bracelets is the best tidbit to mention.
Still, it's a bit difficult to tell what exactly they'd be throwing shade at. Haha, this model got millions of dollars worth of diamonds bought from stolen money and she also sells moderately priced accessories with a popular brand. Ha!
It's sort of like in high school when one of my white teachers began touching my braids and asking if it was my real hair and cooing that they looked so interesting. In the moment, I knew that shit wasn't right, but at age 15 I wasn't fully able to article why it was so fucked up. Still. I knew. Just like I know now.
The Conclusion: Shade