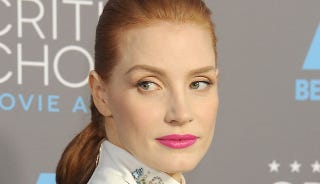 During the Critics' Choice Awards last week, MVP winner Jessica Chastain used her speech to make a simple plea for diversity. "Today is Martin Luther King Jr.'s birthday," she said. "So it got me thinking about our need to build the strength of diversity in our industry, and to stand together against homophobic, sexist, misogynistic, anti-Semitic and racist agendas." It's an innocuous enough statement and yet, somehow, it was still enough to activate a bigoted shit storm.
"I'm an optimist and I can't help but feel hopeful about the future of film, especially looking at all of the beautiful people in this room," Chastain's speech continued. "...Martin Luther King Jr. said, 'Our lives begin to end the day we become silent about things that matter. And I would like to encourage everyone in this room to please speak up. Thank you."
While Chastain says that most of the feedback that she's gotten from the speech has been positive, she's also been shocked by some horribly racist responses.
"I've had really terrible people who are racists comment on the speech and say really terrible things. I'm understanding that some people in this world, how much hate they can have," she told the AP.
Chastain also clarifies that her Critics' Choice remarks were not a direct critique on the white-washing of awards season:
"Some people had taken my speech and then made it about awards - like SAG Awards or Oscars. That's not what my speech was about. To me awards are just a reflection. It's just a symptom of the disease and the disease is in the industry. If we had more diversity in our films it would be reflected in diversity in the nominees."
Forget the critics, Jessica. Oprah approved your words and we all know that's the only thing that matters.
---
Maddie Ziegler was kind enough to teach Shia LaBeouf the basics of hygiene on the set of Sia's "Elastic Heart" video. "I really did bite Shia, and it was gross because we were dirty and I had to bite his dirty hands," Tiny Dancer explained. "I kept wiping myself off and I kept handing the wipes to Shia and he was like, 'I don't need the wipes' and I was like, 'Yes, you do.' ...He actually listened to me. I was like, 'I'm sorry, but you're kind of dirty.'" [Just Jared]
---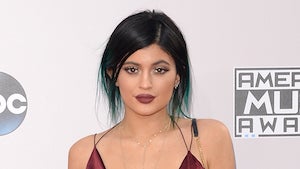 Did Kylie Jenner drop out of high school? (What does it even mean to go to high school when you're Kylie Jenner?) According to a family insider, "Kylie quit homeschool a few months ago. She told her mom is was getting in the way of her career, and that she wanted to focus her energies on building her personal brand and making money." What? You thought hair extension empires built themselves? [Radar]
---
Photos via Getty.