Did you think you were a witty music critic, sending out those tweets attacking Idina Menzel for botching part of her performance of The World's Most Overplayed Song Ever on New Year's Eve? Well guess what? She gives zero fucks, thanks.
Menzel ignited a Twitter shitstorm when she missed a few high notes while singing "Let It Go," this time on Dick Clark's Rockin' New Year's Eve special on ABC. People were unsurprisingly assholish about it, because if you're famous you have to be perfect 100 percent of the time, always, no exceptions for anyone ever, period the end. But instead of crying in a bowl of a cookie dough ice cream like some folks do when people on social media are mean, Menzel stood up for herself. The Tony winning singer posted a picture of an interview she did a few months ago addressing the issue of hitting difficult high notes:
"There are about 
3 million notes in a two-and-a-half-hour musical," her quote in the article reads." Being a perfectionist, it took me a long time 
to realize that if I'm hitting 75 percent of them, 
I'm succeeding. Performing isn't only about
 the acrobatics and the high notes: It's staying in the moment, connecting with the audience 
in an authentic way, and making yourself 
real to them through the music. I am more than the notes I hit, and that's how I try to approach my life. You can't get it all right all the time, but 
you can try your best. If you've done that, all 
that's left is to accept your shortcomings and have 
the courage to try to overcome them."
TL/DR hitting high notes like that is rough stuff; it's not the end of the world if you miss one occasionally. By the way, Billboard seems to think the shitstorm is a lot of nonsense anyway:
According to Billboard writer Michele Amabile Angermiller, who covered the event, Menzel did hit all the right notes when she rehearsed at soundcheck prior to the performance. And when the audience sang back the line "the cold never bothered me anyway" to the singer during the live broadcast, it was an exhuberant moment.
G/O Media may get a commission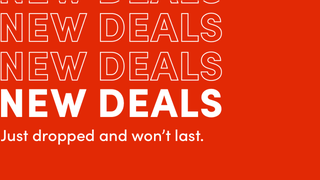 Up to 70% off
Wayfair - Cyber Week Deals
Whatever. All I know is after about six or seven beers, I do a flawless rendition of Night Ranger's "Sister Christian." As far as I know, I've never missed a note.
---
Kim Kardashian posted a split-screen pic of herself and Our Duchess of the Persistent Willow, Queen of the Moon Dusk, Princess of the Rising Winds, Lady of the Eternal Gift Basket aka North West:
?utm_source=partner&utm_medium=embed&utm_campaign=photo
"I'm not sure who made this but I love these side by side pics. This is me on the right as a baby and North on the left," she posted.
---
Image via Getty.