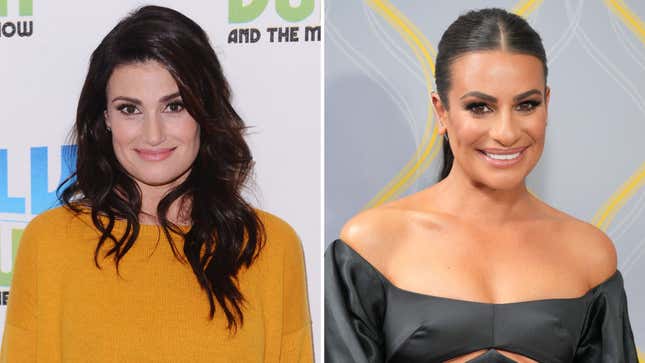 I believe it was Jack Donaghy who said, "With real estate there are no rules. It's like check-in at an Italian airport." I'd like to add that that logic applies to the ages actors portray on television and film, which is why I'm partly sympathetic to Idina Menzel's (52) complicated feelings over playing Lea Michele's (36) mom on Glee —but also feel like, "buckle up babe, this is Hollywood, age ain't nothin' but a number you hide."

Bob the Drag Queen on Anti-Trans Bills: 'We Are Inherently Rebellious People'
In an interview with Stellar Magazine, Menzel reflected on her role as Shelby Corcoran, mother to Michele's Rachel Berry. "You know, you're worried you're not going to work again, and then people hire you to be someone's mother when you probably should be their older sister," she explained. I'm not sure I'd cast Menzel and Michele as sisters, but stranger choices have been made.
Menzel was about three months postpartum with her first child when she was cast. "It just wasn't great for the ego. But I sucked it up and sucked myself into my clothes, and was excited to work with [creator] Ryan Murphy and be a part of that hit show."

Look, I can only imagine it's jarring going from playing Maureen in Rent, who is max 22 years old, to the mother of a high schooler within five years. Hollywood is an industry where most high schoolers are portrayed by people surviving their Saturn return. And then, before you can ask, wait, what is Saturn return?, those women are now old enough to play characters applying for Social Security benefits. Not only that, they're on-screen mothering actors who are sometimes literally older than them.
Kudos to Menzel for acknowledging the ego blow, going on to accept the check, and then further going on to become stupid rich for voicing the character of a 21-year-old ice princess at age 42. What a ride!