Last week, Ibibio Sound Machine's third album, Doko Mien, marched into culture with the enthusiasm and blurring action of a parade. Their celebratory fusion of genres, musical periods, and languages (frontwoman Eno Williams alternates between singing in English and the Ibibio language of southern Nigeria) is as sturdy as ever and comes equipped with a palpable edge via the grit in Williams's versatile blare, tactile synths, and frenetic rhythms.
Williams told Jezebel that the album came as a result of ideas grown on the road and developed in the studio by the London-based, eight-person group. "I would chant out certain lyrical melodies and Max [Grunhard] would record it and take it back to the studio and develop it from there," she said of the conception of the album's 11 songs. "Sometimes, we just had a title and would decide to create a melody with either Alfred [Kari Bannerman] on guitar, Max putting down some synth lines and then Anselmo [Netto] with the percussion. It kind of just morphed together."
The multicultural band, which includes members from London, Ghana, and Brazil (Williams was born in London but lived in Nigeria from about age 4 to 21), sounds like a model U.N. at its most democratic. But it's not all frictionless diplomacy all of the time—the name of the album, which means "tell me" in English, came from a song about creative disagreement.
"It's got two meanings to it," said Williams of the song. "The main meaning being asking the universe to tell me what to do and I'll do it. And the flip side is about the commentary that women often get told what to do, but you still have to be able to speak up and air your views in a very political and diplomatic way, I guess. It happened because in that song there was a bit of going back and forth as to [Max saying], 'My way is the right way.' I'm like, 'Yes, I know your way is the right way, but I want you to hear my way as well.' But then we do come to a middle ground. Those kind of things come up in writing/production situations."
Williams writes most of her band's songs and counts Angelique Kidjo, Manu Dibango, Miriam Makeba, Whitney Houston, Aretha Franklin, James Brown, even the Beatles, among her influences. She generally conceives them in Ibibio and translates them to English if she can get the syllables to fit and/or if she likes the sound. If she can't, she leaves them in the Nigerian language. "If a phrase in English was maybe five words, in Ibibio it could be maybe 10 words," she explained. "Trying to cut that and keep the melody line the same… some songs, the English just translated easier and flowed easily between English and Ibibio. Some other songs, we just kept it in Ibibio because it seemed fine."
G/O Media may get a commission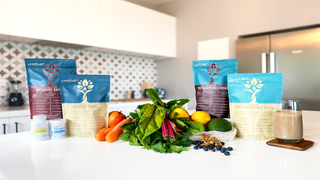 Conventional wisdom in the U.S., has been that music in languages other than English doesn't attract an audience and is a hinderance, but Williams and her band have found great freedom in leaving their language options open. Below, Williams takes us through each Doko Mein track, filling us in on meaning, intention, and a glimpse into her creative process.

---
"I Need You To Be Sweet Like Sugar"
"When I was listening to the track, one of the stories I had growing up as a child just came to my mind, about the tongue being related to a love relationship, a couple who have their ups and downs and have to find a way to fix things. My grandmother would say, 'Love is like the tongue. You get the sweet side, you get the sour side, the bitter side as well.' That's how love is."

"Wanna Come Down"
"There's sort of a poetic, metaphorical meaning to that because it just refers to a bubbling spring, the power of water, how it's very healing and rejuvenates. We're kind of asking this person who's been sort of down and low to get down to the water and be renewed and revived. We're also inviting the listener to join in on the celebration."
"Tell Me"
"The [album] title came after all the songs had been put down. We thought, Tell Me, that kind of sums up the whole album. We're asking the listener, 'Tell me, I'm listening.' The fact that it was also the back and forth process [between band members] kind of summed up the whole album. It has a kind of disco sound to it."
"I Know That You're Thinking About Me"
"I do love singing ballads because they're a bit more reflective. We talked about it when we were recording the softer songs: 'We're known for the high-energy, high-octane sound, but we maybe need to break it up a little bit.' Just to give a segue. I always say this could be a love song, depending on how you hear it, but it's got kind of a different connotation to me. It's talking about social media and the current obsession that usually only exists inside our digital curation. I try to be active on social media, but I'm so bad at it."
"I Will Run"
"It was the last song [recorded]. We tried different things. We tried horns, we tried keeping it bare, we tried different vocals, but it just wasn't getting there. And then we did that a vocal and we thought, 'Let's just keep it a cry-out kind of thing,' and it just sort of worked. It's talking about running to someone's arms in times of trouble, but it could be anyone: God, a place."
"Just Go Forward"
"I like that one. It's kind of a mantra/chant, something we use to keep ourselves going. That mantra of perseverance, that constant drive that keeps the wheels of life moving. There's no need to think about yesterday and things that could have been or could not have been. Just remembering that life is always about moving forward and change always happens, so we just have to go forward."
"She Work Very Hard"
"That's a folktale. It's loosely [based] around being tied down by money and the fact that the rich are getting richer and the poor don't seem to be getting anywhere. There's sort of no middle ground between both sides of society. It draws back to a story of a young girl who was invited to a party and asked a friend to borrow her really expensive necklace, which she did. She got to the party and lost the necklace and ended up spending her whole life working to pay back the necklace. But it actually didn't cost that much. She spent her whole life in bondage. It's the whole concept of society being governed by money. It comes down to being happy with where you are.
"We do what we do because we love doing it. We're not trying to make commercial music or anything to be like everybody else. We're making music that hopefully appeals to people, more focusing on the creative side as opposed to the obvious and what people expect."
"Nyak Mien"
"The title just means, 'let me be.' It's just an internal conversation with any kind of negativity, which sometimes we all face. It's about not wanting to have any negativity around, just trying to thrive through positivity."
"Kuka"
Kuka is the imagination of an angel, whoever that might be, saying to the angel, "Stay right by me."
"Guess We Found a Way"
"This is about trying to speak to people in a language that almost no one understands. I always get asked, 'What are you singing about? We don't understand.' But then I say, 'Well, music is a universal language so sometimes if you don't understand what the singing is about the music has a way of getting to you so that you catch the vibe of the music so that you feel the energy or the emotion of the music.' On the one hand, it's talking about, 'We found a way somehow to get this music across,' and on the other hand, 'I guess we found a way to speak to the eternal. I guess we found a way to communicate with each other.' It's letting the listener in on the storytelling process."
"Basquiat"
"'Basquiat' is a celebration of the life of Jean-Michel Basquiat. We were asked to do a score for a [short] film that was done by Ephraim Asili for an exhibition that was done at the Barbican Center here in London. I did like his work a lot because I think it's quite unique. In the same vein, he wasn't perfect. I think he brought something very vibrant. Just going through his work and finding that he'd passed away, there's a proverb in Ibibio that says, 'The cow doesn't know the use of its tail until it's lost it.' We lost him and now his work is everywhere, and everyone wants to own about him. We thought creating something celebrating his life would be worth giving to him."