Ian Connor—a 22-year-old stylist, designer and model who's a member of Kanye West's creative team and has worked with Kylie Jenner—has been accused of sexual battery, according to the Dekalb County Police Department. The root of these accusations were revealed in an April 8 blog post published by Malika Anderson, a 23-year-old senior at Emory University who accused Connor of rape.

In the lengthy post, Anderson describes how she met Connor via social media in 2014; they eventually hung out on three separate occasions when he was visiting Atlanta. She claims that on their final encounter, October 5, 2014, Connor badgered her into allowing him to perform cunnilingus on her; she was reluctant, but she said he was persistent, so she eventually conceded. It was then that Anderson alleges that Connor instead penetrated her without her consent:
I was shocked and didn't know what to do and then I pushed him off of me and I was like wtf. And he says "your pussy is wavy. We should've did this a long time ago. We could've been dating" and I said "wtf I told you I didn't want to have sex and you just did it…" And he says "so you tryna say I raped you" and at the time I hadn't even processed what had just happened and I was like "I don't know".
Anderson wrote that she eventually filed a police report after Connor sent her "harassing messages," and the reason she feels comfortable coming forward now is that the case is "essentially closed" due to lack of "concrete evidence."
On Wednesday, Dekalb County Police Department documents obtained by Broadly confirm that a report was filed against Connor alleging a sexual battery incident on October 5, 2014. On Thursday, a representative at the Dekalb County PD confirmed to Jezebel that the case was still open. Anderson, speaking over the phone on Tuesday, suggested it will be effectively shelved within the next two weeks until more evidence is collected. "Other women" have also given statements to the department, according to Anderson.
G/O Media may get a commission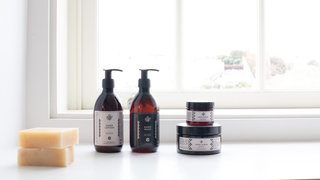 Exfoliate and Hydrate
The Handmade Soap Company
Connor's profile has been increasingly prominent in both the music and fashion industries, having been plucked off Instagram by Kanye West creative director Virgil Abloh at the age of 19 (he's modeled in all of West's Yeezy shows); he's also worked with the likes of A$AP Rocky and Wiz Khalifa as a stylist. In February, after the runway show for Abloh's label Off-White at Paris Fashion Week, both Abloh and Connor took a bow, and in March, it was reported that Kanye West asked Connor to revive his long-shuttered clothing brand, Pastelle.
After Anderson told her story, the up-and-coming Chicago singer Jean Deaux wrote her own post alleging Connor raped her. (Deaux also said she gave a statement to the detective in Anderson's case, but did not file her own report). Deaux wrote that she, too, had initially met Connor on social media and that they moved in some of the same musician circles. She said she visited him in a hotel room in New York after he offered styling work; according to Deaux, he then sexually assaulted her in her sleep before raping her multiple times.
Since Anderson published her post, Connor has gone on Twitter to suggest that the allegations are not true without outright addressing them or naming his accusers. On Friday, April 8, he tweeted, "Finesse Yeah But Lie No," before retweeting Kanye West's tweet from February 9 reading "BILL COSBY INNOCENT!!!!!!!!!!" Connor also tweeted, "Coincidence I Make My First Big Magazine Cover For A Bitch To Make Up Allegations For Her Own Self Esteem Purposes" and, in another tweet that has since been deleted, "Or How I Fucked You And Your Nigga Find Out and Your Pride and Poor Judgement Allows You To Lie To Make Your Situation Better." (Anderson had written that she was dating someone at the time of Connor's alleged rape, and when she told the boyfriend, he broke up with her.)
On Wednesday, April 13, Connor wrote in tweets that have since been deleted, "I Ian Connor Am Not a Rapist Nor Do I Condone Rape In Any Shape Or Form, I Don't Respect Liars Nor Forced Situations. Please Be Real." In another since-deleted tweet, he wrote, "I'm Not Even Supposed To Be Tweeting but Fuck Legal Politics or Strategics When What's Right Is Wronged. From The People To Blogs."
Connor's manager, when reached by Jezebel, said that Connor has no comment at this time.
Anderson, who will graduate next month from Emory with an English degree, said she was eventually motivated to file a police report after Connor began harassing her from a fake Twitter account, from which she posted screenshots on her post. (Jezebel could not independently verify whether the messages were Connor's.) "I had been thinking about reporting for awhile, but I just had been hesitant," she told Jezebel. "But after that, I was just like, oh no. I've had to deal with so much because of this. I was so depressed and I went through a lot, and I was like, you're not about to come back and harass me anymore."

While Anderson filed a report, Deaux wrote that she refrained from doing so because of traumatic experiences she's had with police in the past. From her Tumblr post:
I never got a rape kit. I had no NYC ID. I had no health insurance, barely any family in NY. The free clinic i did find only tested for AIDS. I had to wait at least 6 weeks before I returned to Chicago to be tested for everything else. Thank God, I was negative for everything. The only witness I had was my roommate that night. I dont even trust police due to the violence I have encountered with them, so how could I trust them to fight for me? And Ian harassed me for weeks after. I changed my number he got it again and harassed me. 3 cell phones later and I have nothing but my story to tell. I am not telling it to convince anyone. I dont need proof. I dont need approval either. I wrote this for Malika, who's case could have been stronger if I was as brave as she was and come forward.
Anderson told Jezebel she's relieved that she came forward after months of considering it, but that the backlash online from Connor's friends and fans has been tough to weather. "When everything happened I had somebody tell me that it was my fault and they didn't believe me and that affected me really deeply," she said Tuesday, "so to have a slew of people saying the same thing has been difficult.
"But I was there, I know it happened. So, it's okay."
---
Ian Connor models in Kanye West's Yeezy Season 3 fashion show in February. Image via Getty.