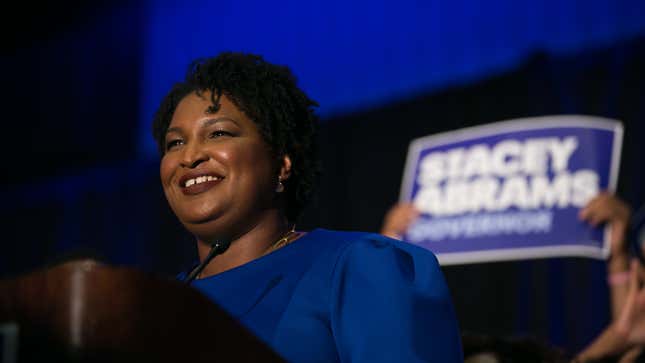 Former Georgia gubernatorial candidate Stacey Abrams, who became a political star during last year's election season as she ran an ambitious, progressive campaign, has remained mum on her future plans, publicly mulling both a presidential run and a Senate campaign while saying that she is seriously considering both.
But in an interview with the New York Times Magazine, Abrams, who has written several romance novels under the pen name Selena Montgomery, did share one concrete detail of her future—she's now writing young adult fiction and legal thrillers à la John Grisham, and they are definitely books that I'd read:
I've got three books that are sort of in media res. I've got a teenage superhero novel where a 15-year-old can manipulate memory. I have a middle-school fantasy novel that I want to finish before my nieces and nephews actually reach middle school. Then I have a legal thriller that I have finished — I need to go back and edit it — that is based on the premise: What if a Supreme Court justice who has the swing vote on the court falls into a persistent vegetative state? The Constitution does not actually address that issue.
What if a Supreme Court justice who has the swing vote is in a coma? It is true that the Constitution does not address this nightmare scenario!!!
During the interview, Abrams also shared some of her beliefs about healthcare reform—and they will disappoint anyone who firmly believes in the need for Medicare for All. When asked a question about socialism, talked about her belief in the need to maintain the private insurance market, even for things like healthcare:
I believe, for example, that health care is a right and not a privilege. But I believe in the private marketplace and that it should exist for the delivery of health care. I don't see that as in conflict with the idea of having access to Medicare for all who would like to buy into that system.
Abrams, who is reportedly expected to announce this week whether she plans to run for Senate in 2020, has been on a media blitz lately, promoting her political memoir and meeting with top Democratic elected officials and donors. She will make the decision that is right for her, but I for one would love her to finish her edits on her political thriller. The election season is long, Stacey, and there's still time!