Hey, remember low-rise jeans? That trend from the early-aughts that looked universally terrible on everyone? The style of pants that are the most abusive thing to happen in fashion since the whale-bone corset? Well, horror of horrors, Vogue says they're back.
Kelly Connor, one of Vogue's RESIDENT SADISTS, writes:
...When putting together our recent denim video, 'All My Friends Love to Dance, Wear Jeans' and in pursuit of the new must-have denim, my mind immediately went in the opposite direction: to the low-rise. The market is no longer only about skintight, ankle-squeezing jeans (even that silhouette has vastly expanded, and now includes cropped skinnies, ankle skinnies, and the slightly contradictory 'relaxed' skinny). We are in the midst of a denim renaissance!
Oh, yeah, Kelly? Can I experience the denim renaissance if I'M DEAD? Because the return of the low-rise jeans will actually kill me. If you stand for nothing (in a reasonable and flattering high-rise), you fall for everything and I swear to CHRIST that I will Braveheart this shit and have my intestines pulled from my goddamn denim-covered guts before I let this happen.
So go ahead, channel Jane Birkin, or Kate Moss, and get low: The short zipper, the three-button fly, the nonexistent waistband . . . these low-rise jeans demand confidence, strategy—and let's be honest, some crunches.
G/O Media may get a commission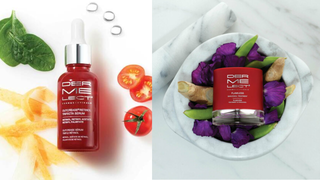 Save $19
Retinol Renewal Kit
Sorry, I can't get low. You know why? Because I've already laid down on Benihana grill and immolated myself. You can't dress a pile of ashes in low-rise jeans, Kelly! You can try, but you can't do it!
And since this is 2015, let's try to be doubly careful to avoid the common caveats of low-riders (exposed undies, "plumber butt," and lower back tats). But the best news yet? Wardrobe malfunctions are easily avoided with the help of the new, modern, well-cut low-rise—and a sturdy belt.
Do you think you can force low-rise jeans on me if I'm a ghost who's HAUNTING YOU? Haha, doubt it. You'll be too busy trying to exorcise me, but jokes on you because exorcising ghosts in low-rise jeans—considering the amount of movement you have to do—is basically impossible.
REMEMBER ME AS I WAS: DRESSED IN HIGH-WAISTED PANTS AND SCREAMING ABOUT THINGS THAT NO ONE ELSE CARES ABOUT.
Image via Getty.
---
Contact the author at madeleine@jezebel.com.