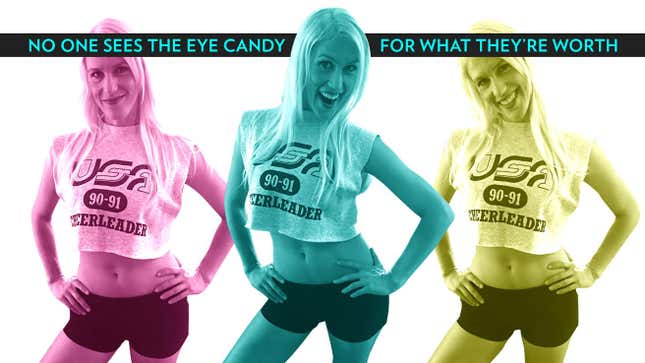 A Clippers Spirit cheerleader named Candace taught us our first dance routine. On all fours, we whipped our hair around. This was my favorite part. Not thinking about everything I was doing wrong, I whipped my head so vigorously that one of my extensions came loose, and I skipped toward the back of the room to fix it. There, for the first time, I noticed that a man with a booze-bloated face and glazed over eyes was standing in the doorway staring at us.
World Warriors: Street Fighter 6's Female Creatives
I fixed my extensions and rejoined the group. We thrust our hips and counted off 8s. I forgot the arms and fumbled the turns. All around me, the women who could dance stood easily on top of the frantic beat. They picked up the choreography as quickly as it was thrown at us: complicated phrases in a language that had become their native tongue. It was difficult to remember that, for all this skill and effort, the end goal was a position that's dramatically undervalued and dismissed. In general, it's difficult to surmise exactly how worthless the NBA finds its cheerleaders, but I was at this workshop to give that question a shot.
Three other Spirit Team members—Brittany, Brooke, and Kellie—stood by Candace, helping her demonstrate. They would give us notes like "These arms are like, Okay?" and then run their hands from above their heads to across their chest and hips. Their eyes flashed inside jokes to each other; their bodies were all professionalism. After an hour and a half of relentless moving, learning, repeating, we got a 10-minute break, which we all used to touch up our makeup. Behind several girls taking selfies, Booze Bloat was escorted out of the building by studio staff.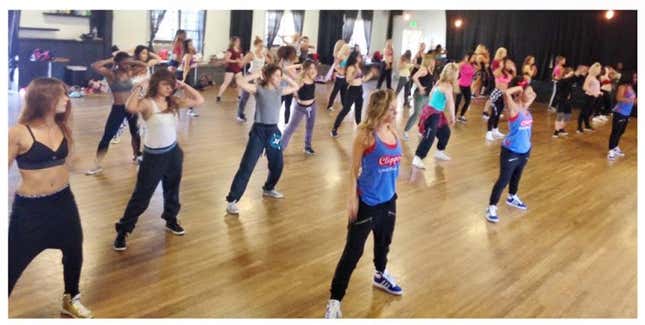 This past year, the value of the average NBA team jumped 74 percent, bringing the median worth of teams across the association to $1.1 billion. Even the Milwaukee Bucks, the least valuable team in the NBA, are worth $600 million. The median ticket price to see any team play live is $53.98 and can be as high as $123.38 for a team like the New York Knicks. At these pricy games, one privilege that comes with buying top dollar floor level seats is to be greeted by cheerleaders as you walk through the door. Teams like the Brooklyn Nets offer a game night "experiences" with their dancers that start at $500 a package. And, according to former Golden State Warriors cheerleader Lisa Murray, NBA cheerleaders are "Working upwards of 30-35 hours, sometimes close to a 40 hours a week in the peak of the season… and only making minimum wage."
None of the 30 NBA teams' sites disclose their dancers' salaries, though some, like the Orlando Magic's, hint at the team's "lots of hours, little pay," policy by describing the position as "a part-time job that requires a full-time commitment."
This year during playoff season, the NBA participated in a #LeanInTogether campaign, with popular players like Stephen Curry and LeBron James earnestly touting the benefits of wage equality between men and women. The league did nothing to raise the poverty-level wages of their cheer squads.
Exploitation of cheerleaders is prevalent across professional sports. Last year, multiple NFL teams, including the Raiders, Bengals, and Buccaneers faced lawsuits from cheerleaders who alleged they were paid less than minimum wage. The teams defended their actions on the grounds that the women were acting as independent contractors—free, ostensibly, to work as they please. But most pro cheerleading sites emphasize that attendance to every game and practice is entirely mandatory.
The concept of consulting work with mandatory attendance has been overturned in at least one state. This year, California Assemblywoman Lorena Gonzalez, herself a former collegiate cheerleader, introduced Assembly Bill 202, which required cheerleaders on professional sports teams in California to be treated as employees, and thus guaranteed at least a minimum wage. The bill passed in June of this year, so now the Golden State Warriors, valued at $1.3 billion, will have to pay their cheerleaders at least $9 an hour. (When contacted, a rep from the Golden State Warriors said that they did pay their cheerleaders at least minimum wage prior to the passage of AB202.)
I wanted to find out more about the working conditions of cheerleaders in my hometown of Los Angeles, where things seemed to be taking a turn for the progressive for the Clippers, a team that senile bigot Donald Sterling had been forced to sell to lovable liberal Steve Ballmer last year. I left multiple messages with the team's corporate offices and heard nothing back. I contacted several members of the squad and Clippers Spirit director Audrea Harris, who coaches and manages the dancers. Radio silence. Then, while researching, I stumbled across a listing for a "Pre-Audition Workshop," where aspiring Clippers Spirit Members could meet the squad, learn their choreography, and find out what it took to make the team.
I bought fake tanner and tiny spandex shorts. I ate salads and avoided beer for two weeks. Then, on a Sunday June afternoon, after spending hours in the mirror—gluing fake eyelashes, straightening my hair, scrutinizing my stomach—I walked into the old but well-kept dance studio in Torrance where the Clippers Spirit Team rehearses.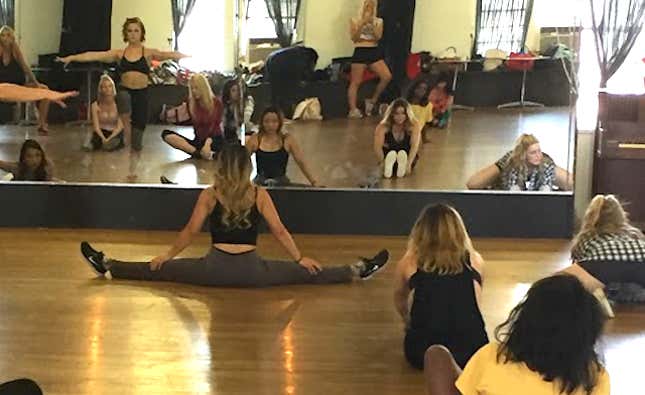 I paid my $50 registration fee and joined the 50 dancers on the floor, who were all bent over in deep forward folds. I looked for a spot where I wouldn't be in anyone's way, as we all tacitly fixated on ourselves and then each other. Beyonce's "Diva" played over the quiet: A diva is a female version of a hustler.
Audrea Harris, a petite African-American woman, stepped in front of us, and the music shut off. We stood. In head-to-toe Clippers gear, she moved with authority, but spoke with a nervous hesitance: "I just want you guys to have fun. This is supposed to be a fun day." Later, in the Q&A section of the workshop, she would tell us, unexpectedly timid: "We do pay you. It's not much. But we do pay you." She kept her arms crossed when she broke that news. I had expected a professional cheerleading coach to be giggling and high-pitched, but there was a calm resignation in Audrea, a steadiness I assume was required to accomplish the essentially impossible: making her way into middle age without ever having to stop being a cheerleader.
As she spoke, the athletic women around me—bartenders, and assistant managers at Victoria's Secret, in their early 20s, with flannels wrapped around their flat, exposed midriffs—listened intently. They sharpened their already tall posture, aware that this could be their first impression on their new boss.
Over the course of this four-hour workshop, we would be learning two routines—one jazz and one hip hop—in preparation for the actual audition. At the end of the day, we would be able to ask questions about the audition, which, like NBA cheer auditions across the country, would draw an average of about 300 aspiring pro cheerleaders. The women auditioning to be part of the Los Angeles Clippers Spirit Dance Team would face elimination cuts in each of four rounds of auditions, which would include tests of their jazz, hip hop, and freestyle skills, as well as an interview with Audrea to gauge their personality, should they make it to the final round. The victors in this competition would win one of nine coveted spots, left open by the half of the 18 person Clippers Spirit Dance Team who had chosen not to return this year.
After we had learned our first routine, the four pro girls, took the stage to show us the dance full out. From the instant they hit their starting poses, they moved with such energy and precision that I could see Staples Center full behind them. Candace, Kellie, Brittany and Brooke brought their own subtle expression to each gesture, hitting the edge of each move with uncanny synchronization, and I thought about how dancing well is speaking and hearing with your body. You can't learn this language from audiotapes or even natural exposure. Their level of skill is beaten into muscles over years of relentless classes, while the other kids are watching TV and chasing the ice cream trucks. These women had spent hours in side splits, in shoes that wore their toes to bloody stubs.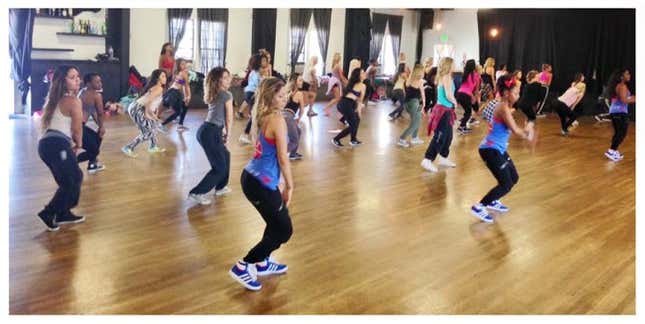 Once, in my own time as a musical theater kid, a choreographer taught me how to "spot," or keep my balance while pirouetting: to find a place to focus on and keep my eyes there, no matter how quickly I turned. At the end of a series of spins, you will always end up at the place you have been spotting. This is what every person who has been saddled with the blessing of uncontainable passion does: through bruised egos, overlooked effort, exhausted nights and soul-sucking day jobs, you keep your eye on your spot. You spin through disappointment and often fruitless devotion while you watch your friends find love and good credit; your focus has been set. For some, by the time you get close to being a professional dancer, you have so many chips on the table, that nothing, not even being exploited, could get you to fold.
When the Clippers Spirit dance team was done being pure lightning, they slumped down on folding chairs and became human again. "You'll have to have a second job. All these girls have second jobs. Or they're in school. Or both," Audrea told us.
The other girls nodded and raised their eyebrows, almost apologetically, before offering us time management tips. "You can skip your lunch. You can get to work early."
"You just don't sleep," one said.
"A lot of bosses think it's cool that you're on Clippers Spirit," another added.
"We don't tell you how much you make until you make the finals," Audrea offered quickly and quietly.
Whatever we did to supplement our mystery sub-standard wage, the girls made it clear that the Clippers were to come first. Rehearsals were mandatory. Games were mandatory, and we would have to arrive at Staples center two and a half hours prior to games for court rehearsals and a make-up pat-down and a meet-and-greet at on the floor. Brittany, in her mid-20s, her smile concealing a barely detectable level of apathy, usually came to games straight from work, she told us. She didn't wear her lashes to the office because "people would think that (she was) crazy." Later, she told me she was a social worker. Brooke told me that the best jobs to supplement with this one, were things like "Retail and restaurants. Flexible things."
"Like jobs that struggling actors have?" I'd asked.
"Yes! Exactly!" she said.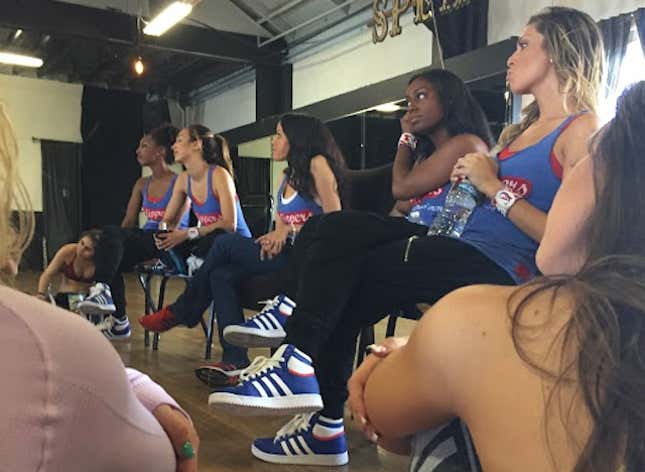 Steve Ballmer, the former Microsoft CEO who bought the Clippers for $2 billion, will—despite his professed liberalism—only offer his professional dancers the life of a struggling actor. By comparison, a professional dancer in a Broadway show belongs to a union and makes a minimum of $1,871 dollars a week, regardless of how many hours they work. While the NBA doesn't provide healthcare for its cheerleaders (although it does cover injuries sustained during work), professional Broadway dancers are eligible for healthcare after just 12 weeks of work in a calendar year. But, of course, musical theater (unlike professional sports) is an industry dominated by women and gay men.
Audrea told us not to waste money on expensive headshots for auditions. "Spend that money on a spray tan. Or getting your hair done." The best tops to wear for auditions were brightly colored bathing suit tops. Rhinestones were encouraged. Doing the "pop-out" test at home—jumping around in your living room and making sure nothing falls out—was strongly encouraged by Audrea, who said errant pop-outs had "happened before."
As consolation for the fact that our dream jobs would require us to keep our day jobs, we were assured that we would not have to pay for our uniforms. "We didn't pay for anything we're wearing!" gushed Kellie, pointing to the rest of the squad, who had changed into their "hip hop look" before the second routine. Makeup, they said, would also be paid for, but hair and nails were our responsibility. Staying trim enough to fit into our tiny uniforms was our responsibility, although on this team, weigh-ins were not required.
When one woman in the class asked for sweat-proof makeup suggestions, the team members all looked at each other and laughed. "There is no such thing as sweat-proof makeup." And there is no such thing as sweat-proof makeup. Foundation drips off your skin. Eyelashes loosen. Everything chips, smudges, needs retouching. This, more than the monetary cost of makeup, is the true price of being a pretty girl. You are very aware, always, that all of it will eventually fade away.
We had to be good people, too. "We're hard working, well-rounded," said Candace. If we made the team, a background check would be necessary.
"You are a part of this team. You're the ambassadors. You represent Steve Ballmer's Clippers," Audrea boasted, without mentioning the impending rollout of Steve Ballmer's new Clippers logo, which was intended to signify "a whole new era," for the team.
"It's hard to get here," they said. "We embrace it."
Of course they embrace it. Few people ever find something they love, much less get paid for it. But this does not mean that the women who succeed in the highly competitive field of professional cheerleading should be expected to accept fun and free clothing as partial payment. The fact that they are asked to tells of the default opinion of NBA owners and the the fans who continue to bloat their pockets: what these dancers do is inherently worthless. So, it follows, are their years of sweat and persistence.
The women who devote their lives to rooting for a win are caught in a lose/lose proposition. In order to hold value on the court, they have to be hypersexualized; because they are hypersexualized, they have lost their value on the court. Even in a stadium of 18,000 people, even when the lights are on them, no one can see the eye candy for what they're worth.
When I got back to my car, Booze Bloat was waiting for me. I shook my head and fumbled with my key. I had forgotten what it was like to be dressed like this.
Tess Barker is a writer, stand up comedian, and co-host of the Lady to Lady podcast.
Illustration by Tara Jacoby, all images courtesy of Tess Barker