What is reality television in 2015? Depending on your definition of "reality" and "television," that's a tough question to answer. Is reality television actual reality in that it's exactly like real life, only filmed? Or is it merely reality in that it's produced in the distinct, Laguna Beach-like style that we've known as "reality television" for over a decade? Furthermore, is a reality television show exclusive to YouTube, still television at all? Or do we watch so much "television" on screens other than our actual televisions that the distinction is now unnecessary?
These are the questions I had while watching the new YouTube series The Bedford Stop this afternoon, but they are not the only ones. Because watching The Bedford Stop made me second guess more than just the state of reality television, it made me reconsider my own reality. Our reality. After finishing its pilot episode, I questioned my own existence as a human being who lives in New York among other human beings who are capable of creating, filming, starring in, editing, and uploading something as simultaneously miserable and captivating as The Bedford Stop. Are they really here? Are they really real? Are they living and breathing in my reality? And, more importantly, am I?
The Bedford Stop bills itself as "a reality show about Brooklyn girls avoiding reality," which is hypnotic enough. A reality show about Brooklyn girls avoiding reality. A reality show about Brooklyn girls avoiding reality. Is this art? Has Banksy chosen YouTube as his next canvas?
More questions.
The Bedford Stop's protagonists are all young women in their early- to mid-twenties who live in the northeast side of Brooklyn's Williamsburg neighborhood, just off the Bedford stop of the L train. The overcrowded and ever-worsening neighborhood of Williamsburg actually exists. The terrible restaurants and bars and venues they visit actually exist. That subway stop, one of the most miserable in the entire MTA system, actually exists.
G/O Media may get a commission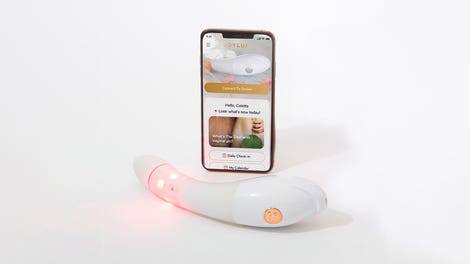 $50 Off
Joylux vFit Gold Device
But what about its alleged inhabitants—the stars of The Bedford Stop? Do they exist? Do women with names like "melissa" and "olena" and "sarah" who wander around their dark apartments while mumbling existential questions like, "Who are you, me?" live and breathe in the same city as I and millions of others, or are they fictional characters created and performed for a reality television show that isn't on actual television?
Watching the show's 16-minute, 55-second pilot (entitled "Tinder Me Softly") I found myself dipping in and out of a haze, unable to get a firm grasp on who these people were, why they were friends, how they afforded their empty apartments, and whether or not I believed they actually existed in the same universe as I do. None of them, despite being on a reality show, feel real.
There's Alex—the star—who moved to Williamsburg "two years" ago to pursue her dreams in fashion. If she's an entry-level employee in the in the cutthroat New York City fashion industry, how does she have enough time to film a reality show?
Then there's Olena, whose subplot in the pilot revolves around her desperate need for a professionally photographed Tinder headshot that she can also use as a photo on her LinkedIn profile. Is that a real problem people have, and is this website art?
Next, we have Olena's roommate Melissa, who (per the opening titles) no one can ever find, and is apparently always drunk. Can no one ever find her because, maybe, she is a ghost who exists on another plane and appears only when she wants to be seen?
Last, but not least—or maybe least, because who knows—we have Sarah, who just "went back to art school, but you wouldn't know it." Why wouldn't I know Sarah just went back to art school, Alex? Why? Tell me why, Alex.
Oh, Alex? while I've got you, I have another question! Why didn't you invite Olena to brunch or your wine night/pre-drinks a few nights ago?
And why did you ask Olena about her problems in the restroom at Brooklyn Bowl when you clearly don't care about her emotional well being because otherwise you would have invited her to brunch or your wine night/pre-drinks that night?
And why didn't you listen to your friend Sarah when she was talking to you about how much hotter dudes are in fall clothes when you two were walking to the thrift store to buy lingerie with your drunk ghost friend Melissa?
And why do you have a giant poster of Elle Fanning on your living room wall, ALEX?

And whose hand made this turkey, ALEX? IT DOESN'T EVEN LOOK LIKE THE OUTLINE OF A REAL HAND, ALEX.
WHAT ABOUT YOUR ALLEGED "REALITY" MAKES YOU THINK YOU DESERVE A REALITY SHOW, ALEX?
DOES THE SPOTIFY COMMERCIAL IN THE MIDDLE OF YOUR REALITY SHOW MEAN THE WHOLE THING IS JUST SPONSORED CONTENT, ALEX?
IS "ALEX" EVEN YOUR REAL NAME, ALEX?

WAS MY YOUTH ENTIRELY MISSPENT, ALEX?
ARE YOU A FIGMENT OF MY IMAGINATION, ALEX?
WHAT MAKES YOU THINK YOU CAN UPLOAD A VIDEO CALLED "HOW TO BRUNCH IN WILLIAMSBURG" TO YOUTUBE AND EXPECT US TO STAND FOR IT, ALEX?
The Bedford Stop has ruined my entire day—maybe even my entire life—but at least it gave me this:
---
Contact the author at bobby@jezebel.com.

Gif via screenshot/Bobby Finger.