Welcome to Better Than It Looks, a series in which we discuss the recipes we tried (and maybe failed) to execute, and the foods that were served to us by someone perhaps more talented than ourselves.
During an unseasonably warm December weekend, I was self-soothing my pregnancy weariness with Meryl Streep's fun-but-silly film, It's Complicated. During a romantic scene with Steve Martin, she makes croque monsieur, a rich ham sandwich dripping with cheese sauce, prompting me to say to myself "I want some."
Hitting Google, I dug up a recipe from—who else?—Ina Garten for a croque monsieur sandwich. But there was one problem: as a pregnant person, deli meat and I aren't really supposed to be friends. Deli stuffs—specifically turkey—can be risky because of their high probability for listeria, the consequences of which I won't share here because it's fucking terrifying. I will say that I nearly had a mild panic attack as I read listeria's symptoms after eating a smoked salmon, tomato, avocado and cream cheese bagel I really wanted early on in this maternity journey.
To get my Meryl/Ina on, I skirted danger by buying a hunk of honey baked ham and slicing it myself at home. To be honest, I asked The Husband to grab the ham and the rest of the ingredients because I could barely drag myself to the kitchen but whatever, you know what I mean.
As I mixed the melted butter, flour and milk before adding the grated gruyere and parmesan off the heated stove, I already felt so much better. Then I toasted the bread as the recipe calls for. (Actually, if I'm honest, I burnt the first batch of bread because my broiler is the temperature of Satan's living room.) Once I got my bread together, I sliced my ham and threw cheese on the bread. Ina's recipe calls for mustard on one side of each sandwich but The Husband hates one of the world's greatest condiments—more for me!—so I made his with just butter instead.

G/O Media may get a commission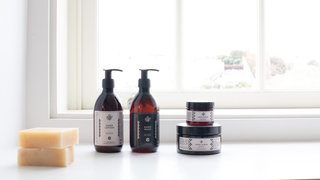 Exfoliate and Hydrate
The Handmade Soap Company
When the four sandwiches were all gooey and done, complimented by a side salad of greens, blackberries and corn (because pregnant ladies need vegetables), I didn't feel like Meryl or Ina. Still, I was happy and full as I laid down for yet another nap. For those in need of food inspiration, It's Complicated is a wonderful start. I mean, I want a chocolate croissant right now.
---
Contact the author at Hillary@jezebel.com.
Image via my tiny kitchen and stove top.