When Australian director Jessica Leski and producer Rita Walsh took on I Used to Be Normal: A Boyband Fangirl Story, they aimed to give credence to a pop culture phenomenon defined by frivolity and riddled with derision of its young, heavily female fanbase. Their goal, as self-described fangirls, was to understand what causes such unbridled euphoria. The investigation took over three years and dozens of interviews with music theorists, songwriters, educators, adolescent psychologists, and neurologists. I know this because it's outlined in their fully-funded (and then some) Kickstarter, along with images of those professionals. None of them appear in the final film.
Instead, I Used to Be Normal: A Boyband Fangirl Story focuses on four fangirls (each obsessed with a different boy band), ranging in age and location: Elif, 16, Long Island (One Direction); Sadia, 25, San Francisco (Backstreet Boys); Dara, 33, Sydney, Australia (Take That); Susan, 64, Melbourne, Australia (the Beatles). We see their homes, their families, and places of work—even their boy band teen dreams through illustrative shorts. Because of that, the documentary captures an essence that no other boy band films have been able to do, at least, not at this magnitude: the story behind the girls that make the boys.
By allowing these women to detail their fixations through their personal histories, the film contextualizes the impact of boy bands, without critically maligning either party. It's a celebration of adolescent absurdity, of sexuality, of the independence that comes with claiming ownership of an art artifact as your own for the very first time.
If that reads sentimental, yes, it is.
G/O Media may get a commission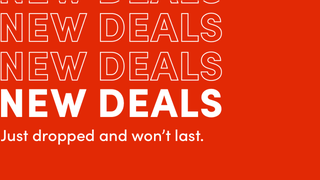 Up to 70% off
Wayfair - Cyber Week Deals
Of the four women, I found myself most struck by Sadia and Elif. The former, a writer, fell in love with the Backstreet Boys in grade school when they were the biggest boy band on the planet but, she brags, "Nobody I knew was as hardcore as me." Elif, still a teenager, rose to Directioner fame when a video of her screaming and crying while watching a live concert DVD of the British boy band went viral on YouTube.
Both women try to understand how their fangirl behavior contrasts with with their upbringings. Sadia wonders how she could love Nick Carter, "the whitest white boy." (As an adult, she also questions if her boy band love has somehow stunted her relationships, or if it's occupied space over something more productive.) Elif often repeats that her family "is Turkish, they don't understand," and they reprimand her for her obsession. At the end of the film, when she shows real musical talent and drive to pursue an artistic career, they don't support her. She smashes her guitar. She feels stuck between two worlds. There's no real resolution.
For both of the girls, boy band idolizations are a source of levity and pain, a perfect mirror of their undoubtedly American coming of age stories. But the conversation around the whiteness of these boy bands makes it all the more apparent that the film misses out on a chance to incorporate fans of non-white boy band sensations, a la K-Pop boy bands (see BTS), or those like New Edition and Dvicio.

Pandering is an inevitability when listening to anyone interview fangirls. Just like a boy band pop star finds himself answering variations of the same question throughout a given press cycle, fans expect an inquiry of, "Has this music helped you through a hard time?" In this film, with the exception of one necessary moment I won't spoil here, it's never asked explicitly. Each woman ends up answering it through a revisitation of her treasured memorabilia and the recollection of a particular moment—a suicide attempt, a friend dying of cancer, an unsupportive family, a confusion with identity. (That last one leads to one of the best lines in the film: "I don't want Gary Barlow. I want to be Gary Barlow.")
Even then, the women avoid overdramatizing pain or loss or insecurity. Alternatively, all of that energy is contained and released at an illegally filmed One Direction concert on Long Island, an annual Backstreet Boys cruise, a Take That karaoke night, and a trip to India with a daughter—the same trip Paul McCartney took many decades prior.
With the exception of watching the 2o13 concert film One Direction: This Is Us in theaters, I can't recall a more joyous viewing experience. At the screening in New York, there was uproarious laughter in the room, audible gasps at cringe-y obsessions/declarations of deeply felt appreciation, and of course, tears. I Used to Be Normal is undeniably delightful, a rare exercise in pop culture's most nostalgic impulses that does not attempt to sell us back what we once adored.