Playboy magazine's 60th anniversary issue – you know, that one with Kate Moss on the cover – doesn't come in a brown paper wrapper. Instead, it's surrounded by clear plastic, ostensibly to protect this special collector's edition but also to hold with it a bonus 2014 calendar shot for Diesel by none other than Terry Richardson. This is the new and improved Playboy, a magazine that is, depending on who you ask, either secretly feminist or trying to be.
That calendar features mostly tatted up women in weird outfits, making it – at first glance – not the sort of thing we've come to expect from a magazine that affectionately refers to the women it features as a cuddly type of animal. In June, in an often cited interview, Playboy's editorial director Jimmy Jellinek told Slate that, "The magazine used to have this aesthetic of unattainable perfection" but that moving forward, he wanted to grab readers – women too – by including bodies that have a "more healthy, naturalistic look." CEO Scott Flanders agreed: "We're moving toward what we're calling the three G's: God-given gorgeous, with no artificial enhancements." Or at least "no obvious artificial enhancements."
It's pretty funny that this calendar sort of comes off like it's pushing the envelope for Playboy, given that beneath the tats and the weird poses, the women included are still a bunch of ladies with the same perfect bodies. But it's this juxtaposition of an issue where the cover is meant to proclaim the publication as pure class that happens to come with a freebie calendar shot by a noted sexual predator that says far more about the magazine's legacy and representation of American (male) values than anything else. There are words in Playboy, there always have been, but how can you pay attention to those words when there are all those beautiful breasts bouncing around?
The last issue of Playboy I read cover to cover was the June 2010 issue featuring Playmate of the Year Hope Dworaczyk. It came with 3D glasses because, as founder Hugh Hefner said at the time, "What would people most like to see in 3-D? Probably a naked lady." My boyfriend at the time disagreed. "You can read it," I said teasingly, when I saw him curiously eying the issue in my apartment. "I'm good," he responded, looking at Hope Dworaczyk as if he feared her 3D breasts were going to come out and hit him in the face.
G/O Media may get a commission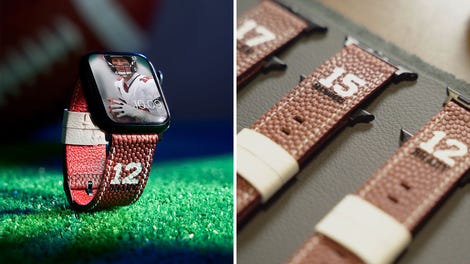 Official NFL PRODUCTS
Official NFL Apple Watch Bands
When compared to that issue from only a few years ago, January's 60th anniversary Kate Moss extravaganza demonstrates that the magazine hasn't evolved nearly as far as it would like to think it has. It still has cheesy features that bear Hefner's stamp, like the monthly "Hangin' With Hef" photo column, themed in this issue to include famous people partying at the Playboy mansion over the decades, not just recently. "Playboy's Party Jokes," the column that Ross and Chandler got into a tiff about on Friends, is still there. There are cartoons, many of which feature buxom women talking about sexual scenarios. On the whole, the magazine feels like a strange mash-up of Esquire's obsession with mid-century style and Maxim's focus on the world's hottest women with a heavy splash of Hugh, Hugh, Hugh.
"The anniversary edition you hold is a testament to 60 years of beautiful women, discerning taste, sexual emancipation, groundbreaking fiction and world-changing journalism," the magazine writes in its "Playbill," which highlights articles in that month's issue, including one that's likely interesting to internet feminists in particular: "Hef's fight for sexual liberty is one of his enduring legacies, and Sex: A Very Oral Report captures the state of the contemporary sexual american woman."
The article is question consists of interviews done by Molly Oswaks (formerly of Gizmodo) with Cindy Gallop, Natasha Leggero, Erica Jong, Aisha Tyler, Dr. Ruth etc. about "what we've gained and lost" in the fight for sexual liberation. Naomi Wolf used her interview to address Playboy specifically:
I haven't seen Playboy lately, so I don't know how explicit it is, but I could see a movement that encourages teenage boys to subscribe to a magazine that has naked, pretty women sitting there, rather than turning on a video. It's almost romantic compared with what's online. How nice. Women are beautiful. I'm going to get all kinds of shit from feminists for having said that.
Women are beautiful. Shockingly, sometimes men are too. But Playboy doesn't think women are beautiful; Playboy through Hugh Hefner's eyes thinks a certain type of woman is beautiful. And as much as the words they put in the magazine argue for inclusiveness, the images don't lie.
"Conceptually, Playboy's raison d'être has always been to empower men and glorify the sexuality and allure of the female body – which some may now regard as chauvinistic. That perception of men's attitude towards women has, alas, been reflected in much of the advertising in the magazine," writes famous ad man George Lois in his recap of Playboy's advertising history. "To me most of the writing in Playboy has been aimed not at Neanderthals but at the sharp, sophisticated thinking men of America. So ad agencies and advertisers, if you think people, including the readers of Playboy, are dumb, you'll spend a lifetime doing dumb work."
Though Lois issues his directive to future ad men to be a little more creative in their techniques i.e. be less blatantly sexist, most present ones didn't heed his advice. Many of the ads in the anniversary issue refer to Playboy's history of nudity, not its history of publishing great writing, like Budweiser ("Many people have never read our words either"), Buffalo Jeans ("Thanks Hef, for 60 sexy years") or Conan ("Congrats from one sex symbol to another"). Both Mazda and Mini Cooper make focus even more specific ("Topless for 25 years" and "Here's to the A-cups").
But though the ads say one thing, the editorial content says another. Take this question/answer published in "Playboy Advisor," the magazine's advice column, from a female reader:
I'd always dreamed of one day posing naked for Playboy, but now that I'm married I've given up that fantasy. I've kept my natural pubic hair, but now I'm considering looking like the girls in your magazine. Should I be happy with the way I am or get rid of my hair to look modern?
The answer is so PC it almost seems like the question was faked: "Whatever you do, do it for yourself. Being confident with the way you look is far sexier than trimming to chase a trend."
But you came here for the naked girls, right? There are plenty of them: model Alejandra Guilmant straddles a blow-up pool toy, wet from her swim. Centerfold Roos Van Montfort poses in the woods with wolves like something out of Game of Thrones. A look at the upcoming Miss February, actress Amanda Booth, has her lifting up her skirt in front of the Hollywood sign. (Spoiler: She is not wearing underwear.) Kate Moss is there, of course, looking very out of place stylistically with her nude counterparts, the best indication of the division in editorial message going on over there. A recap of 2013's Playmates intended to help readers vote for their favorite Playmate of the Year includes some women with the aforementioned "far sexier" confidence to rock a little pubic hair, but none sporting what you'd call full bush.
Playboy's current dilemma lies somewhere in between a fully waxed model and one sporting untamed pubic hair. Case in point: this letter to the editor, from one disgruntled reader:
Miss September Bryiana Noelle (Stairway to Heaven) is only 85 pounds? How about focusing on women with curves? Enough is enough. I'm just not feeling it.
(Weirdly enough, soon after I read this letter, Playboy tweeted a photo of Miss September. I can't speak to her weight but she certainly doesn't look large.)
Every woman in this issue of Playboy is perfectly beautiful, but you can't really tell the difference between them. They're styled the same and lit the same. They are waxed (nearly) the same and they have long hair (on their heads) and they sport a variation of the same body. According to the magazine, Playboy is a publication that "challenges what we know about men and, more important, women." They might be doing that in words – they've got thousands upon thousands of characters from Hefner about his famous "Playboy Philosophy" on sexual liberation featured on their website – and on some level they always have been. But their images of women still say something else. The images show what they want us to value as a society, and what many of us do value. Those live, naked girls say far more while they're sitting there silently than any number of words on the state of women's sexual liberation does. They've got the right hair. They've got the right boobs. They're what everyone's paying attention to.
Images via Mert Alas and Marcus Piggott/Playboy