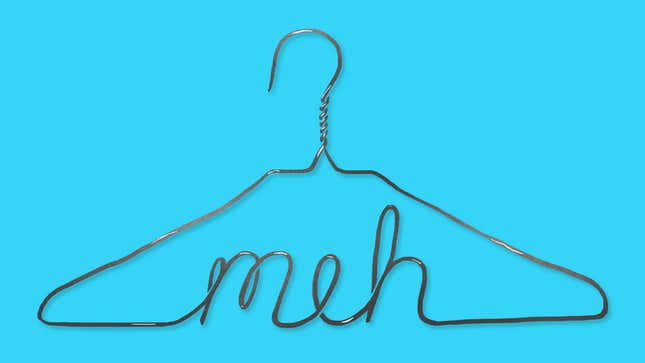 Meh. That's what I give Target's new AVA+VIV plus-size collection. To me the new AVA + VIV line is just more of the same of what I've come to expect of plus-size clothing. For the most part designers seem to think that all we plus-size ladies deserve is basics and that we should be happy to even get anything. A video on Target's website about the making of the new AVA+VIV line reinforces this. In the video one of the featured models, Denise Bidot gushes, "It's amazing that companies like Target see us as beautiful, and are designing things that are cool and trendy and fashion-forward because we're ready to shop." If even a beautiful professional model feels unattractive in the eyes of the fashion industry, what chance do all of us non-models have? Since Target featured this quote in a short, minute-long video, it's like they're emphasizing that we should be happy to be getting clothes at all and patting them self on the back at the same time!
The AVA + VIV line is very casual. While many of the tops could be dressed-up for the office, the dresses really couldn't be. Comparing all the tops on Target's website shows even more obviously that most of the line is comprised of basic T-shirts and tanks in black, gray, blue, or pink. The sleeve and hem lengths may differ and some are more fitted while others are looser, but none really feature interesting details to set any apart.
Signs on the tops of the clothing racks announced that AVA+VIV is "a line that gives your curves the attention they deserve." I found their new slogan ironic given that many of the items are somewhat shapeless. A number of the tops were basically pillowcases of varying lengths and fabrics with head and arm holes!
The pants the line offers consist of 4 jeans styles, 3 different styles of leggings, a couple of slim ankle pants, and 2 crazy printed palazzo pants. The collection also includes 3 different styles of skirts: two maxis and a striped knee-length tulip skirt. After trying on everything in the line my Target carried, here are my picks for worst to best.
---
THE WORST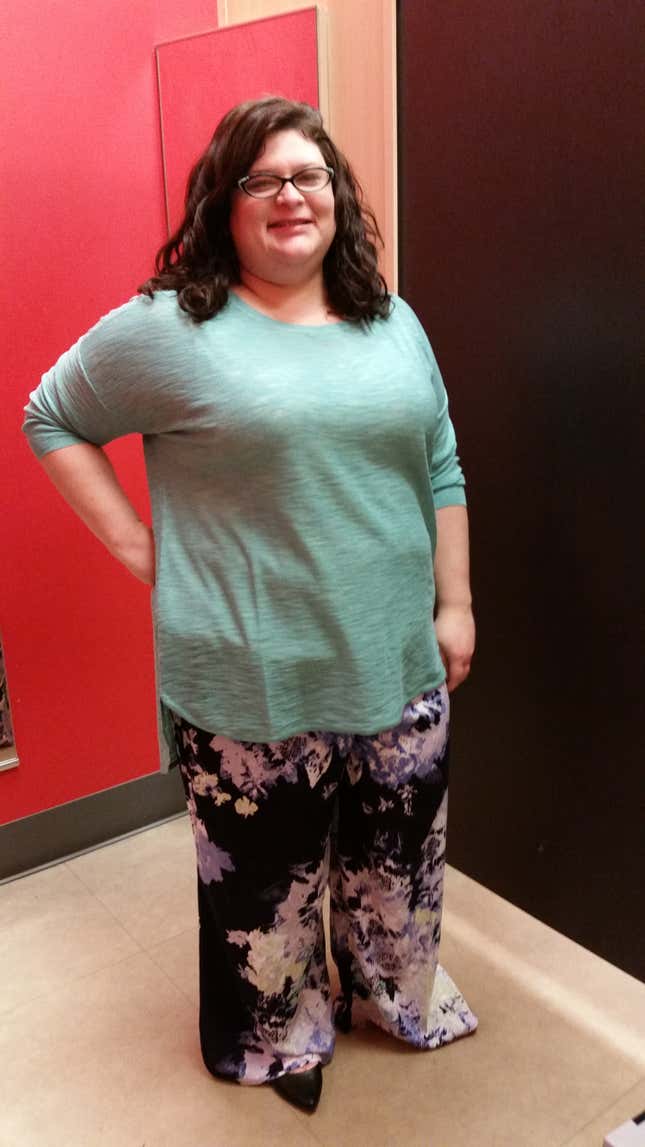 Why, Target, why? Why are palazzo pants in style now? I guess they are, but most of those being sold seem to feature geometric prints. A black or other solid-colored palazzo pant could possibly work, but Target's had huge floral prints. Also, besides one of the black T's, nothing else in the collection really went very well with these pants. Nothing about these was young or fresh. I didn't care for the sweater either. Target's website describes it as "crafted in a stylishly textured knit, this lightweight layer is extra luxe with a bit of extra length in back because we all want to wear leggings, pretty much always." This thing was super big and hit mid-thigh. Nothing about this gave my curves "the attention they deserved." It just hid everything shapelessly, and the description even admits that they made it longer in the back to cover up our butts. Also the sweater was in no way "luxe" as it felt the cheapest of any of the items, and I noticed a small hole at the neck hem as I was putting it back.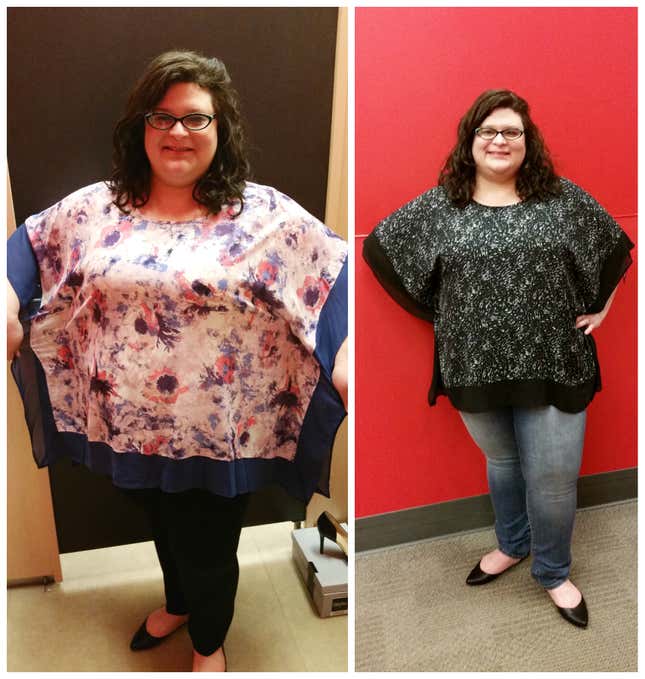 The Flutter Sleeve Top, aka Folded-in-Half Tablecloth
This top was huge, and again it was not hugging any curves but merely covering everything up. The blue and pink print version was just horrible; I hated it. However, the black one is not too bad. Maybe a belt under the bust would make it ok?
---
THE OK
My problem with these outfits is that it's just typical of what we can expect in plus-size clothes - nothing to get really excited about wearing, no interesting details, just some items to cover up your body.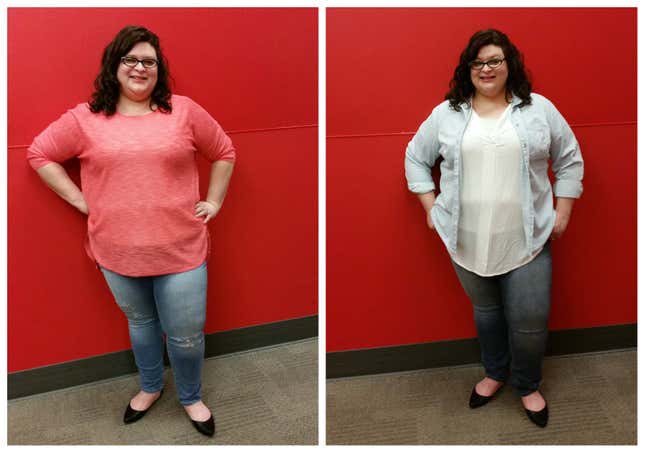 This first outfit would be perfectly fine for a casual weekend. It doesn't have an ugly print so there's that. The skinny jeans are fine, but I don't think they're very flattering, and personally I'm not a fan of ripped jeans. I do like the chambray shirt in the second outfit, but I'm not enthralled by the white, shapeless blouse underneath.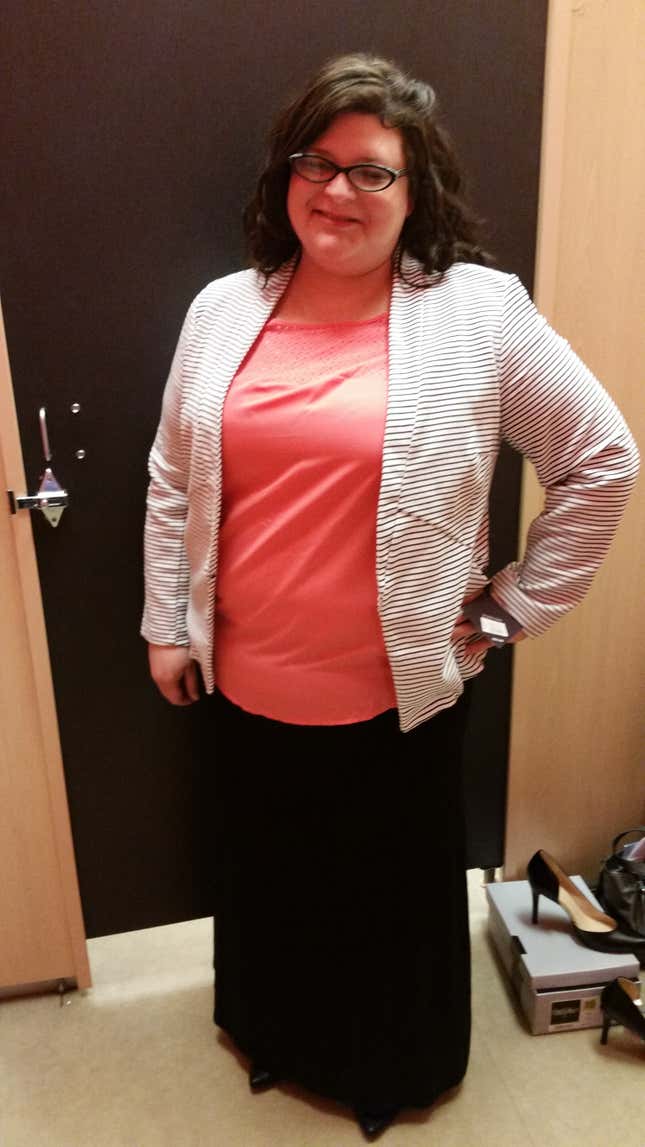 The pink top in the third outfit is one of the several pillowcases-with-head –and- armholes-style tops, and I really wished it would have had some stretch to the material. The black maxi skirt is fine but nothing special, and the jacket is ok but overall it felt a little out of place with the rest of the collection.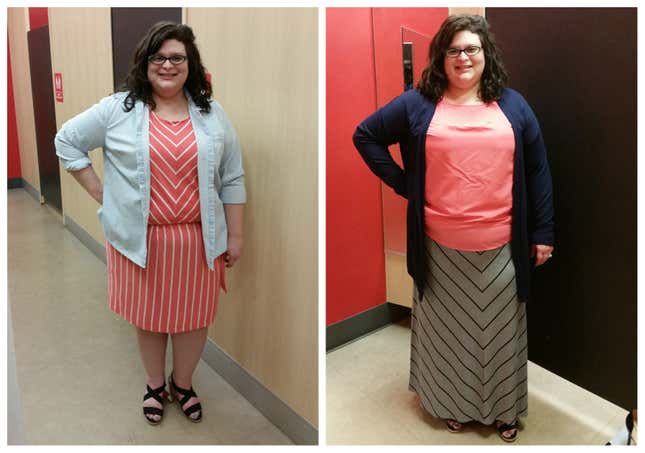 The peach striped dress is actually kind of cute and comes in black and gray, and I think a lot of people might like it. I had a hard time getting the tie belt to look right which is why I didn't care for it. Finally the last outfit is not bad; it's just nothing special. The maxi skirt is kind of cute, and the blue cardigan could be a good layer for other outfits.
---
THE BEST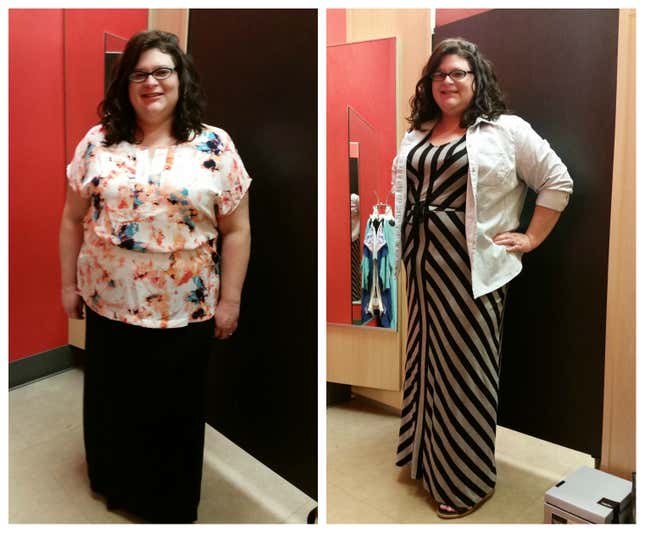 I think the blouse on the left here is pretty cute and would actually buy it. I don't really care for it with the black maxi skirt, but you could dress the blouse up and wear it to work with a cardigan or blazer or make it more casual with skinny jeans.
I always thought maxi dresses would be unflattering on me. I would never have picked this out normally, but I ended up liking it so much I bought it! Also the chambray shirt was cute and paired nicely with several other things in the collection.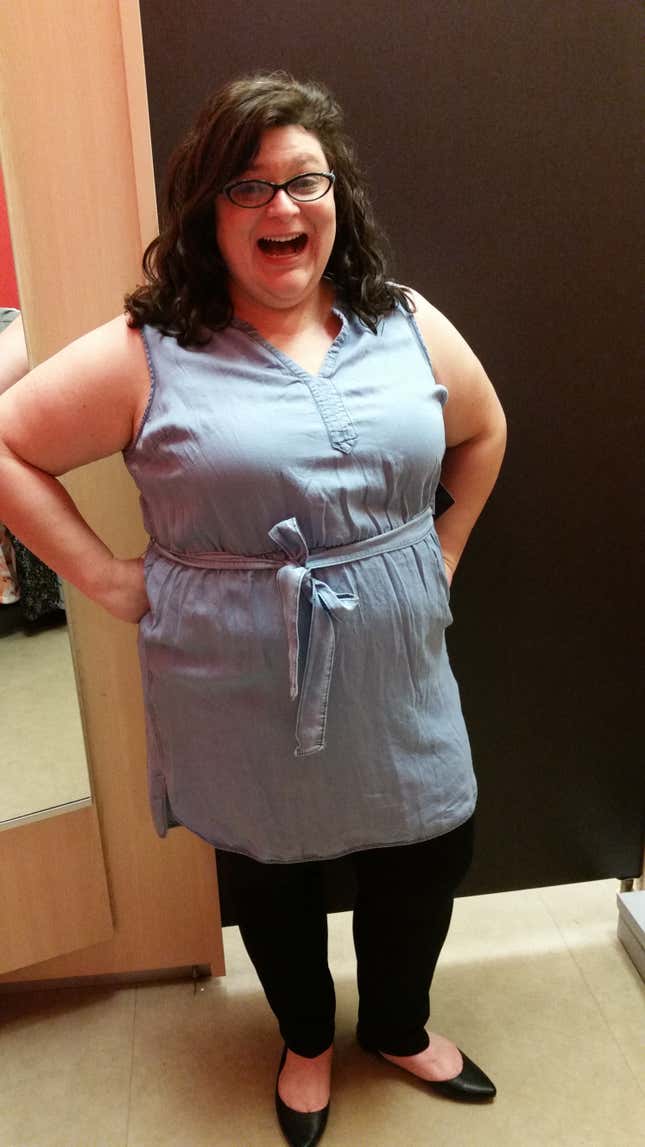 On Target's website this piece is supposed to be worn as a dress, but I'm only 5'6" and this was hitting a couple inches above my knees. If I had bloused it out over the belt more, it would have been even shorter! Luckily I really liked it worn as a tunic and paired with the AVA+VIV dark wash skinny jeans.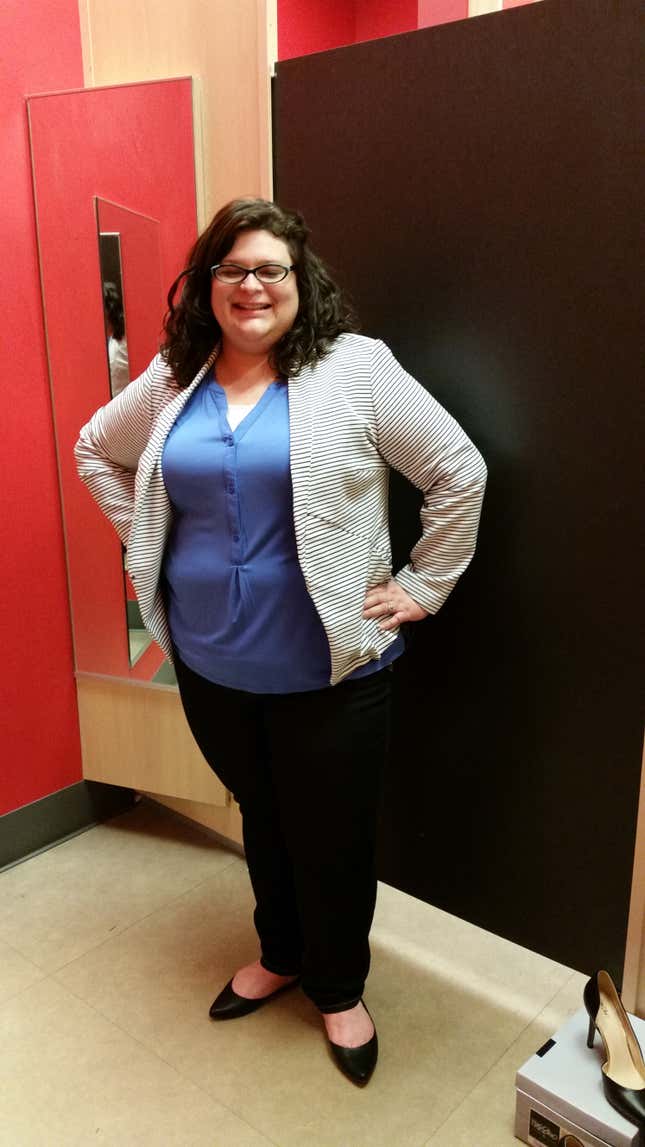 Another outfit that I liked was this cornflower blue pull-over, striped knit jacket, and skinny jeans. The blue top is pretty basic and has an oddly placed pleat at the bottom of the placket, and while I like the jacket with this outfit, the fabric and the shape make it seem out of place in this collection.
There were a few other pieces that looked promising. Unfortunately, for some reason Target decided that some of the clothes would be available online only. Why not just carry everything in the stores? And why offer some of the cuter items of the collection only through your website?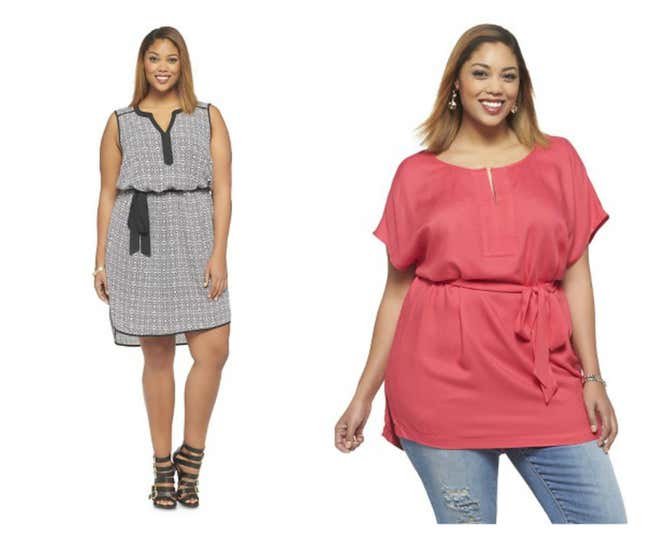 This black and white dress looks really cute! And the pink top isn't bad either.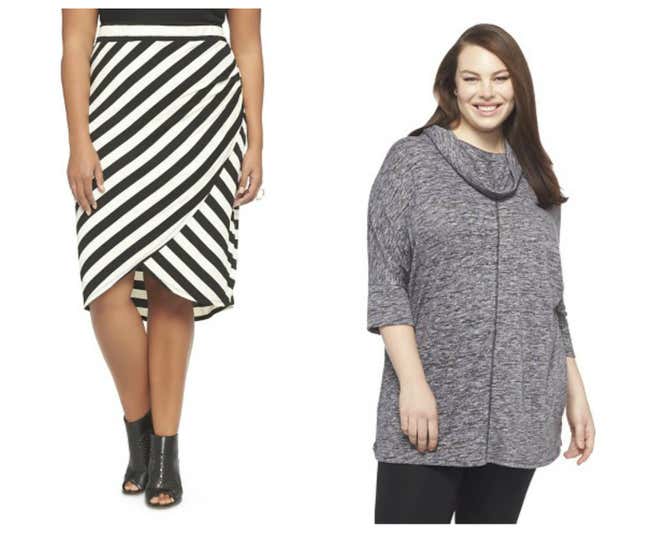 It's really unfortunate they don't carry this striped tulip skirt in the stores because it looks like it has a lot of potential! But I don't regret that this ugly sweater is not available in-store.
Had I not been reviewing the line, I probably would have tried on very few, if any, of the items on the rack. However, I was pleasantly surprised at a few of the pieces. I wouldn't normally have given them a second glance, so it just proves you should always try things on. Another positive is that the pieces fit pretty well. Sometimes with plus size clothing, the proportions are really off, but I didn't find this to be the case with AVA+VIV.
I'm still disappointed overall with the AVA+VIV line, though. Much of the it reminded me of things that Old Navy's plus size section carried but of a better quality and better fit. When I walk past the straight-sized women's section at Target, there are always new dresses and tops with interesting details. I would be ecstatic to pile those pieces into my cart to try on. As Target continues to work with well-known designers for straight-size lines, why can't they do this for the plus size line? With so few brick-and-mortar stores with plus size offerings, the few actual stores that do have large sizes aren't taking advantage of it. Plus size ladies have been complaining about Target's selection for years. When they announced they were revamping their plus-size section, they had a huge opportunity to take their successful model of designer clothes at affordable prices and bring this to the new collection. I expected a lot more, but they provided only more of the same.
At the end of the day, Target is still one of the few stores where plus size women can actually go try on clothes. Even though most of the best stores are online now, it's reassuring that in an emergency, there are Targets across the country with basics available in your size. And while I am critical of the new AVA+VIV line, I still found some cute pieces to add to my wardrobe.
Lindsay is a 32-year-old trying to escape from southern Indiana to see even more of the world and aspires to one day be a crazy cat lady.
Image via Tara Jacoby