On Tuesday, former University of Minnesota student Daniel Drill-Mellum was sentenced to six years after pleading guilty to two counts of criminal sexual assault. The former fraternity brother and ex-intern for Minnesota governor Mark Dayton will also be placed on the sexual offender registry for life.

The guilty plea stems from two 2014 assaults, one in the laundry room of his fraternity, Sigma Phi Epsilon, on Halloween. The other took place a week later at Drill-Mellum's apartment. The Star Tribune reports:
He raped and choked a woman in his apartment so violently that she suffered numerous cuts and abrasions over her body and bled from her mouth.
Drill-Mellum was expelled from the University of Minnesota after the attacks and was prohibited from returning to campus. A friend of the victim of the Halloween attack, however, spotted him at a Sigma Phi Epsilon party in November 2015, a year after his expulsion. The Halloween sexual assault victim, who had initially declined to file a police report, changed her mind and reported the crime to the police. The second victim had filed a police report in 2014, but prosecutors initially declined to press charges. Drill-Mellum was arrested in December 2015 and charged with five felony counts of criminal sexual conduct.
During his plea hearing, Drill-Mellum acknowledged his crimes and apologized to both of his victims. "I am deeply sorry. No one should have to endure the trauma and harm I have caused you," he said in court. "I have only begun to understand the impact I have had on you." In turn, both women read victim impact statements, one of which has been reprinted in full at Fox 9.
G/O Media may get a commission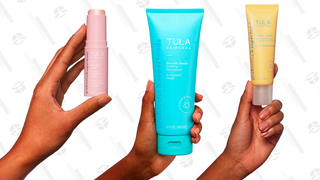 In the statements, both women recounted the disturbing details of their attacks, as well as the emotional aftermath. "Sometimes I passed out because I wasn't breathing steadily enough," the first victim said in her victim impact statement. "I would come to terrified and confused."
The second victim's statement was a forceful account of her violent rape and recovery:
After the rape, I couldn't sleep for weeks. I stayed up, rocking back and forth in my bed all night with the lights on, and barricaded the door to my bedroom with my desk chair because I was so afraid. Every time I did fall asleep, I had nightmares in which Mr. Drill-Mellum was raping me and I couldn't scream no matter how hard I tried. My mom got me a taser, which I held in my hands even when I finally did fall asleep.

[...]

All of this is permanent for me. I wonder how permanent it is for Mr. Drill-Mellum? His family clearly supports him through his actions, and he was able to negotiate a lower sentence on his own behalf. But me? I never chose any part of this. I had to fight just to make sure that someone actually paid attention to what he did. An endless burden was placed upon me, as well as on other girls who have come forward to me and told me what he has done to them. I became a one-stop resource for victims and potential victims of Mr. Drill-Mellum. Girls came to me and told me their experiences with him, and yet I was helpless to make a difference with my case until it was reopened.
The second victim also expressed her frustration with the police and prosecutors. In her statement, she said that police asked her how much she had to drink and implied that she was lying despite the bruises on her body and face:
I remember hearing later from this same detective that Mr. Drill-Mellum had insisted that I wanted what happened to me, because I "liked rough sex". I do remember the wonderful, wonderful SARS nurse who came and gasped when she saw my injuries, and truly listened to me when I told her what had happened, no matter how scattered my brain felt at the time. I will never forget that. It helped put an emotional bandage on the humiliation I felt when she took pictures of me with my legs spread open, and documented every laceration, mark, and tear on my body. The secondary humiliation I faced when he was released from jail without charges, and I was told to move on with my life, was just as devastating if not more so.
The victim impact statements are reminiscent of the one read by an unnamed 23-year-old woman who was raped on the Stanford campus. Since she publicly shared the statement which she delivered during Brock Turner's sentencing hearing, a handful of other victims have chosen a similar course. Earlier this month, a University of Colorado survivor shared her impact statement after her rapist, Austin Wilkerson, received no prison time.
It would be glib to reduce the public circulation of victim impact statements to a "trend," yet many victims are retooling the statement as a public document, used to write their own narrative of the crime perpetrated on them while still maintaining their anonymity. The victim impact statement itself is relatively new; it was introduced in California in the late 1970s, a reaction to the growing victims' rights movement, as means to insert the victim and their families into proceedings where they otherwise had no standing. The public sharing of victim statements is a reconceptualization of what's otherwise a legal—albeit personal—document.
For victims, it's undoubtedly a powerful way of disseminating an alternative narrative of rape, one that's self-authored and refocused on the lasting physical and psychological effects of sex crimes. It's a new form which raises a handful of ethical questions about how to share and write about such documents, particularly, as Kelly Stout pointed out on Gawker, the uncomfortable economics formed between rape, value, and "going viral."